Who's Running Against Trump in 2020? Look No Further Than The Democrats Calling for Him to Resign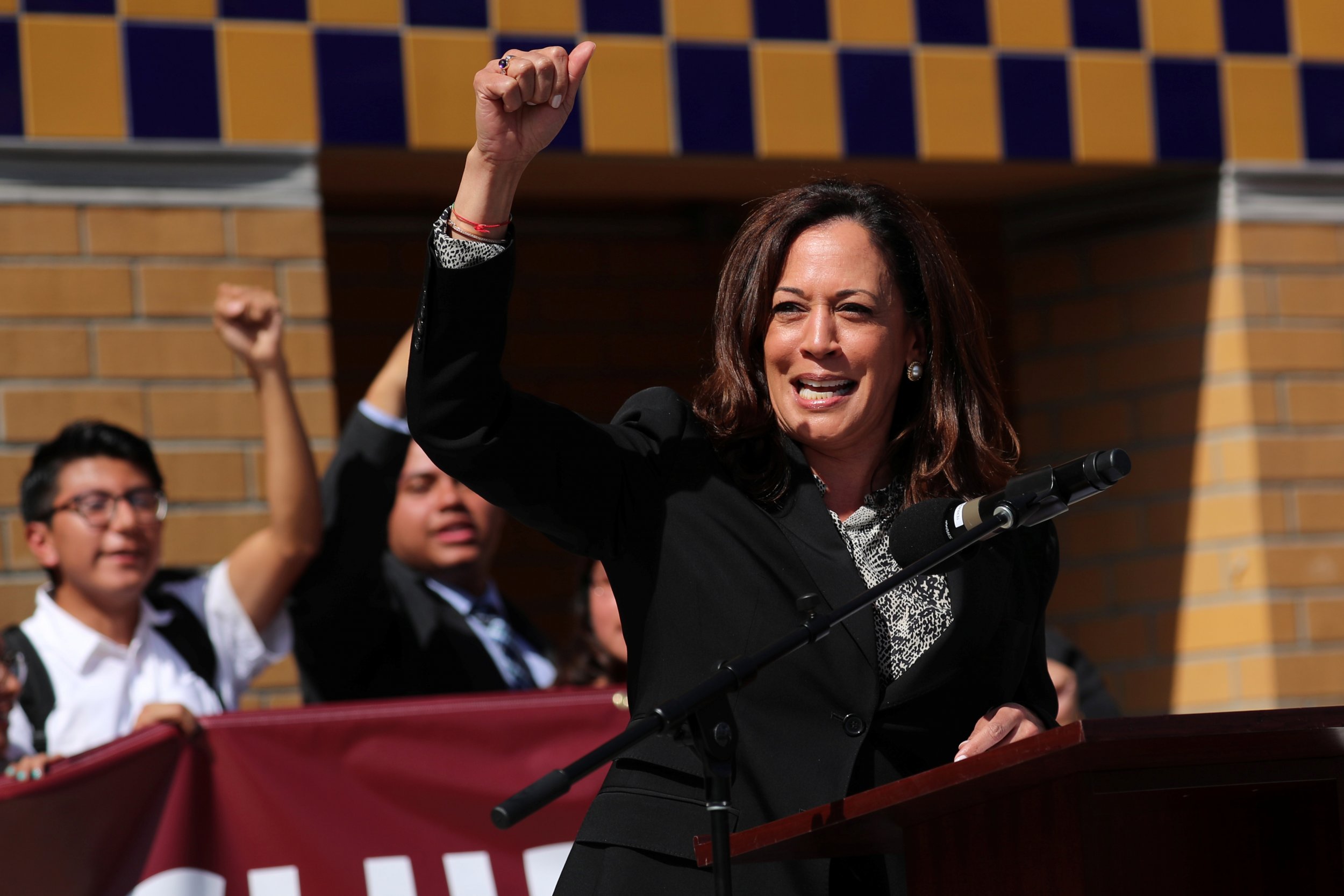 Many of the names on a growing list of Democratic lawmakers calling for President Donald Trump's resignation have one thing in common—rumors of a 2020 presidential run.
On Friday, Senator Kamala Harris (D-Calif.) joined Senators Kirsten Gillibrand (D-N.Y.), Cory Booker (D-N.J.), Bernie Sanders (D-Vt.), Jeff Merkley (D-Ore.), and Ron Wyden (D-Ore.), Bob Casey (D-Penn.) and Mazie Hirono (D-Hawaii) in demanding Trump step down over more than a dozen allegations of sexual misconduct, a position that may become requisite for any Democrat weighing a presidential bid. Political strategists have floated the possibility of 2020 campaigns for all but Wyden, Casey and Hirono.
"It's absolutely a strategic move on their part to try to differentiate themselves from some of the other politicians rumored to be running for president," Jim Manley, a veteran Democratic Senate aide, told Newsweek. "They're staking out a position that an awful lot of folks agree with, and if you're someone who wants to pull ahead early on, it's probably the right move to make."
That's not to say Democrats' calls for Trump's resignation are merely self-serving: Harris and Gillibrand in particular have staked out turf on women's rights issues. Earlier this month, Gillibrand introduced legislation that would make it illegal for employers to ask employees to sign forced arbitration agreements, a longtime practice that prevents alleged sexual misconduct victims from taking their case to court. She and Harris also called for much-liked Senator Al Franken (D-Minn.) to resign amid his own charges of sexual harassment.
"This is something these women care deeply about," Maria Cardona, a Democratic strategist and CNN contributor, told Newsweek. "These Democratic women especially have made sure to stand up for women, for their stories, for their credibility and for their voices."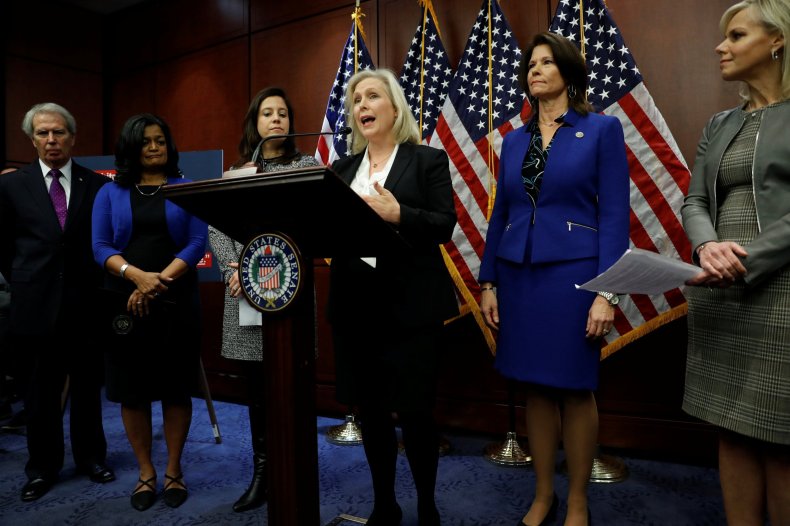 Given Trump's declining approval ratings and the country's reckoning with sexual misconduct—which has finally reached Capitol Hill—demanding the resignation of the accused sexual assailant in the Oval Office is not particularly risky politically. Still, there are signs Republicans could play Democrats' strong condemnation of Trump against them, framing it as a classic case of liberal elites distracting from the real issues facing Americans.
After Casey's call for Trump's resignation, his Republican opponent, Representative Lou Barletta (R-Penn.), said the incumbent should stop rehashing the 2016 election and acknowledge that Pennsylvania voters supported Trump.
"Senator Casey should spend more time fighting for Pennsylvania's workers, securing our borders, giving working-class families a tax break, and fixing our health care system that's hurting our seniors instead of trying to undo the election that Donald Trump won," Barletta said in a statement, according to the Washington Post. "The American people are tired of people playing politics. They want people who will put them first and fight for them."
Even Ed Rendell, former chairman of the Democratic National Committee, cautioned members of his own party to avoid emphasizing the many allegations against the president. "The American people knew this, and they voted for him anyway," Rendell told the Post.
Rendell's message of warning echoes the White House's own official stance on the allegations against the president, which have arisen at press briefings over the last week. "The people of this country, at a decisive election, supported President Trump, and we feel like these allegations have been answered through that process," White house press secretary Sarah Huckabee Sanders told reporters on Monday.
Sanders's comment stakes out the GOP line for 2020: Even amid the #MeToo movement, it may not be politically advantageous for Democrats to center an entire campaign on the president's alleged impropriety.
"Many voters have a lot of disdain for Washington D.C. right now," Democratic communications specialist Tracy Sefl told Newsweek. "A successful Democratic candidate has to understand what American voters are truly motivated by—it's not just rancor over Trump's fitness for office. A successful Democrat has to address Americans' daily concerns."
That means presenting voters with not just an alternative to Trump, but with an alternative to his entire agenda, pointing out his legislative failures and coming armed with clear messaging about how to fix them.
"Democrats can't run just on being anti-Trump," Cardona said. "It's a simple easy message. It's not rocket science."