Turkey Coup: Who Was Behind It and Why?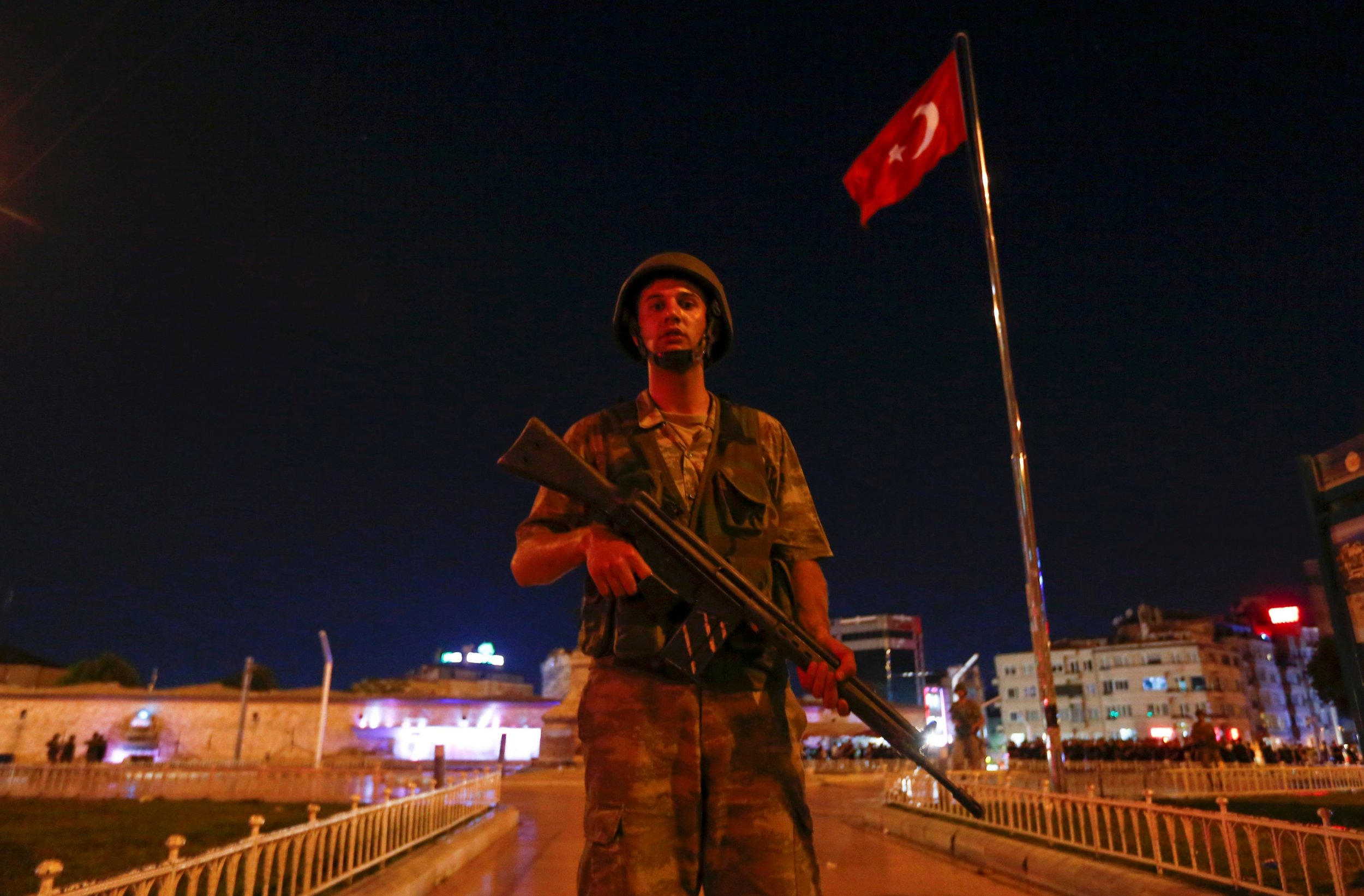 Updated | Turkish Prime Minister Binali Yildirim declared on Friday that the military is attempting to oust President Recep Tayyip Erdogan. By Saturday morning he made told broadcaster NTV that the situation was "largely under control" though at least 160 people were reported to have died in clashes across Istanbul and the capital, Ankara.
In the early hours of Saturday President Erdogan flew into Istanbul, where he made a defiant speech, saying that the coup attempt was "an act of treason" and that those responsible would "pay a heavy price."
The attempted coup comes after a long period of stability in Turkey, as Erdogan has remained in power there since 2003. But Turkey's military has long played a major role in the nation's politics and only in recent years has its power waned.
After Turkish military units marched across the capital of Ankara, here is what we know about the country's armed forces and the attempted coup.
Who Runs the Military?
Technically the military answers to Yildirim, the prime minister and the Minister of Defense, Fikri Isik. But Turkey's top military leader is Chief of Defense General Hulusi Akar. He is a decorated leader, having done tours for NATO in Bosnia and Herzegovina, among other places.
Akar assumed the top job only a year ago, and he appeared to have a close relationship with Erdogan. His appointment coincided with an intensification of combat with Kurdish forces near the Syrian border. He was also reportedly moved to tears during Erdogan's Iftar speech in June. It is unclear what, if any, involvement he has in the coup, although state news agency Anadolu reported that he is being held hostage by the military group behind the uprising. During a call in with a news program, Erdogan was not able to confirm or deny this.
What we know about the group behind the attempted coup is that they appear to boast considerable command of ground troops, having deployed soldiers across Ankara and military aircraft and naval vessels. The exact strength of the force is unknown, though according to a statement circulated via state media, it is calling itself The Council for Peace in the Country.
According to newspaper Evrensel Gazetesi, the Gendarmerie Commander for Bursa Province, Colonel Yurdakul Akkus, has been taken into custody after suspicion of being behind the uprising. This has not been officially confirmed. Meanwhile Zekai Aksakalli, head of Turkey's military special forces took the side of the government, telling TV channel NTV that "those who are attempting a coup will not succeed."
Why Would the Military Want a Coup?
The Turkish military has always been powerful, and the country still boasts the second largest army in NATO, behind the U.S. Politically, the military has been part of four different governments since the 1960s. But Erdogan's election in 2003 began a period of decline for the military, as the Turkish leader managed to limit its power.
In 2007, the armed forces issued a threat online to intervene in an inconclusive election. The case, known as the E-coup, sparked an investigation and a year later, Turkish investigators announced they had uncovered a genuine five-year-old plan to topple the government hatched by soldiers and public figures.
Erdogan's desire for a wider military campaign in Syria has not been popular among the military, nor has his growing conservatism. Metin Gurcan, a former Turkish military officer who now works as an Istanbul-based security analyst, told the Wall Street Journal last week that with the diminishing political opposition in Turkey, military officials view themselves as the only ones able to "put on the brakes and create checks-and-balances against Erdogan."
This is a developing story and will be updated as more information becomes available.