Why the Al-Jazeera Trial in Egypt Is So Important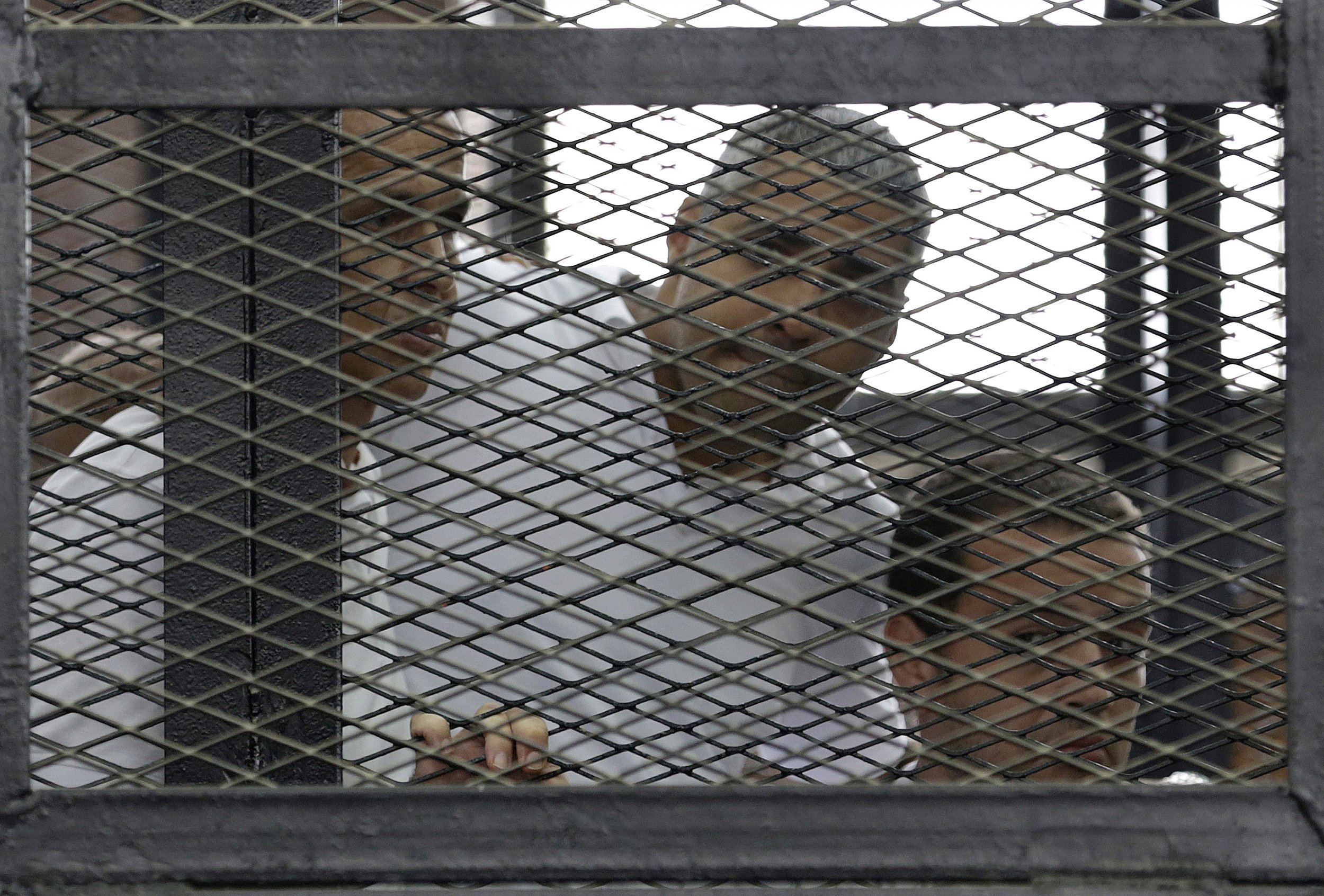 "It's pretty terrifying for all of us who are correspondents, who covered Egypt and who have covered the Middle East, because we look at the Al-Jazeera three and we think that could have been any of us," Lindsey Hilsum, Channel 4 News's International Editor, told me at a protest outside the Egyptian Embassy in London on December 29, the coldest day of the year.
She was joined on that bitingly cold day by at least 30 other prominent international journalists and human rights campaigners calling for the release of Peter Greste, Mohamed Fahmy, and Baher Mohamed, the three Al-Jazeera English journalists who have already spent just over a year in prison in Cairo.
They were charged last year with spreading false news and aiding a terrorist organization, the now-banned Muslim Brotherhood group, in a widely criticized trial. They were given between seven- to 10-year prison sentences.
Outside the Egyptian Embassy, the international journalists were also calling for the release of other journalists that are languishing in Egypt's jails. There are 16 in total, according to the Paris-based monitoring group, Reporters Without Borders, placing Egypt in fourth place for the world's largest jailer of journalists.
The other jailed journalists in Egypt include Mahmoud Abdel Nabi (Rassd News Network), Mahmoud Abu Zeid (freelance photographer), Samhi Mustafa (Rassd News Network), Ahmed Gamal (Yaqeen News), Ahmed Fouad (Karmoz News), and Abdel Rahman Shaheen (Freedom and Justice News Gate), according to the New York–based Committee to Protect Journalists and London-based Egypt Solidarity Initiative.
Many of those arrested worked for Islamist-affiliated news networks, such as Rassd and Freedom and Justice News, or were rounded up while covering protests by the Brotherhood.
Since Egypt ousted former president Mohamed Morsi in a popularly-backed military coup on July 3, 2013, the government has launched a broad crackdown against the Muslim Brotherhood and its sympathizers in the name of the "war on terror." That crackdown has also spread to secular political activists, journalists and human rights defenders.
On his 500th day in prison on December 20, without charge or trial, freelance photojournalist Abu Zeid wrote a moving letter from his three-by-four-meter prison cell, asking the world not to forget him.
Entitled "Sunset in the black hole", he said: "I simply ask that now that you know of me, please do not turn away. I am a photojournalist, not a criminal."
He was arrested while covering the break-up of the Raba'a demonstration on August 14, 2013, as many of us did, when at least 817 pro-Morsi demonstrators were killed in a single day by Egyptian security forces in what has been described as Egypt's Tiananmen Square massacre.
And that's the significance of the Al-Jazeera trial. It sets a precedent for the work of journalists in Egypt, and the world, and sheds a spotlight on those lesser well-known reporters, who don't have the backing of a powerful media organization putting pressure and calling for their release. It's about press freedom for international and local journalists, the rule of law and broader political battles.
The Al-Jazeera three have long recognized that. "A retrial is a milestone toward victory in our free press battle! Our spirits are bullet-proof! Back to white garb!" tweeted a defiant Mohamed Fahmy on January 1, the day an Egyptian court ruled in favor of a re-trial for him and his two other colleagues.
Greste wrote a poignant speech in October highlighting the declining state of press freedom all over the world in the last decade, particularly in the context of the global war on terror.
"In all of these battlegrounds, whether hot or cold, journalists are no longer on the front lines. We are the front lines. In this wider conflict, there is no such thing as a neutral, independent reporter. In the view of both sides, if you cross the lines in pursuit of our most fundamental principles of balance, fairness and accuracy, you effectively join the enemy."
And that applies in Egypt, as much as anywhere. If you're a reporter covering Muslim Brotherhood protests, you open yourself up to accusations of bias, rather than trying to get a sense of the other view, such is the polarized nature of the environment. And vice versa.
Hilsum said that arresting journalists in this context is counterproductive. "It doesn't help the fight against terrorism. Actually quite the opposite. Because if you're wasting the resources of your country on tracking and imprisoning journalists, then you're distracting yourself with actually trying to deal with the real problem of terrorism."
In ordering the retrial on January 1, the court appeared to recognize that legal flaws took place in the widely criticized first trial.
Amnesty International criticized last year's court proceedings, saying that it observed several irregularities.
"In 12 court sessions, the prosecution failed to produce a single shred of solid evidence linking the journalists to an organization involved in terrorism, or prove they had "falsified" news footage," the London-based human rights organization said.
Among the pieces of evidence presented at the trial were: footage of trotting horses by Sky News Arabia, a BBC documentary about Somalia, a song by the Australian musician Gotye, a program about sheep farming, a Kenyan press conference, and Greste's family photos.
Many observers have called the Al-Jazeera three "scapegoats" caught up in a cold war between Egypt and Qatar, which owns the Al-Jazeera news network and supported the Brotherhood. Others see them as legitimate targets, who worked for a news channel considered biased towards the now unpopular Islamist group.
Families of the imprisoned journalists have said that hope lies in the recent thawing of relations between Egypt and Qatar, which culminated in the recent closure of Al-Jazeera's Egyptian channel, Mubasher Misr. This opens the space for public acceptance of their release, if and when it happens, Marwa Omara, Fahmy's fiancée told me.
There is also hope in a new law that President Abdel Fattah Al-Sisi issued in a decree last year, which allowed for the deportation of foreigners who have been convicted of crimes committed on Egyptian soil. The lawyers and families of Greste and Canadian-Egyptian Fahmy have put in requests to the Egyptian government that they be deported.
This, however, would not help Baher Mohamed. He is an Egyptian, whose wife hasn't even been allowed to attend any of the court proceedings because she is Egyptian, she told me. Only foreigners and their families have been allowed to attend, she said. Hope for them lies in the retrial.
The journalists could also be released on bail during the retrial.
Al-Sisi says he won't interfere in the work of the judiciary, so a presidential pardon before the legal process is over seems unlikely.
And when the Al-Jazeera three are released, one hopes the world continues to push for the release of the other journalists in jail, among them: Abdel Nabi, Abu Zeid, Mustafa, Gamal, Fouad and Shaheen.
Nadine Marroushihas reported on Egyptian politics since 2011. Follow Nadine Marroushi on Twitter @nadinemarroushi. This article first appeared on the Middle East Eye site.