Why Alex Rodriguez Is Leaving Baseball in Mid-August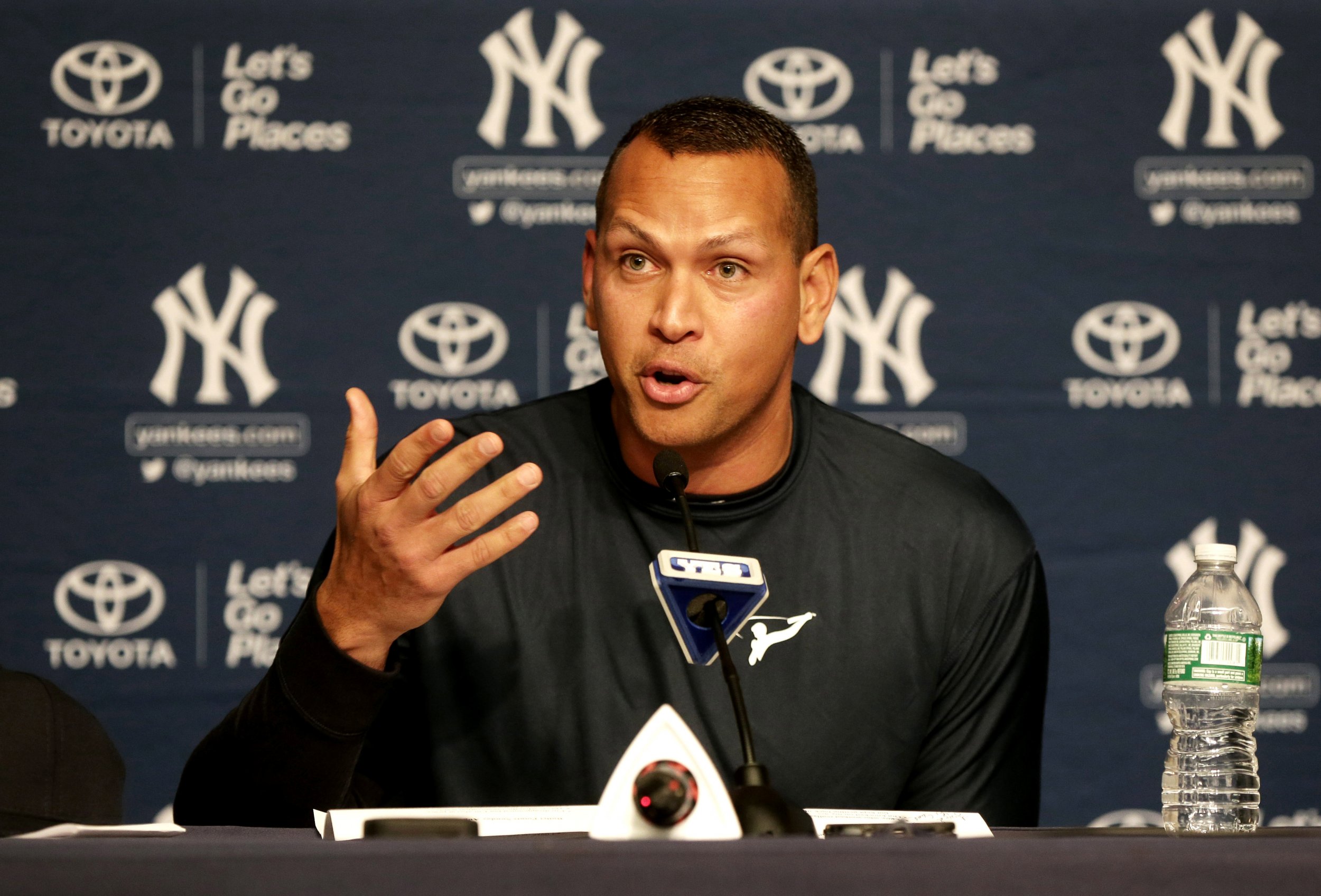 On Sunday morning, the New York Yankees announced that Alex Rodriguez would play his final game for them this Friday. The 22-year veteran infielder and designated hitter departs with a star-crossed legacy. Rodriguez was amongst the top 10 professional athletes, in terms of pure talent, of the past two decades. Yet none invited more scorn throughout the better half of their careers—not even Tiger Woods.
As the 14-time All-Star takes his leave from the diamond more than a full season before his contract is due to expire, we answer the most pertinent questions associated with Sunday's announcement.
By releasing A-Rod now, do the Yankees save any money?
Not a dime. New York will still pay him the approximately $5.5 million remaining on this season's contract, plus a $1 million signing bonus for 2017, plus all of next season's $20 million contract. That's a total of $26.5 million to not play baseball. You are probably earning less to not play baseball.
Why now?
The situation had become untenable for both the Yankees and A-Rod. Before the fourth and final subway series against the New York Mets last Thursday, Yankees Manager Joe Girardi was pressed about A-Rod's absence from the lineup (he had seven at-bats in the previous two weeks). "These aren't really fair questions, are they?" Girardi bristled. "I mean, he's part of our club, and he's going to continue to be a part of our club. That's the bottom line."
A-Rod 696th career home run, on July 18 at Yankee Stadium versus the Baltimore Orioles, was also his most recent hit. The 41-year-old is 0-for-15 since that blast to left field off Kevin Gausman. Since then, the Yankees have executed the Pinstripe purge, as All-Stars Carlos Beltran and Andrew Miller were traded for prospects, as was three-digit radar-gun closer Aroldis Chapman, he of the 105 mph fastball. Last Friday, former All-Star first baseman Mark Teixeira announced that he would retire at season's end.
Less than two weeks ago, both the Yankees and Detroit Tigers had identical 52-48 records. The Yanks chose to sell off and rebuild, and are 4-7 since. The Tigers are 9-2 since and would make the playoffs, if they began today, as a wildcard.
A-Rod, the last vestige of the Joe Torre era, has no place on a team that has closed the book on 2016. Meanwhile, the Yanks could not have a guy earning $20 million chewing sunflower seeds all game without the media constantly peppering management with questions about it. A-Rod, even though he has been on his best behavior since returning from the 162-game suspension for doping that compelled him to miss all of 2014, was once again a daily distraction. And, as he put it himself on Sunday morning, sitting the bench the past two weeks was "painful" and "embarrassing."
Why not allow A-Rod the same exit as Mark Teixeira?
Rodriguez and Teixeira were both corner infielders on the same 2009 Yankee world championship team. They are both former All-Star sluggers who have led the American League in home runs, both former Texas Rangers, both hitting at about the Mendoza Line (.200) with nearly identical power numbers this season (nine home runs and 29 RBI for A-Rod; 10 home runs and 28 RBI for Tex). So how come Teixeira was allowed to announce his retirement last Friday with the provision that he would play out the remainder of this season, while A-Rod was essentially given a cigarette and blindfold by owner Hal Steinbrenner?
The baseball answer is that Teixeira, a five-time Gold Glove winner at first base, is still able to play the field (he made a gem of a play in the eighth inning of Sunday's 3-2 win against the Cleveland Indians) while A-Rod is not. Tex also never threatened to sue the Yankees, as Rodriguez did after the 2013 season, never got busted for performance-enhancing drugs (PEDs)—as A-Rod did, twice—and rarely if ever appeared on the back page of the tabloids.
As A-Rod's did-not-plays piled up, Girardi was going to be answering questions about the world's highest-paid batting practice-only hitter daily. The Yankees were going to release A-Rod within a week whether he liked it or not. By offering him the role of "special adviser" until his contract runs out after next season, they allowed him to remain part of the family while jettisoning him from the roster.
Will A-Rod's new role as "special adviser" be any less fictitious than George Costanza's role as assistant to the traveling secretary on Seinfeld?
We shall see. A-Rod will be paid through the end of next season to serve as an instructor and special adviser, but after Friday night's game versus the Rays, as Yankee General Manager Brian Cashman said on Sunday, "[Alex] can do anything he wants." Yankee beat writers may want to familiarize themselves with the term sinecure.
Are the Yankees relieved?
Definitely. A-Rod had already broken Yankee immortal Lou Gehrig's Major League record for career grand slams (23) last season. When he hit 33 home runs a year ago after sitting out 2014 due to his suspension from baseball, there was trepidation that, given two seasons, he would also supplant Babe Ruth as the Yankees' all-time leader in home runs (he needed 27 to tie Ruth at 714 when this season began). Now that will not happen.
No pro sports organization values its legacy more than the Yankees, where every single digit number has been or will soon be retired (only No. 2 remains, but Derek Jeter will be the last Yankee to wear that). Rodriguez, despite his gaudy numbers, will never see his "13" retired, nor will he garner the approbation that the likes of Ruth, Gehrig, (Mickey) Mantle or (Joe) DiMaggio received.
Will A-Rod play this week?
Yes, but it's not clear how many at-bats he'll receive. The Yankees have a three-game series at Fenway Park against the Red Sox, whose fans loathe him even more than the New York Post does, beginning Tuesday. Then they return home for Friday night's game in the Bronx against the last-place Tampa Bay Rays.
The Yankees have already announced that Rodriguez will play Friday night. Less than 24 hours later, they will honor their 1996 championship club, including fan favorites such as Jeter, Mariano Rivera and Bernie Williams. By then, A-Rod, whose standing with New Yorkers is light-years apart from those players, will be a thousand miles away in Miami. As for Fenway, look for Rodriguez to play at least one game, if not all three.
Rodriguez is four home runs shy of 700 home runs. While he has no shot of overtaking Ruth's record, and while it is inconceivable to imagine him blasting four home runs in four games at this stage of his career, would it be any more outrageous than Kobe Bryant exploding for 60 points in his final game last April?
Will A-Rod suit up again after this week?
Only in the manner of another narcissistic New Yorker from the aughts, Barney Stinson. Expect Rodriguez to wear a suit as a Fox baseball analyst come October. He was terrific in a trial audition last autumn, and no one has ever questioned Rodriquez's passion and expertise. He is well-spoken and telegenic. A natural.
If he were to suit up in a baseball uniform in pursuit of 700 home runs, it would almost certainly be for an American League team (no designated hitter in the National League). But who would be willing to pick up that $20 million salary for next season? Is it out of the realm of possibility that he'd wait until after his Yankee contract expires and play for a bargain rate as a 42-43-year-old in 2018? At least until he reaches the 700 club?
No, but if Rodriguez does that, he'll only be reinforcing the widely held perception that his motivation was always about him as opposed to the team. The Yankees on Sunday provided him the opportunity to take a final bow as part of something larger than just his own statistics. It would be foolish to negate that chance at redemption to chase Ruth's mark, particularly when it is well-documented that, like Barry Bonds, his record was chemically abetted.
Will A-Rod end up in Cooperstown?
No—not until a younger generation of baseball writers with a more relaxed stance on PEDs supplant the current coterie of voters. On statistics alone Rodriguez, who would be eligible for voting for the Hall of Fame class of '22, is a first-ballot shoo-in. A three-time American League Most Valuable Player, A-Rod is fourth all-time in homers, third in RBI and hit more grand slams (25) than anyone in baseball history. He is also a 14-time All-Star.
However, no ballplayer has ever been dealt a longer suspension (211 games, which was appealed down to 162) for using PEDs. Bonds is the all-time career home run leader (762), and Roger Clemens won more Cy Young Awards (7) than any pitcher in history while also winning 354 games. Both have been eligible for the Hall of Fame since 2012, and neither has been elected.
Like Bonds and Clemens, Rodriguez could have reached the extra base that induction into Cooperstown represents standing up, but he chose to cheat. It's impossible to know what his true numbers would have been, but he still would have been a Hall of Famer.
What is A-Rod's legacy?
As ESPN's Buster Olney said on Sunday, "It's complicated."
A sublime talent, a five-tool player with movie star charisma and looks, A-Rod might have been one of the most popular players of all time. But there was always something a little disingenuous about him, and after he arrived in New York City, the tabloids pounced on him.
Is he the first Major Leaguer to sunbathe on the day of a night game (no; Jeter once infamously arrived for a Rays game a little more bronzed than usual), or the first to step into a hotel elevator with a woman who was not his wife during a road trip? Hardly, but the New York Post splashed both incidents on its back cover.
A-Rod's greatest flaw was that he always wanted the public to believe that he was without flaws, both on and off the bases. Then he'd get caught writing his phone number on a baseball and tossing it to a fetching female fan in the stands during a playoff game (against the Detroit Tigers in 2013). As a baseball player, Alex Rodriguez in his prime was about as near-perfect as you could get. As a human being, he was a .250 hitter. He never seemed to be able to accept the difference, or to deal with it very well.