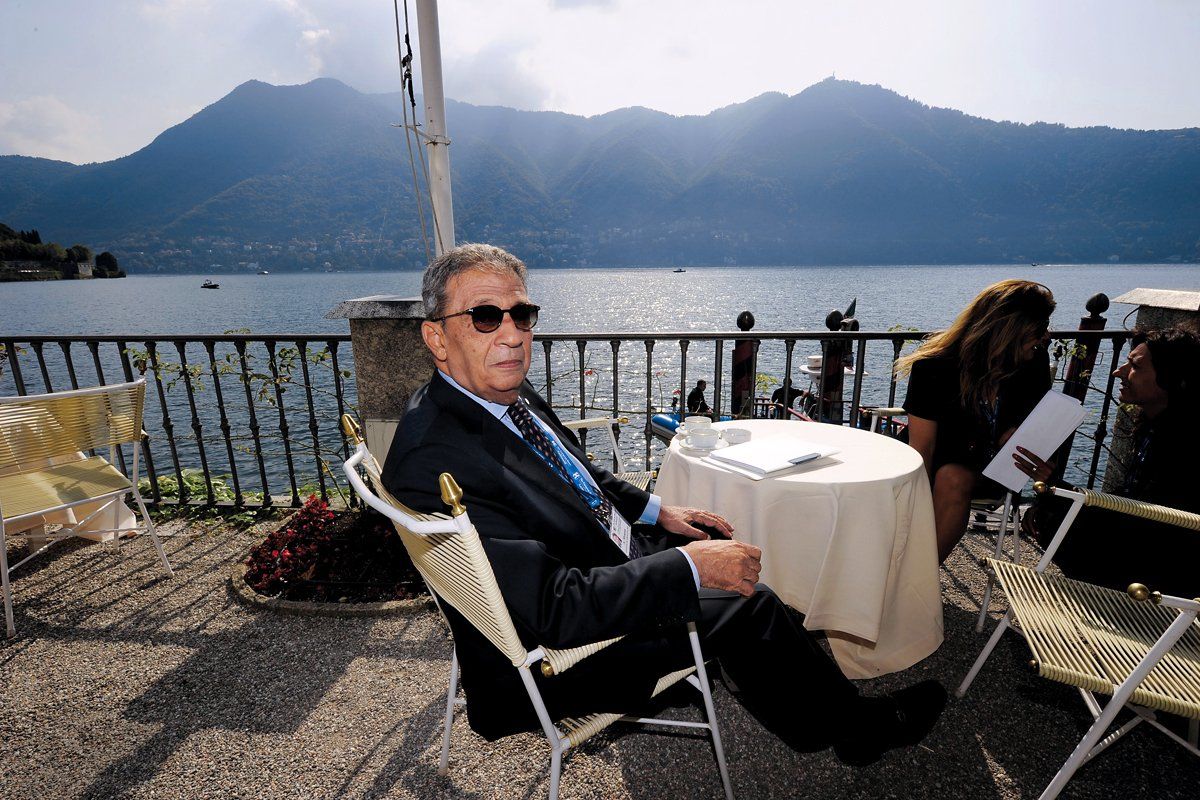 At first glance, Amr Moussa would seem to have scant hope of winning Egypt's upcoming presidential election—the first truly free contest in modern history for that position. There's no shortage of candidates to lead the country, and none of them is more closely identified with the hated dictatorship of Hosni Mubarak than Moussa. He served as Mubarak's foreign minister from 1991 to 2001 and has spent the past decade as head of the Arab League, essentially an association of Mideast autocrats like Mubarak before his ouster early this year.
And yet, with the vote planned for sometime this fall, the frontrunner is none other than Moussa. Drawing support from a whole array of disparate groups, he's far ahead of his leading challenger, Mohamed ElBaradei, even though ElBaradei is a big favorite among the anti-Mubarak protesters who filled Cairo's Tahrir Square during the winter. More than anything, they sought a sharp break from the policies and the regime that ruled Egypt for three decades of repression and mismanagement. A break, that is, from the likes of Amr Moussa.
What's his secret? Many people admire the 74-year-old's dignified bearing and his smoky baritone, but that's only part of the explanation. What his supporters love most is his long and vocal history of anti-Israel diatribes. Speaking with NEWSWEEK at his Arab League office looking out on Tahrir Square, he made no secret of his anger against Israel. "The peace process has become a dirty word, because we discovered it was just [an Israeli] trick to continue talking and make the cameras flash ... but there's no substance. We shall not engage in such a thing anymore. Never."
Israel has been a theme in much of Moussa's professional life. A career diplomat, he was a protégé of Egypt's foreign minister in the 1970s, Ismail Fahmy. When President Anwar Sadat made his historic visit to Jerusalem in 1977, Fahmy resigned his post, arguing that the overture would cost Egypt its leadership position in the Arab world. Moussa, 41 at the time, broke with Fahmy and eventually joined the team that helped draft the peace treaty between the two countries.
The agreement returned the Sinai Peninsula to Egypt, but just as Fahmy had warned, it also shattered Egypt's standing among the Arabs. By the time Moussa became foreign minister, Israel's settlement building in the West Bank and Gaza and its stalled negotiations with the Palestinians had undermined the rapprochement.
Moussa became one of Israel's most relentless detractors in Egypt. He confronted Israelis at conferences and attack-ed them in television interviews. His tirades even made him the subject of a hit song: Egyptian crooner Shaaban Abdel Rahim's 2000 "Ana Bakra Israel"—"I Hate Israel." After chanting the title phrase over and over, the singer adds: "But I love Amr Moussa." Moussa says he met Abdel Rahim years ago at a wedding party where the singer was performing. In a conversation between sets, Abdel Rahim told him that the line about Moussa had made Mubarak jealous. To avoid trouble, the singer mixed a new version in which the object of his love is Hosni Mubarak. Moussa gloats that the original made Abdel Rahim a millionaire, while the Mubarak version hardly sold.
Nagui El-Ghatrifi, who served as Moussa's spokesman for four years at the Foreign Ministry, says his former boss's anger at Israel is genuine. Still, Moussa seems keenly aware of the public's response to his outbursts. In a Pew Research Center poll published this April, two months after the revolution, 54 percent of Egyptians favored annulling the peace agreement with Israel, versus 36 percent who wanted to maintain it. (The rest were undecided.) A Western diplomat who got to know Moussa while serving in the region puts it bluntly: "The source of his popularity is almost entirely derived from his image as an Arab nationalist who's very critical of Israel."
Even so, Moussa rules out the idea of abolishing the treaty. "I will tell you two things: No. 1, that the treaty, we're not going to abrogate it. And No. 2 ... We want to rebuild the country, and rebuilding the country by necessity [means] not to follow an adventurous policy."
Apart from his longstanding dislike of Israel, Moussa's political record is ambiguous at best. He insists that he often criticized the regime he served—so much so that he and Mubarak had a falling-out. "Relations between us became very tense, even personally," says Moussa. Yet it's hard to find evidence of any efforts at serious reform. In a television interview just a year ago, he vowed to support Mubarak: "As long as President Mubarak will run for election—and I know him well, and I know how he runs things, and so on—I'll vote for him," he said.
Moussa was on his way to the World Economic Forum in Davos, Switzerland, when protests erupted in Egypt this January. As the unrest grew, he left the conference early and flew home to Cairo. Back in his Arab League office, looking out on the hundreds of thousands of Egyptians filling Tahrir Square, he phoned President Mubarak, he says. "I told him, 'Mr. President, this is a revolution ...' And I pleaded that there would be no bloodshed. 'You should listen to what they say, and no bloodshed.'" With Mubarak under house arrest and inaccessible to journalists, the story is impossible to verify.
According to several Egyptian newspaper reports, Moussa joined the protesters in the second week of demonstrations but tried to discourage them from seeking Mubarak's ouster. Asked about those reports, he says they were spread by his political opponents and were flat wrong.
Political polling was never allowed under Mubarak, but the international research company Ipsos is making up for decades of lost time. Its latest survey, in June, showed Moussa leading the pack with 25 percent of the vote, versus 5 percent for ElBaradei and even lower numbers for the rest. But Moussa's trend line is less upbeat: his support has declined steadily, from 40 percent in March. And the formidable number of undecideds—57 percent as of June—means the race is still open. As political scientist Marc Lynch of George Washington University puts it: " 'None of the above' appears to be winning by a mile right now."
Nevertheless, Moussa leads the field in name recognition, and he's courting the Islamist vote. He might actually win. After the revolutions of 1989 in Eastern Europe, more than one former communist apparatchik repackaged himself as a reformer and won office democratically. Steven Fish, a political scientist at UC Berkeley who studies post-revolution societies, thinks Moussa could do the same. Washington might find the former foreign minister more palatable than some of his America-bashing rivals, says Lynch: "The West can live with him, I'd guess."
But what about the protesters who toppled the regime—can they live with him? Will they give up on democracy if he's elected? To escape Cairo's hopelessly gridlocked traffic, I recently took the subway. On every map I saw in the cars and stations, the name of one stop had been scratched off. When I asked another passenger about it, he told me the stop used to be named Mubarak. Now it's being changed to "Shuhada"—"Martyrs." Egyptians seem determined to put the past behind them. The election may hinge on whether Moussa can do the same.