Here's Why Analysts Think the Walgreens Deal Could Tank
Walgreens Boots Alliance has recently tapped an investment bank to explore the possibility of going private, according to reporting by Reuters, but analysts aren't so sure a deal of this magnitude is possible.
The transaction could require north of $70 billion at the end of the day: $15 billion in cash and more than $55 billion in debt to relieve current shareholders, so long as executives roll their equity into the deal, according to analysis by Jefferies Research Services, a financial services company.
That's a tough ask in today's market, when loans of that magnitude don't come cheap. Also casting a shadow over the deal are more fundamental questions about the firm's ability to stay relevant in an industry ripe with pressures from online giants with cheaper products.
Walgreens lost 28 percent of its stock value in the past twelve months, according to Reuters. Last week, the company told investors that adjusted earnings could plateau in 2020 from lower revenue from generic drugs, plus competition from Amazon.
Despite efforts to diversify, Walgreens is "kind of stuck," analyst Brian Tanquilut, who specializes in healthcare services equity research at Jefferies, said in an interview with Newsweek. At this point, the company could pivot its store strategy, but doesn't have major businesses like CVS' insurance wing to bolster the cost of that innovation, he said.
Meanwhile, the drug firm's slumping shares, closing stores and exposure to opioid suits don't exactly inspire confidence in potential investors, according to Tanquilut.
"If I was a private equity sponsor, and I'm going to commit 15 to 20 billion in capital on this, these are some serious considerations," he said.
Chief Executive Stefano Pessina has long brushed off encroachment by internet giants into the retail pharmacy space—mostly depending on partnerships to bolster Walgreens' business—but his competitors seem to be profiting from more disruptive moves.
In the past year, CVS acquired health insurance giant Aetna in a deal so big it initially worried antitrust regulators. It also started rolling out its health services wing, further diversifying its business against sluggish pharmacy foot traffic. In the past twelve months, CVS shares performed better than Walgreens', down just 7 percent, Reuters reported Tuesday.
Walmart is on the cusp of clinic expansion, Costco is testing free delivery of prescription drugs and Amazon bought PillPack last year in a deal that sent traditional pharmacy shares tumbling.
Walgreens bought Rite Aid stores but originally wanted the whole company. It bought stake in AmerisourceBergen and considered going after U.S. health insurer Humana, settling instead for expanding their partnership for primary care services, according to Reuters.
Other partners for the drug store include Microsoft for better research and data, UnitedHealth Group and MedExpress for starting urgent care centers, FedEx for next-day prescription delivery and Kroger for in-store groceries.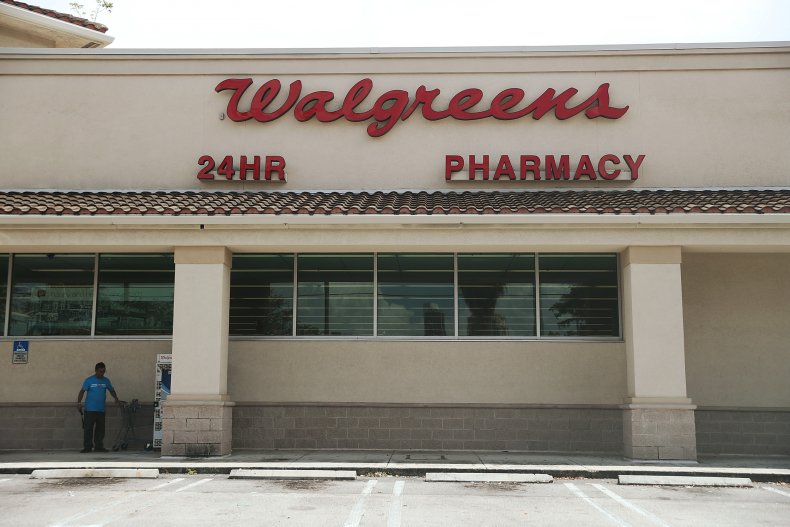 Baird analyst Eric Coldwell confirmed these industry woes to Reuters.
"Given poor industry fundamentals, seemingly never-ending margin pressures faced in the healthcare supply chain, and, let's face it, ongoing uncertainty about unpredictable items such as opioids exposure, we would struggle to see a monster premium beyond this current run-up (in the stock)," he said in a note.
Citi's Ralph Giacobbe told Bloomberg that while Walgreens has some characteristics that lend weight to a potential go-private, "the sheer size of a deal, the structural pressures the business faces, and years worth of cost reduction and financial engineering makes it somewhat difficult to envision."
Those characteristics include the drug firm's healthy cash flow and ability to raise some money for the move. Walgreens could sell its 30 percent stake in AmerisourceBergen or use Pessina's ownership stake—16 percent—to reduce the billions they need from private equity firms, investment banks and hedge funds.