Why Is Andrew McCabe Suing the DOJ? Former FBI Deputy Director Says Justice Department Is Withholding Documents
Andrew McCabe, the former deputy director of the FBI dramatically fired by the Trump administration, is suing the Department of Justice, claiming it is withholding key documents from his lawyer, who is fighting the dismissal.
Attorney General Jeff Sessions fired McCabe just two days before he was entitled to retire with full benefits from the bureau, after more than two decades of service. The ex-FBI man denies any wrongdoing and believes his firing was politically motivated.
McCabe was accused of lying to internal investigators about making unauthorized leaks to the media relating to the FBI's investigation into Hillary Clinton's use of a private server for official emails. Sessions is reportedly weighing up criminal charges after receiving a report on McCabe from the Office of the Inspector General (OIG).
President Trump also accused McCabe of pro-Democrat bias because his wife stood unsuccessfully for the party in a 2015 election for a Senate seat in Virginia, and took campaign money from a Clinton ally. McCabe was only promoted to deputy director at the FBI the following year.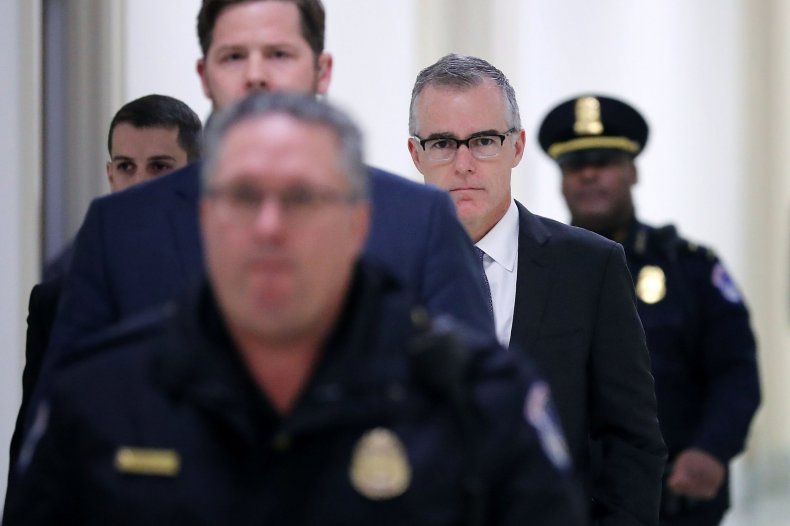 In a District of Columbia court filing, McCabe's lawyer David L. Snyder accused the Justice Department, its Office of the Inspector General and the FBI of refusing to "identify the policies or procedures which applied to Mr. McCabe's dismissal and the proceedings which led to it," referring to several administrative documents.
"Defendants have been required for over 50 years to proactively disclose the kinds of documents at issue here, and there is no just reason for either their failure to do so now or for any further delay," the filing states.
"Defendants' breach of their disclosure obligations have prejudiced Mr. McCabe and Plaintiff in fundamental ways, all of which flow from one of FOIA's core concerns: No citizen should 'los[e] a controversy with an agency because of some obscure and hidden [administrative material] which the agency knows about but which has been unavailable to the citizen simply because he had no way in which to discover it.'"
Snyder argues that "by failing to proactively and publicly disclose the documents at issue here, and by failing to otherwise fulfill their statutory obligations, Defendants have deprived Plaintiff of the opportunity he should have had to protect and to advance the legal rights and interests of Mr. McCabe."
He requested the "expedited disclosure of those documents which long should have been in the public domain."
The Department of Justice did not respond to a request for comment.
Separately, McCabe is demanding immunity in exchange for his testimony to a Senate committee hearing on the bureau's handling of its investigation into Clinton's emails. He is fearful of the looming criminal charges Sessions may bring.
"Mr. McCabe is willing to testify," McCabe's lawyer Michael Bromwich wrote to the Senate Judiciary Committee Chairman Senator Chuck Grassley in a letter sent Monday, "but because of the criminal referral, he must be afforded suitable legal protection.
"Under the terms of such a grant of use immunity, no testimony or other information provided by Mr. McCabe could be used against him in any criminal case."
Bromwich described it as a "textbook case for granting use immunity."
"This Committee and other committees in both the Senate and House are eager to hear Mr. McCabe's testimony; Mr. McCabe is eager to give such testimony," Bromwich wrote.
"He has a legitimate fear of criminal prosecution based on the criminal referral that has already been made, the irregularities in the process by which he was terminated, and the improper command influence that continues to be exercised by the President of the United States; and if there is a criminal case to be made, which we vigorously dispute, the relevant witnesses are known and they have already given sworn testimony during the OIG's investigation."
The OIG said in its report, now in the hands of Sessions, that McCabe violated FBI policies. The Justice Department watchdog concluded that McCabe "lacked candor, including under oath, on multiple occasions in connection with describing his role in connection with a disclosure to [The Wall Street Journal]."
It added: "The OIG also concluded that McCabe's disclosure of the existence of an ongoing investigation in the manner described in this report violated the FBI's and the Department's media policy and constituted misconduct."
This article has been updated to include additional information on the OIG report and timing of McCabe's promotion to deputy director.