Why Anti-Kavanaugh Protesters Are Wearing Teal to Rally Against Supreme Court Pick
As both Supreme Court nominee Brett Kavanaugh and Christine Blasey Ford, the first of several women to accuse him of sexual assault, prepared to testify before the Senate Judiciary Committee on Thursday morning, protesters were already out in full force outside the Supreme Court in Washington, D.C., to rally against the judge's nomination.
Many protesters showed up wearing the color teal.
Why teal? The blue-green hue was the same color worn by attorney Anita Hill, when she had to testify before an overwhelmingly male Senate Judiciary Committee 27 years ago after accusing Judge Clarence Thomas of sexual harassment during his own confirmation hearings in 1991.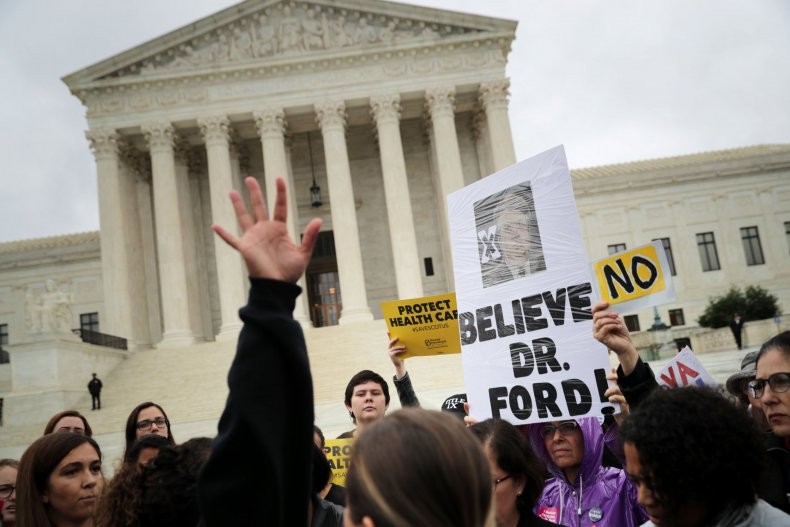 Protesters said they wanted to show their support for Ford, as well as for Deborah Ramirez and Julie Swetnick, who have all accused Kavanaugh of sexual misconduct in the 1980s.
However, they also wanted to pay respect to Hill and the scrutiny she faced in making her own allegations public.
"We are here to let Professor Ford know that we stand behind her and that we believe in her," one protester, wearing a teal shirt, told The Independent during a Facebook Live interview.
"And we're wearing all these teal shirts to say that women really should have been behind Anita Hill," the protester said.
"We were all behind her," she said. "But we didn't come to the hearing. We didn't support her."
Indeed, while Hill's 1991 testimony was pivotal in raising awareness around issues of sexual harassment and assault, the attorney has said that it never resulted in lasting change, a reality that she attributed to a lack of clear leadership and a societal reluctance to contend with the full weight of the issue.
In contrast, Ford's own testimony comes at a time of unprecedented awareness around sexual misconduct, with the Me Too movement maintaining its momentum since it first rose up in response to sexual assault allegations against Hollywood producer Harvey Weinstein–and the countless allegations that have been made against other prominent men in the months since.
Read more: These Are the 7 Senators Whose Votes Will Decide Whether Kavanaugh Will Be Confirmed
Ford, a Palo Alto University professor, has accused Kavanaugh of sexually assaulting her at a house party during the summer of 1982, when both were still in high school.
Shortly after she went public with her allegations, others have come forward, with Ramirez accusing Kavanaugh of thrusting his genitals in her face at a party in the 1980s when both were in their freshman year at Yale University.
Not long after, Swetnick came forward to accuse Kavanaugh of being part of a group of teenage boys who sought to get girls "inebriated" and "disoriented" so that they could take advantage of them in "gang rape" attacks.
Kavanaugh has vehemently denied the allegations against him, calling Swetnick's accusation "ridiculous and from the Twilight Zone."
Outside Supreme Court on Thursday, however, protesters said they believed the women, with one demonstrator who said she was a 65-year-old who believes Kavanaugh "is a rapist" and a "sexual harasser."
The woman, who told reporters she had been arrested and charged with disorderly conduct for protesting against Kavanaugh's initial confirmation hearing, said she had been against Kavanaugh's nomination before the sexual assault allegations emerged.
But she said the allegations had strengthened her belief that the judge is not fit to sit on the Supreme Court.
A third protester who said she was currently in law school told The Independent that she had chosen to wear teal in a show of respect for Hill.
"She was wearing a similar color, so that's the significance of teal," she said.
Of Ford, the protester said she believed it was "important for women and really, everybody, to stand with her and to say that we're listening."
She also had a message for Ford: "You've gone through enough. Even coming out is courageous. We're here to listen to you and to hear what you have to say."