Why Are 2020 Democratic Presidential Candidates Denied Access Inside Border Detention Facilities?
First there was South Florida, then just one day later it was the Texas border with Mexico. Officials at migrant detention centers from Miami to El Paso denied 2020 Democratic presidential candidates access to their facilities.
After the two-day Democratic presidential candidate debates in Miami, a handful of those candidates in the crowded field wanted to visit the detention center in nearby Homestead, which is the largest holding facility for children who entered the United States unaccompanied.
The candidates were not granted access beyond the point of entry, according to CBS 4 in Miami. Reporter Rielle Creighton said "nine of the more than 20" candidates stopped by to tour the facility, only to be told they couldn't.
"For each and everyone of them, it's been access denied," the report stated. "Still, they were all using the platform for the facility to be shut down."
The candidates were joined by protesters against holding facilities, and the 2020 hopefuls spoke to the crowd.
"We went into that facility and requested the opportunity to see what's going on, pursuant to a federal law," said candidate Pete Buttigieg, the mayor of South Bend, Indiana.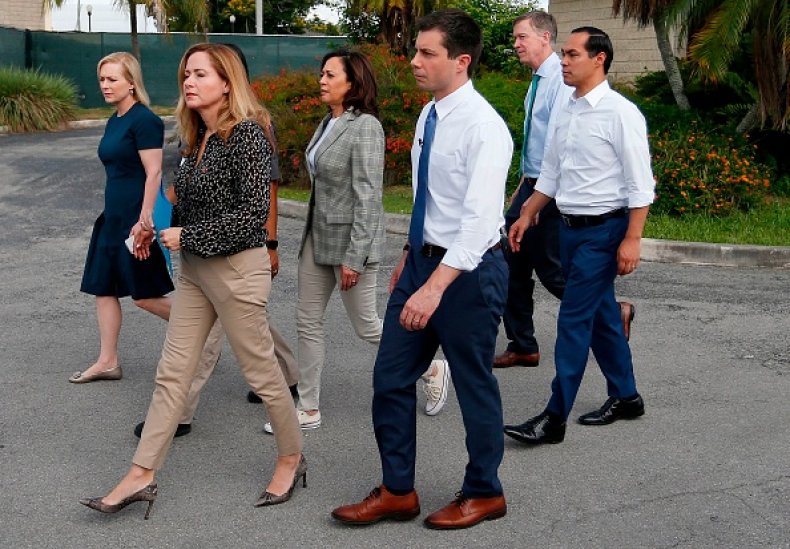 Among the other candidates who were denied access to the facility were Senators Kirsten Gillibrand and Kamala Harris, former U.S. Rep. Beto O'Rourke and former San Antonio Mayor Julian Castro.
"They are literally profiting off of the incarceration of children," said Sen. Harris of California.
The Homestead facility houses about 2,700 children, according to the report, which went on to say that Sens. Bernie Sanders and Elizabeth Warren have also been denied into the center.
Gillibrand claimed to have seen it, though, comparing it to incarceration.
"I know what it looks like. It looks like a prison," Sen. Gillibrand said. "The beds are lined, just like you'd see in a prison."
Gillibrand did not indicate if she had actually been inside the Homestead facility.
However, Miami-Dade County Commissioner Daniella Levine Cava was able to access entry into the Homestead facility in her district — after a long process — and she said there was "no mistreatment inside," but said there were many things not allowed to be seen, according to the CBS Miami report.
Castro, a former Secretary of Housing and Urban Development in the Obama administration, said in the report "We can fix our immigration system, and treat people with common sense, instead of with cruelty."
A day later in the Clint, Texas, holding facility outside of El Paso, the candidate and former secretary was denied. He was asked by the NPR host about "deplorable" conditions inside the Clint facility that reporters invited to tour it responded with sanitary conditions.
"I tried to visit the facility three hours ago with state representatives," Castro said on NPR, noting one of the state officials represented the area around Clint. When asked why he was denied, Castro said, "They said we need to request a formal tour, and the problem, though, I was at the facility on Homestead yesterday."
Castro didn't say he was inside to see conditions in Homestead, but rather only at the facility.
"You think about it, they only do these very specific guided tours at specific times, when they have a lot of notice when people are going to come through," Castro said. "I'm told that lawyers that represent the kids there have to sign a non-disclosure agreement so they can't talk about the conditions in there.
"It makes you wonder. What are we hiding?" Castro said.
According to reports from El Paso media who were allowed entry to the Clint facility last week — with no cameras, though — the conditions were rather clean and orderly, contradicting reports of "squalid conditions" with little care.
A reporter from El Paso's CBS affiliate toured the Clint facility during a media tour Wednesday — with no cameras — and said the center was rather clean and monitored.