Why Are Chicago Teachers Striking? Classes Shut Down As Negotiations With City Stall
Teachers in the Chicago school district, which serves 300,000 students, went on strike Thursday morning, shutting school down for the day.
At least 25,000 teachers, represented by the Chicago Teacher's Union (CTU), are demanding raises, smaller class sizes and more support staff. They are joined by members of those support staff in the area, represented by Service Employees International Union (SEIU).
Newsweek subscription offers >
The CTU and the city failed to come to an agreement by the union's set deadline Wednesday evening. Negotiations resumed Thursday morning after teachers formed a picket line.
The city announced that school would be closed Thursday to allow parents time to make alternative arrangements. In a media address Thursday morning, Chicago Mayor Lori Lightfoot announced that schools will be closed for the duration of the strike.
CNN reported that negotiations stalled early Thursday afternoon and CTU released a statement saying, "the mayor is refusing to put key provision meant to help Chicago's students succeed into writing."
Though increased pay is a key demand for CTU, it is not the only concern. CTU argued that any agreed contract should include stipulations about lower class size and increased support staff. This includes more social workers, counselors, teacher's assistants and special education teachers. CTU also demands one librarian and one restorative justice coordinator per school. This is part of a plan that not only addresses the needs of the teachers, but also the children they teach.
Newsweek subscription offers >
"I think we have put on the table a structure both on compensation, around class sized, around staffing and another of other supports that have the outline and framework for the deal, but we can't bargain by ourselves," Lightfoot said Thursday morning during a press conference.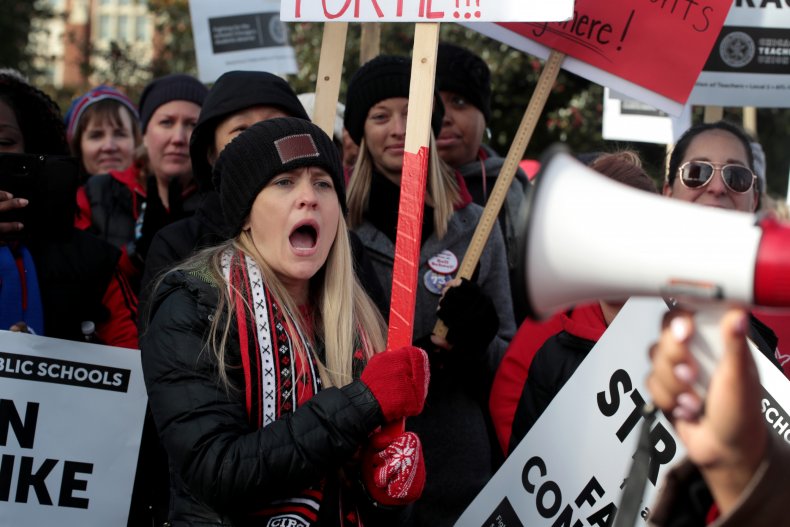 Although the city offered teachers a 16 percent raise over five years, CTU President Jesse Sharkey said he remained skeptical.
"We don't have any reason to agree to a 3.2% raise for five years unless you can tell us that we can teach in front of a class where we can actually make a difference, where there can be a nurse in our school, where there can be social workers, where we can have a librarian that can help teach people reading, where we can have the things that out children deserve, " Sharkey told supporters on Monday.
The pay raise does not address other main areas of concern for the CTU such as class size and support staff. According to ABC News, teachers are reporting class size between 30 to 40 students and issues like poverty and homelessness. The Chicago Coalition for the Homeless reported that 16,450 students did not have permanent homes during the 2018-2019 school years.
The city kept schools open, although classes were canceled. Breakfast and lunch are being served, but after school activities and school buses were suspended.
Why Are Chicago Teachers Striking? Classes Shut Down As Negotiations With City Stall | News