Why Are the Green Bay Packers Upsetting Aaron Rodgers?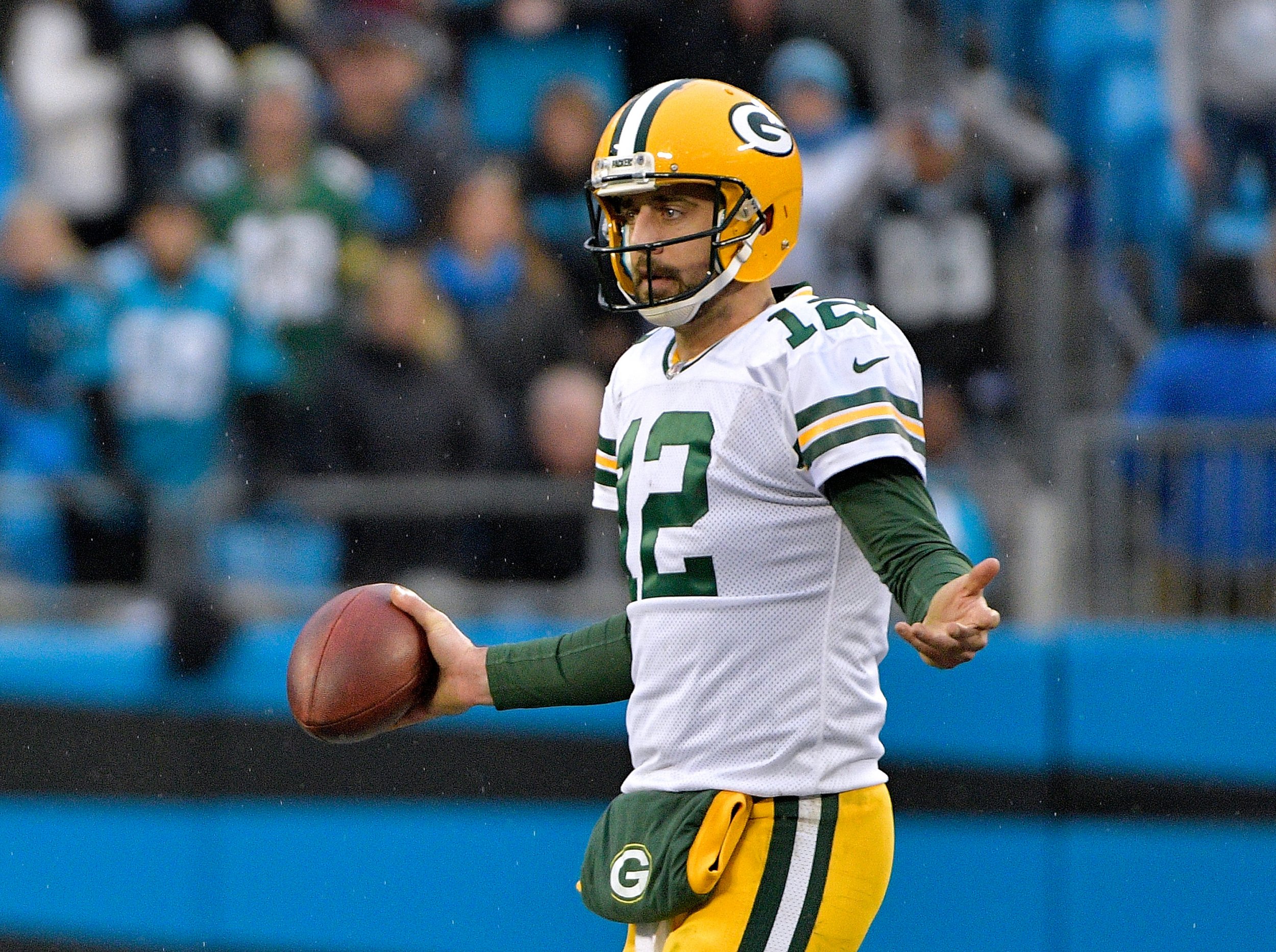 Aaron Rodgers and the Green Bay Packers could be heading for difficult contract negotiations, amid reports the quarterback was distinctly unhappy with the franchise's decision to make major plans without consulting him.
During the offseason, the Packers parted ways with wideout Jordy Nelson and quarterback coach Alex Van Pelt, with Rodgers reportedly completely excluded from the discussions.
Yahoo Sports reported that the quarterback was "frustrated and emotional" over a perceived lack of communication from the Packers' front office, which has dented the relationship between the parties.
"Both of those decisions [with Nelson and Van Pelt] were made without him," one league source close to Rodgers was quoted as saying. "In both situations, he had no influence with [the front office] before anything went down."
Suggestions that all might not be well between Rodgers and the Packers comes just a month after ESPN reported the 34-year-old was unlikely do the team "any favors" when it comes to negotiating his new deal.
At the time, Rodgers told ESPN radio he'd found the Packers' decision not consult him "interesting," hinting he was not entirely happy with how the two-time Super Bowl winners handled Van Pelt's departure.
"I thought that was an interesting change, really without consulting me," Rodgers said. "There's a close connection between quarterback and quarterback coach. And that was an interesting decision."
Traditionally, franchises tend to involve star quarterbacks in major personnel decisions. However the Packers operate differently, and Rodgers' frustration could grow further.
"I know he's thinking about that stuff when it comes to the next contract because he should have earned a voice by now," the source added.
"In other places with [elite] quarterbacks, consideration is given to those guys. I think Aaron wants to be engaged in some decisions. But that's just not the way it works [in Green Bay]. I think that's obviously frustrating and it's going to keep coming out."
The California native's deal is set to expire after the 2019 season. Earlier this year, Packers general manager Brian Gutekunst said the team wanted to tie the quarterback to a new contract as soon as possible.
"We'd certainly like to get it done sooner rather than later," he said at the NFL Combine in February . "When you have the best player in the National Football League, it's not going to be inexpensive. Obviously Aaron is a high priority, he's a great player, and that should take care of itself at some point."
Over the next two years, Rodgers will cost $20.5 million and $21.1 million respectively, figures that are unlikely to put off any potential suitors but allow the Packers room for manoeuvre as they can keep him one of the league's best players for relatively little money.
Conversely, however, the quarterback's alleged discontent could make negotiations considerably harder, particularly as he will in all likelihood look to improve the five-year deal worth $110 million he signed in 2013.
Rodgers' current contract included a $33 million signing bonus, but the markets for quarterbacks has changed dramatically since then, particularly after Kirk Cousins signed a three-year deal with the Minnesota Vikings last month.
Cousins will get an average salary of $28 million per year but, crucially, his $84 million deal is fully guaranteed and Rodgers could be looking for similar terms.
Despite rumors of disagreements with the front office, Rodgers on Tuesday quashed speculations he had changed his mind about signing a new deal.
"Obviously we'd like to lock something in at some point," he told the Packers' official website. "The team has made that public knowledge, they'd love to do that. I've said many times I'd love to finish my career here. There's more than mutual interest on both sides. "