These Photos Show How Pollution in India Is Killing Rivers Worshipped by Hindus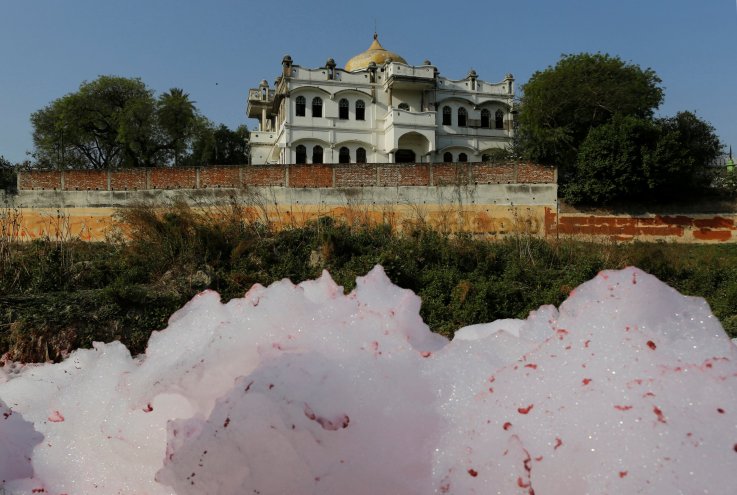 India is one of the world's major polluters, and its rivers are dying. In March this year, an activist, Brij Khandelwal, called up the police and reported a murder. "The river Yamuna is dead."
"Scientifically speaking, the Yamuna is ecologically dead," he told The Guardian, and his police report included names of government officials he wanted to see charged for the poisoning of the river.
A dead river is one which has stopped performing its ecological functions and can no longer support fish or plant life.
Photographs taken by Daniel Siddiqui for Reuters show the devastating impact of pollution.
In India, some rivers like the Ganges and the Yamuna have great spiritual importance and there have been proposals to grant rivers the same rights as people—earlier this year officials and citizens took an oath to support the Ganges river, and promised to keep it clean. However, last Friday, India's Supreme Court suspended the decision to grant the Yamuna and Ganges a living status, saying it makes it too hard to decide who or what is liable in cases of flooding or other environmental disasters.
India's Prime Minister Narendra Modi has tried to introduce a plan to clean the Ganges, but despite generous funds supporting the efforts, bureaucracy has prevented effective cleaning from going ahead.
The Ganges is worshipped by nearly 400 million Hindus, who believe it is a holy river, yet foam caused by chemicals and raw sewage blot the waterway. In one part of the Ganges' path, it even turns red. According to Reuters, less than a quarter of the 4,800 million liters of sewage is treated, and yet the Ganges is used as drinking water and for bathing in.
It's estimated that thousands of corpses are burned by the Ganges each day, and then their ashes are thrown into the water. Some bodies are simply thrown in, in the belief that the Ganges will speed up the reincarnation process.
A priest, Ashok Kumar, 66, in Mirzapur, told Reuters that he feels very sad about what is happening. "The Ganges is getting dirty day by day but nobody cares. Not even its children. The Ganges is our mother. There won't be any future if she dies."