In the beginning, 30 women had high hopes that Clayton, this season's bachelor, would be the man of their dreams. Now that the season finale of The Bachelor is just weeks away, only three women remain: Susie, Gabby and Rachel.
The four of them travel to Iceland to spend some quality time together. The final three contestants are determined to win over Clayton any way they can, since this week is the fantasy suites, where the bachelor and the final contestants spend an intimate night together.
Rachel was chosen to receive the first date card where they explore a non-active volcano together. At dinner, Clayton reveals that he is falling in love with Rachel—which leads them to their evening in the fantasy suite.
Gabby and Clayton spend their date near the water while driving a dune buggy on the sand. Clayton said a second "love" of the night and expressed his feelings for her, granting her access to the fantasy suite.
On the other hand, Susie is rather emotional as she worries about what happened on the other women's dates. On their date, Susie and Clayton spend their day at a spa and go swimming underneath a waterfall. But things took a turn at dinner, when Susie explained she can't move forward with an engagement if Clayton has slept with the other women—which leads to a very tense and dramatic end to their relationship.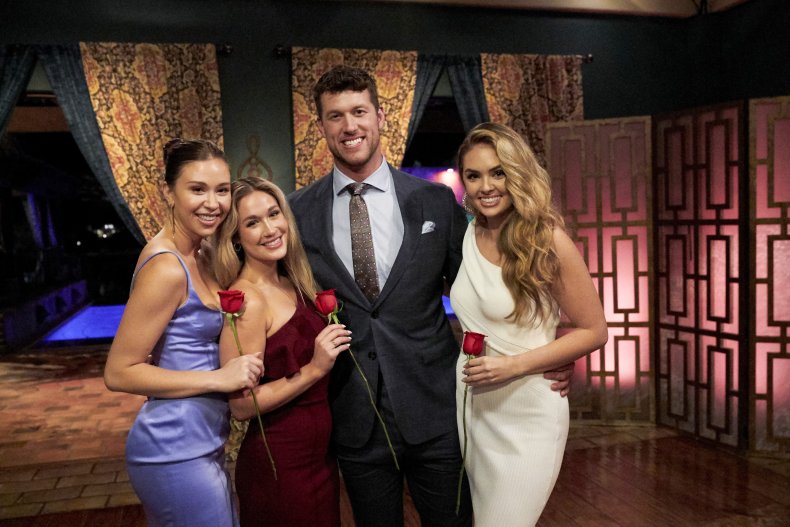 Bachelor Nation had many thoughts on the biggest shocks in the episode. Twitter was abuzz when Clayton told all three women that he was falling in love with them.
"All these girls thinking they're the one because Clayton said love you," @TheBachBabes wrote.
"imagine how all three of the girls feel rn watching this.." @retrcjordyn cringed.
"I can't believe this damn fool really is telling ALL OF HIS FINAL 3 HES IN LOVE WITH THEM!" @kierrarainey__ tweeted in part.
Clayton and Susie's fight that ended the 2-hour episode also caused a stir among Bachelor Nation.
"WHY ARE MEN LIKE THIS????? AND DURING WOMENS HISTORY MONTH?????" @assenavmarie exclaimed.
"This was super gross to watch. The way he treated her for having an honest conversation was awful," @Steph_Boyardeee said.
"She's right tho how could u sleep with other people knowing you supposedly love someone else? That's not love Clayton," @Bachelorhaters pointed out.
@Daviesallison1A tweeted, "Susie we love you and know you deserve so much better than this."
"Not gonna lie... watching this dude try to shame her for his decision to sleep with two women is disturbing. This is manipulation and gaslighting cause HIS decisions didn't give HIM the results HE wanted. Disgusting," @markdavid_music exclaimed.