Why Are Poor Americans Resisting the Vaccine? Because COVID is the Least of Their Problems | Opinion
In promoting the COVID-19 vaccine, leaders have repeatedly made the claim that more shots in arms will "end the Covid era once and for all," as New York City Mayor Bill de Blasio put it. But for too many poor and working-class Americans, this is wishful thinking, given how deeply the pandemic has exacerbated the impossible struggles they were already facing.
Resistance among some Americans to the vaccine has been chalked up to recalcitrance in the name of privacy and self determination when it comes to Republicans, and medical distrust and misinformation when it is people of color resisting. But there is another reason that people living in poor Black and Latinx communities may not prioritize the vaccine, and it's this: For many people, COVID-19 is not simply an infectious disease. The pandemic has intensified existing housing, financial, educational, and health insecurities. And getting a shot will not end them.
Across the U.S., Black and Latino communities are more likely to face unemployment and housing loss due to the pandemic. In Chicago, for example, the five zip codes with the highest unemployment claims were majority-Black communities. And among the 197,000 households in Illinois behind on rent, 70 percent are people of color and 80 percent are low income.
Their stories are shocking and sad. Since August 2020, I've collected 100 interviews with residents of three vulnerable communities in Chicago, part of a forthcoming report by the Institute for Research on Race and Public Policy at University of Illinois. Residents told us about being evicted despite moratoriums; they told us about having had no savings when they were laid off. They talked about distrust in medical institutions and the government as primary reasons for their hesitancy, but they also pointed to broader structural issues, which they feel are being glossed over by the obsessive focus on testing and vaccines.
"Mental health. Drug abuse. Alcohol abuse. Domestic violence. Crime. Racism," one man from the Austin neighborhood in Chicago listed off the problems in his community beyond the pandemic. And it was these issues that were being hidden by the singular focus on COVID. "Just like the very mask I wear and you wear, that's what's happening," he told me. "Everything is being masked."
Other residents expressed concerns about opioid use and overdose, pointing out that deaths from fentanyl were matched by deaths from COVID-19; indeed, in 2020, Cook County reported twice the number of opioid-related deaths than the previous year, and half of these deaths were among Black Chicagoans.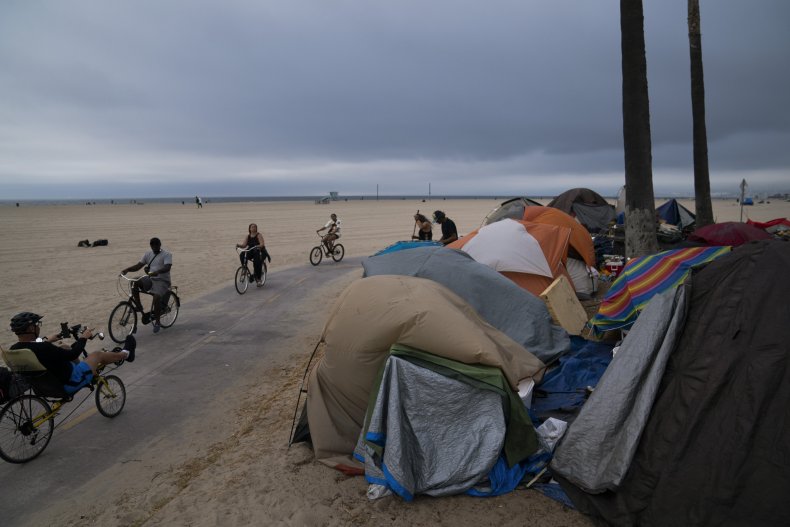 Other research reinforces the idea that social vulnerability tracks with vaccine hesitancy. A survey out of Augusta University found that COVID-related housing insecurity—difficulty paying rent or eviction—increased the odds of vaccine hesitancy seven-fold. In September, the Kaiser Family Foundation found non-elderly adults without health insurance had the lowest rates of vaccine uptake, at 54 percent, of any other group. Since vaccines are widely accessible free-of-charge, lack of insurance is a proxy for some other measure of vulnerability. Our study suggests that higher levels of financial, housing and health instability contribute to apathy about vaccination because it is simply not a priority.
One community organizer we interviewed said that people in her community have started avoiding the canvassers whose job is to educate the vaccine hesitant: "Are people really addressing their concerns? If the only thing they're saying is, 'get the vaccine,' yes, people are tired of it."
To be sure, many lower-income Americans clamored to get vaccinated when they became eligible. Although the racial gap may be narrowing slightly, Black and brown communities are still less likely than their white counterparts to be vaccinated, even though they are at higher risk of severe illness.
People understand that health stems not simply from medical prevention and treatment, but also from safe homes and neighborhoods, good food and clean water, affordable housing, and financial security. So when the government suggests that vaccines are the answer, people who experience COVID-19 as not simply an infectious virus but also a crisis in housing, employment, food, and social assistance feel that a shot is not enough. And they're not wrong.
Vaccinations reduce COVID-19 disease rates and severity but they don't protect anyone from the many other consequences of the pandemic. A more expansive social safety net is just as important as vaccination in ending the pandemic.
Claire Laurier Decoteau is professor of sociology at UIC, and a public voices fellow with The OpEd Project.
The views in this article are the writer's own.