Why Are These Ikea Dressers Killing Children?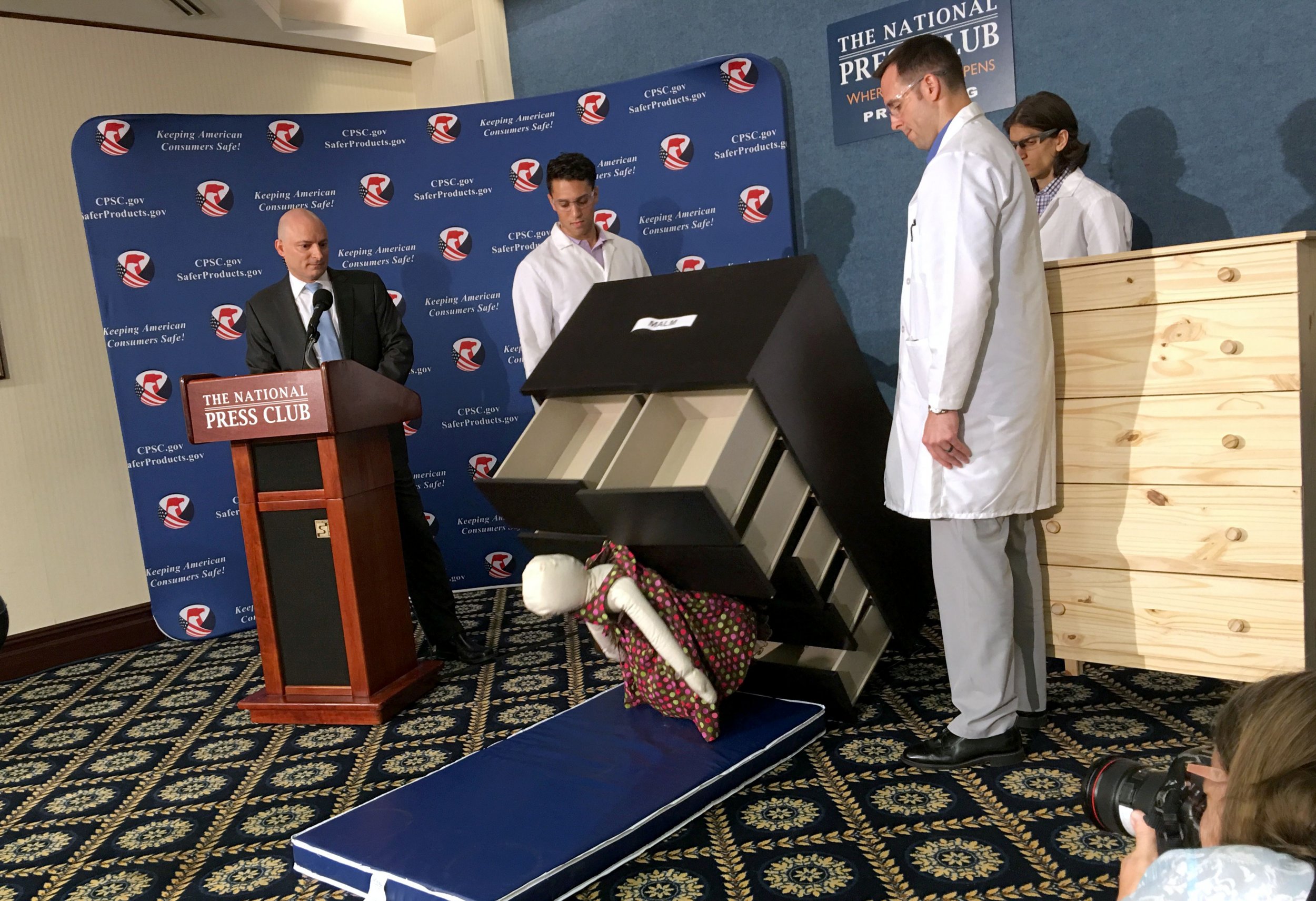 A 2-year-old boy died after an Ikea dresser fell on him in May—the eighth child killed by these dressers. His death comes years after the company began a recall for the dressers and months after the company reached a settlement with families of other children who died.
The recall, reannounced Tuesday, covers 17.3 million dressers sold in the United States between 2002 and 2016. A previous recall in June 2016 also included dressers sold in Canada. People who have bought the dresser are eligible for a refund or for a free wall-mounting kit to secure the dresser.
"IKEA has received 186 reports of tip-over incidents involving the MALM chests and dressers, including 91 reports of injuries to children. In addition, IKEA has received 113 reports of tip-overs with other recalled IKEA chests and dressers, including 53 reports of injuries to children," the U.S. Consumer Product Safety Commission (CPSC) noted on its website reannouncing the recall.
In 2015, The Philadelphia Inquirer published an investigation about the dangers of this particular dresser tipping over after 2-year-old Curren Collas died in February 2014. Ikea reached a $50 million settlement agreement in 2016 with the families of three of the children who had been killed, NPR reported. Collas's family was included in the 2016 settlement.
However several organizations—including the American Academy of Pediatrics (AAP)—have expressed skepticism that there's been enough publicity and outreach about the risks posed by these dressers.
"Unfortunately, the communication efforts focused on anchoring a deadly dresser to the wall are not enough on their own. Anchoring devices are meant as a second layer of protection for stable dressers—not as a replacement for making stable dressers in the first place," the AAP and seven other groups said in a joint statement after the 2016 recall. "Ikea and the CPSC must take effective action to prevent more families from losing children as a result of unstable dressers."
Dr. Gary Smith, the director of The Center for Injury Research and Policy at Nationwide Children's Hospital and the president of the Child Prevention Injury Alliance, said it was frustrating to see children continue to die from preventable deaths.
"It is predictable," he said. "The announcement of that eighth death that occurred earlier this year reconfirmed the fears we had that there are clearly many of these dressers remaining in consumers' homes. We're just very fearful that these deaths will continue."
One organization, Kids in Danger, has worked to collect data and create better tests for manufacturers to use when they test furniture for tip-over potential on different surfaces. Manufacturing standards for dresser construction are also under review.
And some clever engineering studies at Northwestern University have explored just that. In 2015, a group of students created four potential dresser designs to replace the MALM dresser; Fast Company reported on their work in 2016. The dressers shift the center of gravity back toward the wall by having the front slanted. This redesign prevents the dresser from moving under normal circumstances, modifying the top drawers so the dresser no longer tips over.
Still, with so many Ikea dressers already in homes, new dressers with safer designs may have to take a backseat to securing existing ones before it's too late.