Why Are We Locking Up Immigrants For Years?
U.S. Army and National Guard veteran Arnold Giammarco recently celebrated a remarkable homecoming with his wife, child, and country after being separated—not by war, but by immigration detention and deportation.
Mr. Giammarco's story exemplifies the dangers of prolonged immigration detention. Jailed in an immigration prison for 18 months without the right to a bond hearing, he was forced to accept deportation and fight his case while abroad.
Now a U.S. citizen, Mr. Giammarco is home again. But a happy ending cannot undo the years his wife spent working three jobs to support the family or the trauma his daughter endured without her father.
As people who work closely with detained immigrants, we know that thousands of immigrants like Mr. Giammarco are senselessly detained for months and years in terrible conditions.
Sylvester Owino, for example, spent nearly a decade within the walls of immigration prisons in California and Alabama. Today, he is known to many in San Diego as the operator of Rafikiz Foods and as a beloved and vital member of the community.
Greta Sotto Moreno spent over two years in immigration prison, surviving abuse as a transgender woman. Today, she is rebuilding her life and fighting for the rights of other transgender women in the U.S.
But despite ample evidence that immigration detention is inhumane, unaccountable and costly, the Trump Administration has sought to expand the system. Mere days after starting, Attorney General Jeff Sessions rescinded the Obama administration's plan to scale back private prisons.
Already, over seventy percent of detained immigrants are held in private facilities, and the Trump administration is looking to build new private immigration prisons in Chicago, Detroit, and southern Texas. Trump has every incentive to do so: profiteering prison companies donated heavily to his campaign.
To make matters worse, a congressional mandate requires that at least 34,000 people be locked up at any given time, fueling this profit-driven system.
ICE is the only law enforcement agency with such a quota. Under Trump, the entire immigration detention system is growing rapidly: Trump's 2018 budget proposal indicates that he plans to increase detention beds to over 51,000 and increase spending on "expanded detention, transportation, and removal" of undocumented immigrants by $1.5 billion.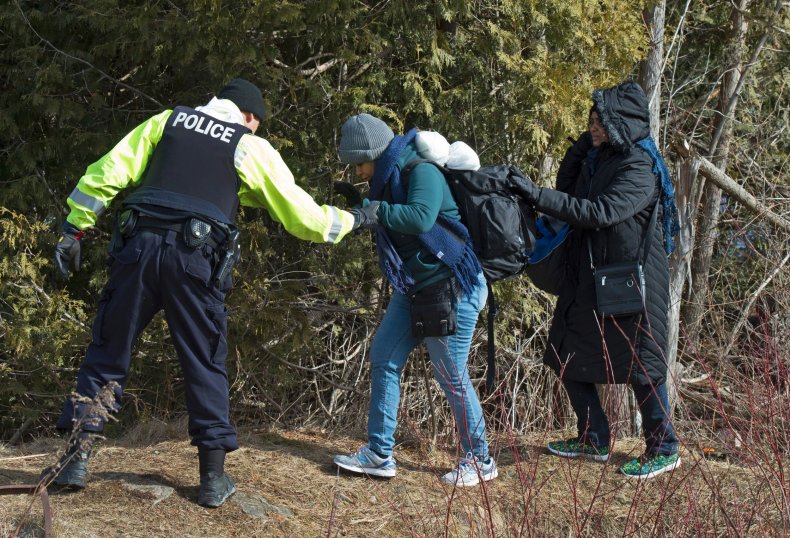 The growing backlog of cases in immigration court, which reached a queue of 629,051 by the end of September, increases time spent in detention. The math is simple: more immigrants in more detention centers for longer periods of time means more taxpayer dollars flowing into the hands of privately run detention centers every day.
While these numbers paint a grim picture, there's another side of the story that demands just as much attention. Directly impacted people and their families, community members, legal advocates and legislators are working to make sure that immigration detention remains in the public eye and that it does not go unchallenged.
In June, California—a state that detains a quarter of all immigrants held in the U.S.—passed a budget bill giving its Attorney General the power to monitor detention facilities in the state. Then, in early October, Governor Jerry Brown approved SB 29, known as the Dignity Not Detention Act, putting an end to for-profit immigration detention contracting.
Inspired by California 's efforts, congressional lawmakers recently introduced H.R.3923, the Dignity for Detained Immigrants Act of 2017. If passed, the bill would address many of the human and financial costs of the immigrant detention system, making DHS facilities more accountable and ending the use of private prisons and county jails. The bill would also improve access to due process and procedural safeguards in immigration detention.
Advocates have also long fought in court to end cruel detention practices. This term, the Supreme Court will decide Jennings v. Rodriguez, a case addressing whether immigrants have the right to a bond hearing if their detention exceeds six months. Jennings presents a rare and critical opportunity for the Supreme Court to curb the alarming growth of immigration detention.
While we work for structural change, visiting immigrants in confinement is crucially important. These visits not only ease the isolation of detained individuals, but also hold the system accountable to the public.
Kristina Shull is a Soros Justice Fellow at Community Initiatives for Visiting Immigrants in Confinement (CIVIC). She was impacted by the U.S. immigration detention system when her husband was detained and deported in 2007. Nora Searle and Nora Christiani are advocates in the Immigrant Rights Clinic at New York University School of Law.Together they curate Prolonged Detention Stories, a platform highlighting the real-life impact of detention.