'Why Are You Doing This?' Everything Chris D'Elia's Latest Accuser Megan Drust Has Said About Their Alleged Encounter
Chris D'Elia is facing additional allegations of sexual misconduct. The disgraced comedian—who, earlier this year, was accused of multiple instances of misconduct, including sexually harassing multiple young women when they were underage—was accused of exposing himself to actress Megan Drust in a CNN report published on Wednesday. Speaking to the network, Drust alleged that in 2011, D'Elia exposed himself to her without her consent. She was 26 years old at the time of the alleged incident.
Drust told CNN that on the night in question, she was out with D'Elia and a friend at a West Hollywood restaurant. She said that when she was about to leave the restaurant, D'Elia asked if she could drive him home. She didn't think anything of it, and agreed.
"This was really before everyone was taking Ubers and I had marked him as safe, which equals a non-threatening male," Drust recalled to CNN. "He was friends with some of my friends, I had met him before. That's what you do, at least that's what I did, you mark certain people as safe."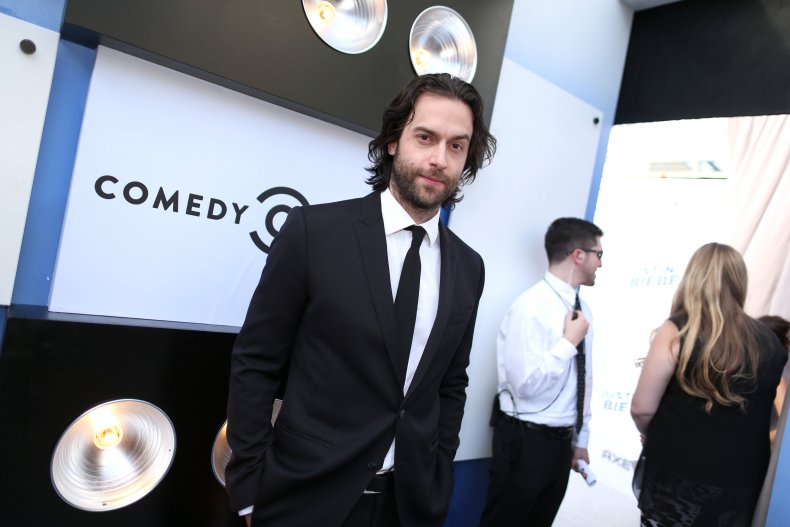 The actress recalled that once the two of them got into Drust's car, which was parked close by, she became uncomfortable.
"We are both sitting there and I'm like, 'Where are we going?' And Chris is leaning up against the door of the passenger side and looking at me in this really weird way and then he started to try to make flirty small talk," she told CNN. "I was very confused because it just didn't fit the moment. Then he took down his zipper and asked me to touch him and I said, 'What are you doing? No.' And because I wouldn't touch him, he started to masturbate. I couldn't believe it."
Drust said that she then got out of her car. "I get out and I have the door open and I walk out into the street and I'm saying, 'Why are you doing this?' And I remember saying, 'You're defiling my car.' I didn't want to make him mad or upset because you're in survival mode, you know?" the actress said. "He climaxed in his pants and then he zipped everything up and I said, 'What's wrong with you?'"
At this point, Drust said, D'Elia got out of her car as well. "I got back into my car, he shut the door and kind of just stood towards the hood and looked at me without saying anything and then just walked away." Drust said she cried on her way home after the incident. She said that wasn't the last time she saw D'Elia, though.
Months later, Drust said, she was out with her friends at another Los Angeles restaurant when she ran into the comedian. "I'm standing there talking to my friends and I remember a guy's voice with his lips right to my ear say, 'You.' I turned around and it was him. I just remember being very flustered and very uncomfortable," she said.
The alleged incident with D'Elia in 2011 made Drust not want to go to comedy clubs, she said, which she found difficult, since many of her friends were comics. "It really raised my guard and I stopped going to events and I never went to anything alone after that," she added.
Drust is hopeful that by making her story public, she can empower other women who experienced similar incidents to stop "blaming themselves."
"You didn't ask for this," Drust said. "Even if you liked someone but if they crossed a boundary and made you feel like you couldn't say no, it's not okay ... I was lucky to be older and had been around the block with people trying to abuse their power in this industry and I was not going to accept it."
Two other women also told CNN that D'Elia exposed himself to them on separate occasions, one who was granted anonymity by CNN and Laura Vitarelli, whose account was published in the Los Angeles Times back in June. Andrew Brettler, an attorney for D'Elia, told The Wrap in a statement: "D'Elia denies these allegations and emphatically states that he has never engaged in any sexual conduct with any woman without her consent."
In June, D'Elia was accused of sexually harassing multiple underage girls. Multiple women alleged that he groomed them, asked them for nude photos and to meet up for sex. D'Elia also denied these accusations.
Newsweek did not receive comment from D'Elia at the time of publication.