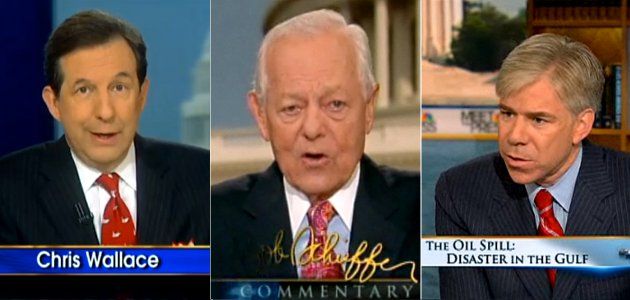 Politico's got a good roundup today of the lack of women on the Sunday talk-show circuit, based on new data from American University showing that women lawmakers made up just 13.4 percent of congressional appearances this year.
Thus far this year, the five major Sunday shows—including NBC's "Meet the Press," "Fox News Sunday," CBS's "Face the Nation," ABC's "This Week" and CNN's "State of the Union"—have had 148 appearances by congressional lawmakers. Of those, 128 were men and 20 were women.
Ouch.
As with any story of this kind, naturally, the blame game begins: Is it sexist bookers? Is it not enough women in Congress? Not enough women holding committee chairs? Is it women being difficult? Researchers and press secretaries have accused network bookers of a "men in suits" mindset, while the network producers say there aren't enough women to book. And the women they do try to book, they say, are just so damn difficult to pin down! "I've probably asked her 25 times," the female executive producer of Meet the Press says of Nancy Pelosi. "She is just unwilling to do it."
As for the rest of 'em . . .
Sen. Claire McCaskill goes home almost every weekend to Missouri, where family plans often take precedence over Sunday shows. Sen. Olympia Snowe tries to appear via satellite from her home in Bangor, Maine, but it's a small media market with few studios. Pelosi, Feinstein and Boxer—all key women—live on the West Coast, which would mean that even if a remote shot were possible the taping would have to be early, putting them in the chair as early as 6 a.m. for some shows.
As Politico has written before, there aren't enough women on Capitol Hill, for sure. But just so we don't let the media get away squeaky-clean, a quick rundown of exactly how bad all media is doing when it comes to showcasing women. (And we'll start with ourselves.)
NEWSWEEK: In 1970, the year 46 women sued the company for gender discrimination, 25 percent of the magazine's editorial masthead was female. As of March 16, that number was 39 percent—with an overall gender breakdown that's roughly equal. To its credit, NEWSWEEK has looked critically at itself—in particular, with this story, published earlier this year. But still: a mere six of NEWSWEEK's 49 cover stories last year were written by women.
THE WASHINGTON POST: In 2008 an internal Post newsroom study of 1,200 Post stories found that women had been the focus of just 18 percent of them. The same analysis found that "men are quoted almost three times as often as women in the paper." Last month the paper sparked a minor blogosphere frenzy when various commentators noticed that, among the Post's featured columnists on its Web sites, there were, well, a whole lotta middle-aged white men staring back from their headshots. (Also, there was this.)
NPR: In a piece earlier this year called "Where Are the Women?" NPR's ombudsman took to the Web to call out the organization for its painful lack of female commentators. NPR does well when it comes to female hosts—three of five of its major shows are hosted by women; the org has a female CEO and head of the news department. But when it comes to commentators and outside voices, it's a different story. Of the network's 104 shows between April 13, 2009, and Jan. 9, 2010, just 26 percent of the 3,379 voices paid to appear on air were women.
LATE-NIGHT TV: When David Letterman's sex scandal was blasted across every paper in town, various outlets reported on the sobering reality that there was not a single female writer on The Jay Leno Show, Letterman, or The Tonight Show with Conan O'Brien. Conan's obviously no longer on the air (and we happen to know that one woman was promoted to writer at Letterman shortly after the scandal) but, um, still.
SOURCES OVERALL: If you think the problem is limited to these pubs, think again: a recent report from the Global Media Monitoring Project found that worldwide, women make up only 24 percent of the people "interviewed, heard, seen or read about in mainstream broadcast and print news." A 2005 study by the Project for Excellence in Journalism revealed that only 30 percent of news stories included even a single female source. (Ed's Note: For the record, SheSource--a database of 500-plus women experts on virtually every topic, maintained by the Women's Media Center--is a great resource for combating this reality. Check it out.)
BYLINES OVERALL: Meanwhile, no matter that women have been the majority of college journalism majors since 1977, female bylines at 11 of the top political and intellectual magazines, as assessed by the White House Project, are still outnumbered by whopping 7:1.
MEDIA POWER OVERALL: Lastly, women lack when it comes to media power overall. The White House Project also revealed earlier this year that while women make up the majority of the workforce—for the first time in history—they account for just 22 percent of the leadership positions in journalism, a composite of women newspaper publishers (18 percent), women news directors of radio stations (20 percent), and news directors in TV (28 percent).
Who are we forgetting?
Jessica Bennett is a senior writer at NEWSWEEK covering society and national affairs. She blogs on women's issues at The Equality Myth. You can also find her on Twitter.