Why Arne Duncan Wants Michelle Rhee to Stay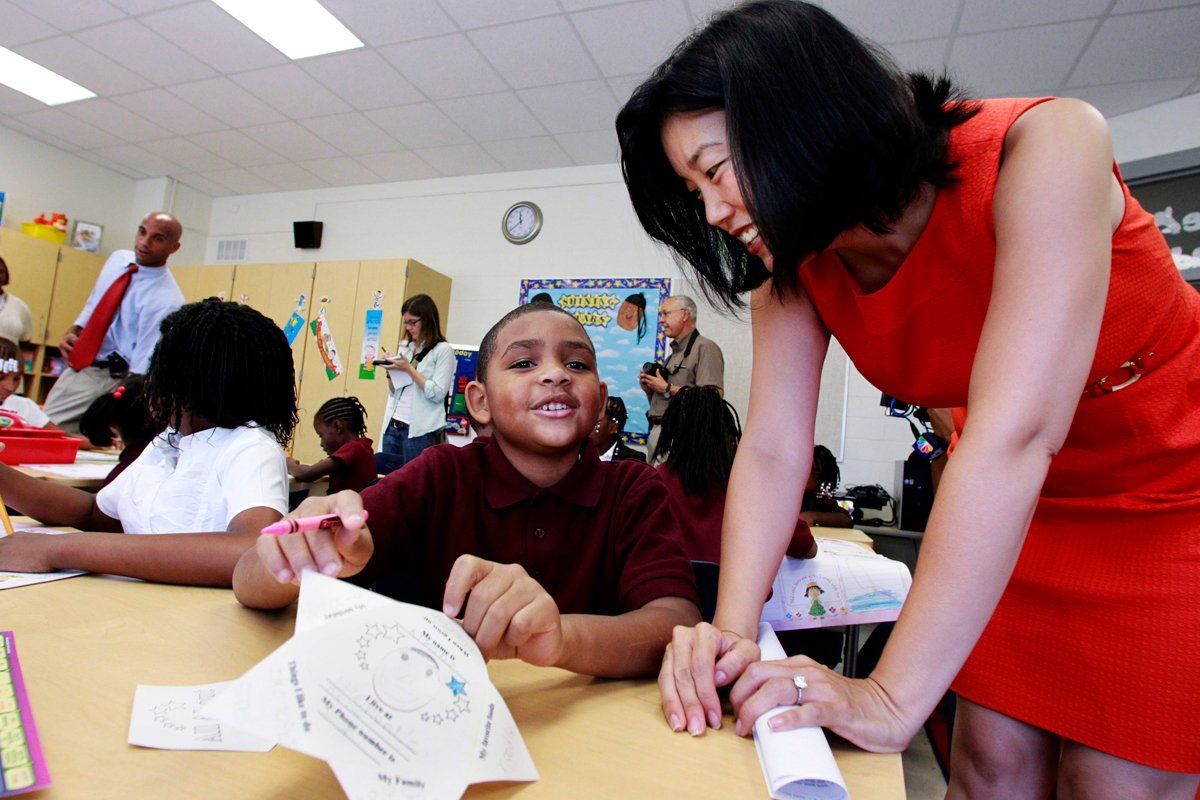 U.S. Education Secretary Arne Duncan said Wednesday that he is actively reaching out to D.C. Schools Chancellor Michelle Rhee and presumptive mayor Vincent Gray in an attempt to work out a deal to keep Rhee in her job. After Gray defeated incumbent Mayor Adrian Fenty in a bitter Democratic primary last week, education reformers expressed concern that Rhee—a Fenty ally—would quit her post, imperiling all the recent progress the troubled school system has made. During a breakfast meeting with reporters, Duncan acknowledged that he has already spoken to Rhee once, and will talk to her again when she returns from her honeymoon with new husband Kevin Johnson, the mayor of Sacramento, Calif. He also said he has repeatedly tried to reach Gray by phone to discuss the matter with him. "We've been trading calls the last two days, but we will talk," Duncan said.
Asked if he was considering adding Rhee to his team, Duncan said he was a "big fan" of the schools chancellor but said he thought her "leadership" was needed in her current job. "I'd like to give this thing a chance to improve over time," he said.
Duncan added that the high rate of turnover among superintendents nationally is a prime reason that the pace of school reform is so slow. He said school superintendents currently average tenures of only 2.4 years before being replaced by school boards or mayors, and that many of the most improved districts have "been where good folks stay the course." Rhee has been in her job for three years, making her the longest-serving superintendent in D.C. over the last 20 years.
Duncan has some influence with Gray, since the federal department recently announced that D.C. was one of the winners of the national Race to the Top school-reform competition, and stands to win $75 million if it implements the reforms Rhee's administration outlined in its application.
Noting that "D.C. schools were known for a long time as a national disgrace," Duncan said he knows that Gray "knows what's at stake" and "wants D.C. schools to continue to make progress." The city's education-reform efforts, Duncan said, "absolutely have to continue."
Rhee, a nationally known and outspoken school reformer, was hired by Fenty soon after he took over the D.C. schools and made overhauling them his top priority. Rhee's aggressive pace of reform, which included closing schools, firing ineffective principals and teachers, implementing tough accountability measures, and dramatically trimming administrative staff, won her both fans and critics in a city divided by race and class. Under her tenure, student-achievement scores have risen significantly and enrollment has started to tick up for the first time in decades. However, her independent and sometimes blunt style alienated many, including Gray, the City Council chairman, who prizes consensus, propriety, and process. Not surprisingly, the two often clashed.
While city polls indicated that most D.C. dwellers thought Fenty had done a good job improving the schools and lowering crime, he also earned the enmity of many residents, particularly African-Americans and teachers'-union members, who didn't like his detached and autocratic governing style. Since Fenty lost the primary, Gray has been peppered with questions about whether he will keep Rhee in her job despite their tense history. Several members of the City Council who back Gray but whose constituencies overwhelmingly support Rhee have publicly pushed Gray to work out a deal with the chancellor to complete her original five-year tenure. Adding Duncan's voice to that chorus certainly won't hurt.