Why Is Art So Damned Expensive?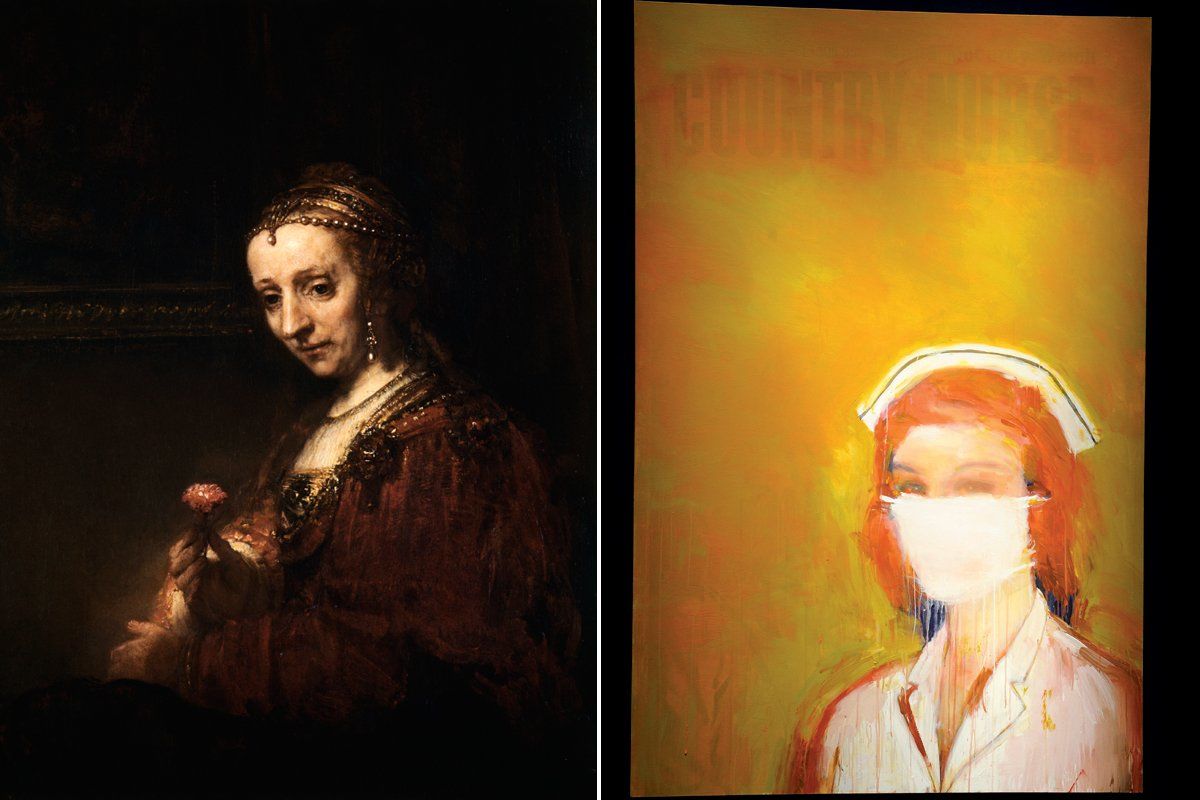 Walking around Miami Beach last weekend, taking in the 10th edition of its extravagant Art Basel art fair, you sensed something strange in the air. Patou's "Joy" drifting off the pashmina? Polished walnut wafting out of the Bentleys? More basic than either: the ineffable aroma of money itself, rising from the art out for sale. By the end of the first day, a customer at Mary Boone's booth had spent $575,000 for a pile of battered stools turned into a nest—by Ai Weiwei. A blue lozenge on a white rectangle—by Ellsworth Kelly, on view at Matthew Marks—had gone for $1.5 million. A glass cabinet full of surgical instruments, by Damien Hirst, had sold for nearly $2.5 million at White Cube's stand. Despite the big names attached to these objects—and whatever their artistic worth—any normal observer would immediately wonder: Stools, for half a million dollars? Three times that for some plain paint on canvas? Why is art so damned expensive?
There is a pile of simple, and basically unsatisfying, explanations. There's scamming: The veteran New York dealer Arne Glimcher speaks of the "scuzzy" people who keep the Warhol market hot by manipulating his auctions. Simon de Pury, chairman of Phillips de Pury auction house, has counted a dozen other price boosters. He says a bigger picture is always worth more than a small one. He notes that you pay a premium for a piece once owned by someone famous. And he points out that something that has been shown in a museum is worth extra. But such explanations only tell us why one object might sell for more than another. They don't tell us why so many buyers in Miami spend more on a picture than the rest of us spend on a house.
Despite the flatlined economy, the art market has been roaring. In the first half of this year, total worldwide art sales hit a record of €4.3 billion ($5.8 billion), up 34 percent from 2010, according to the French Web site Artprice.com. The same site reports that 663 works jumped past the million-euro mark during that period, 200 more than in the first six months of 2008, which once held the record.
The top art prices may have little to do with classic economics. Noah Horowitz, whose Art of the Deal is a crucial text on the subject, says in the long run your investment in art may only do about as well as your holdings in bonds—and comes with greater risk. (But, as one major New York collector put it, that's not so bad, if you have nowhere else to store your income. And anyway, "bonds aren't that good to look at.") At this moment, when the 1 percent has the cash to burn, buying art is less about finance than about the cultural value of money, and of art. "A dollar is not a dollar is not a dollar," says Viviana Zelizer, the great Princeton sociologist who wrote The Social Meaning of Money. The dollars spent in Miami are "cultural dollars," Zelizer says, and that makes them obey their own rules. Below, five reasons why art defies economics:
THE PRESTIGE FACTOR
"If I can't sell something, I just double the price." That's what Ernst Beyeler, the great Swiss dealer who helped found Art Basel, reportedly said. Some people actually prefer to pay more than makes sense. Zelizer explains that, in all walks of life, we treat the biggest sums -differently, with special respect or even awe, than more-everyday money. "I think very often the price paid for a work is the trophy itself," says Glimcher, the dealer.
In 2006, the crowds lining up to see a portrait by Gustav Klimt in the private Neue Galerie in New York weren't there out of any fondness for the artist. They were there because they'd heard that the museum's founder, cosmetics heir Ronald Lauder, had paid a record $135 million for it.
The sociologist Mitch Abolafia, who has made a study of Wall Street financiers, says that sometimes money speaks for itself. "A trader said to me one day, with glee in his eyes, 'You can't see it, but money is everywhere in this room. Money is flying around—millions and millions of dollars.' It was a generalized excitement about money. Even I felt it." That's the excitement we all get from expensive art. One collector, who believes deeply that art should be bought for art's sake, acknowledges basking in the "robust glow of prosperity" that his purchases give off once their value has soared.
The people who are spending record amounts on art buy more than just that glow. (And much more than the pleasure of contemplating pictures, which they could get for $20 at any museum.) They've purchased boasting rights. "It's, 'You bought the $100 million Picasso?!,'" says Glimcher. Abolafia explains that his financiers were "shameless" in declaring the price of their toys, because in their world, what you buy is less about the object than the cash you threw at it. The uselessness of art makes any spending on it especially potent: buying a yacht is a tiny bit like buying a rowboat, and so retains a taint of practicality, but buying a great Picasso is like no other spending. Olav Velthuis, a Dutch sociologist who wrote Talking Prices, the best study of what art spending means, compares the top of the art market to the potlatches performed by the American Indians of the Pacific Northwest, where the goal was to ostentatiously give away, even destroy, as much of your wealth as possible—to show that you could. In the art-market equivalent, he says, prices keep mounting as collectors compete for this "super-status effect."
DOLLARS ARE EASIER TO MEASURE THAN BEAUTY
I asked the great New York collector Agnes Gund how she would feel about her artworks if their value suddenly halved. "I wouldn't feel they would have changed," she said, explaining that most of her pictures are promised to museums. Then I asked how she'd feel if their value doubled instead, and her story changed. "Obviously, it's wonderful to see the price rise," she said, since that's confirmation of the object's cultural worth.
I'm convinced that most collectors spend their surplus millions on art because they have a genuine belief in its aesthetic value. "We don't consider art an investment. We get a psychic reward—I love to come home and look at our walls," says Eli Broad, a prominent collector from Los Angeles, taking a break from shopping with his art-loving wife at the fair in Miami. (They'd just bought some early Cindy Sherman photos, for sale at Metro Pictures for a modest $150,000.) Aesthetics are the bedrock the art market is built on. But, for want of any other reliable measure, they often get tallied in dollars. One of New York's biggest dealers told Velthuis, the Dutch sociologist, that collectors "permanently have to explain to themselves why they spend so much money on art, sometimes up to 40 percent of their total net worth. So that they want to hear all day long that it makes sense what they do." And the easiest way to gauge the aesthetic "sense" of an art purchase is to check out the "cents" the thing is selling for. When you're looking for great art, you may spot it by its price tag.
The crowds lining up to see Lauder's Klimt in 2006 must have figured that looking at the most expensive work in the world would also expose them to one of the greatest. They were wrong. Almost no one would say that Klimt is crucial to the history of art. As Glimcher, the dealer, put it, "all you need is two people to make a market"—and he doubts that, in another 50 years, we'll find two more Klimt fans willing to break records for his art.
THE THRILL OF THE HUNT
IN the art market, collectors are buying the pleasure of shopping as much as the art they get out of it. One art adviser who works at the top of the market says that a collector is "like a diseased human being ... these people love to buy, and they love to buy art. The process is a very deep-seated urge. This idea of hunting and gathering—it's not a new one." And as de Pury, the auctioneer, explains, there's no fun in hunting where there's almost no game to be caught. That's why the market for old masters has cooled down, he says, whereas certain later artists, such as Warhol and Picasso, produced so much art, in such a variety of styles and modes, that there's still a thrill left in shopping for them. For these artists, says de Pury, you can become a one-of-each collector—one blue-period Picasso, one rose period, one cubist, one surrealist—and then you can imagine upgrading your works of each type. Gather 10 bidders having this same kind of "fun," and you've got guaranteed price inflation.
If giant fairs like Miami Basel are lousy places to contemplate art—and they are—they continue to flourish because they are fabulous places for shopping. That, says Velthuis, may also account for why contemporary art has come to be the big-ticket item over the last five years or so: it's simply way more fun to shop for works by artists you can still party with. Also, when you make headlines by spending vast sums on newcomers, you can become a tastemaker yourself, instead of having to wait for the art historians to sort matters out. Just by spending those sums—one of the least onerous tasks a 1 percenter can have—you can launch a bandwagon your friends will jump on, soon confirming both your eye and your investment.
NEW MONEY SKEWS THE MARKET
AS money stacks up in the BRIC countries (Brazil, Russia, India, and China), their oligarchs are buying into the wealthy Western mainstream by forking out for its art, the way their poorer compatriots are buying into skinny jeans and Lady Gaga. Broad, a billionaire himself, says that for these new buyers "it seems money is no object." It has come to the point where such "artigarchs" are pricing the normally rich out of the game. One veteran collector from the mid-Atlantic region says that he used to be able to buy a Gerhard Richter painting for "six figures, or in the low sevens." But now, with so much new money pouring into that market (the Russians are crazy for Richter), you'd be lucky to pay 10 times such amounts. "I'm finding that the art that I love I can no longer afford, and the art I can afford I don't know if I love."
One colleague of his from New York explains that to get a new work by a popular artist such as Jeff Koons even most billionaires have to wait in line and jump through dealers' hoops. Anyone out of time or out of favor—or just new to the whole system—will have to head to the auctions and spend whatever it takes. Doubling down on a piece others also want is about "a normal mammal need for success in a competitive environment," the collector says, and dares any of his peers to deny it. "Eli Broad wants to get it ahead of [François] Pinault who wants to get it ahead of [Bernard] Arnault," he says, rattling off the names of some of art's megabuyers.
THE HIGH PRICE OF PATRONAGE
Top art collectors aren't shoppers like anyone else. If they spend right, they can purchase the status of cultural patron. No one looks up to you for buying a fleet of Bentleys, but own a flock of Richard Serras, and you become a supporter of culture. Turning the filthy lucre of commerce into the "cultural money" that's used to purchase art is one way to launder it, explains the Princeton sociologist Zelizer. Art-pricing expert Velthuis says that collectors speak of their purchases as a kind of gift to the artist, or even as a sacrifice they've made for the sake of the higher values of art. And there can be close to a taboo on undoing that sacrifice by selling what you've bought: Gund, a collector famous for her rectitude, insisted that she will only put works on the market to raise funds for her charities. Broad says that he also avoids selling art: "When it goes up in value, we just pay more in insurance."
Like those American Indian potlatchers trying to use up as much wealth as possible, rich collectors have all kinds of incentives to "translate" as much spare cash as they can into culture. Spending on huge yachts is "despicable, I don't understand it," says the New York collector. "I have a lot more respect for the people who put their money in art."