Why Is ASAP Rocky Being Detained in Sweden? Trump, Melania Working to Bring Rapper Home Soon
ASAP Rocky was still in a Swedish jail as of Friday afternoon, awaiting possible charges related to an alleged assault, though that may change soon after the Trump administration said it may get involved in seeking his release. Fans of the rapper have been begging for the help of President Donald Trump to bring the American musician home after authorities in Sweden extended his time behind bars.
President Donald Trump and first lady Melania Trump addressed the fans' concerns in a press conference on Friday, shared by ABC News on Twitter.
"Sweden is a great country," Trump began. "They're friends of mine, the leadership. We are going to be calling. We'll be talking to them. We've already started."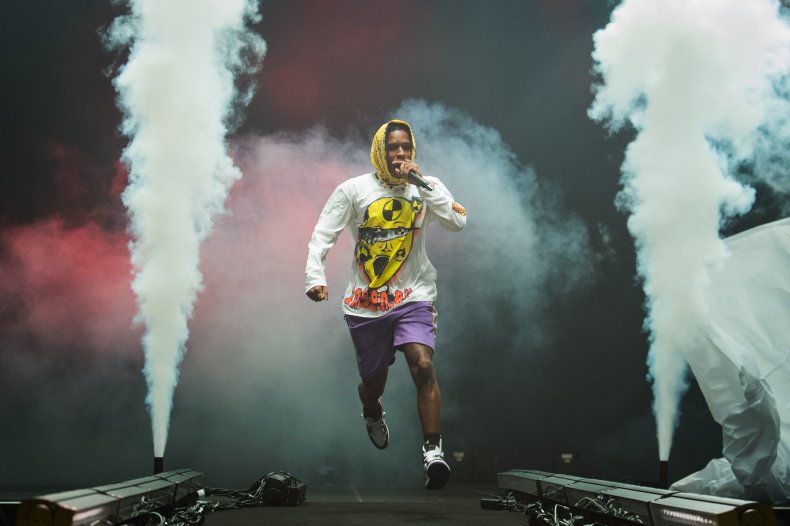 The rapper has been detained in Sweden since July 3, when he was arrested on "suspicion of assault," according to BBC News. The rapper was performing at a festival in Stockholm on June 30, where Swedish authorities say he was involved in a fight that left a man beaten and hospitalized. Rocky's managers have said the musician acted to protect himself. TMZ posted a video on July 2 that the site claimed shows Rocky attempting to calm things down immediately before the incident.
Though he has not yet been officially charged in the alleged assault, authorities have until July 25 to make their case. ASAP—born Rakim Mayers—has been detained because authorities have considered him a "flight risk," meaning they hope to more thoroughly investigate the allegations before releasing him, lest he attempt to flee their jurisdiction.
Trump said Friday that members of the African American community had brought ASAP's detainment to his attention.
"I personally don't know ASAP Rocky, but I can tell you his tremendous support from the African American community in this country, and when I say African American, I think I can really say from everyone in this country, because we're all one," explained the president.
Some celebrities who have reached out to the White House in support of the detained rapper were Kim Kardashian West and her husband, Kanye West—both of whom have previously met with Trump on other matters. The pair brought their concerns to the president last week, according to an article by TMZ that Kardashian West shared on Twitter.
Between the governmental support and celebrity endorsement, ASAP Rocky has a full team behind him, also including Secretary of State Mike Pompeo, Jared Kushner and New York 13th Congressional District Representative Adriano Espaillat, according to TMZ and ABC.
For Trump, though, the biggest source of encouragement was Melania, he explained. "Actually, the one who knew about ASAP Rocky was our First Lady," Trump said, pointing to his wife. Melania then took the floor. "Well, we're working with the State's Department, and we hope to get him home soon," Melania said.
The rapper's fans have been supportive of his release on Twitter, but recently, much of the conversation has become a mockery of those involved in fighting for his freedom. Twitter users seemed stunned that Trump, Kardashian West and West were some of the leading voices in ASAP Rocky's hope for release, and commented jokingly about it on the platform.