Why 'Baby It's Cold Outside' Remains Controversial And Recently Got A Revamp From John Legend
Every year, the anticipation of the holidays ushers in a return of winter classics on radios and streaming services across the United States, including the 1944 hit, "Baby It's Cold Outside."
The song continues to stir up controversy due to lyrics that some have considered questionable as they believe they advocate date rape.
Written by Frank Loesser, the 75-year-old song first became popular in 1949 as a twice-featured song in the MGM romantic comedy Neptune's Daughter. The Academy Award-winning film starred Esther Williams, Red Skelton, Ricardo Montalbán, Betty Garrett, Keenan Wynn, Xavier Cugat and Mel Blanc.
According to Rolling Stone, outrage over the song's lyrical content became prominent in 2007, following the emergence of social media sites like Facebook, Twitter and Tumblr. However, the magazine also noted that frustration with the song had been brewing for a couple of years prior, with journalists and bloggers describing the depicted romantic encounter as "semi-consensual" or "a guy who hasn't taken 'no' for an answer."
As Newsweek previously reported, Loesser's daughter, Susan Loesser, defended her father's lyrics in an interview with NBC last year.
"Bill Cosby ruined it for everybody," Loesser told the network in 2018. "Way before #MeToo, I would hear from time to time people call it a date rape song. I would get annoyed because it's a song my father wrote for him and my mother to sing at parties. But ever since Cosby was accused of drugging women, I hear the date rape thing all the time."
She continued: "I think it would be good if people looked at the song in the context of the time. People used to say 'what's in this drink' as a joke. You know, 'this drink is going straight to my head so what's in this drink?' Back then it didn't mean you drugged me."
Susan Loesser comments came amid reports that several radio stations had "pulled the plug" on the song, a move made at the same time where numerous high-profile reports of sexual harassment and misconduct played out in the media.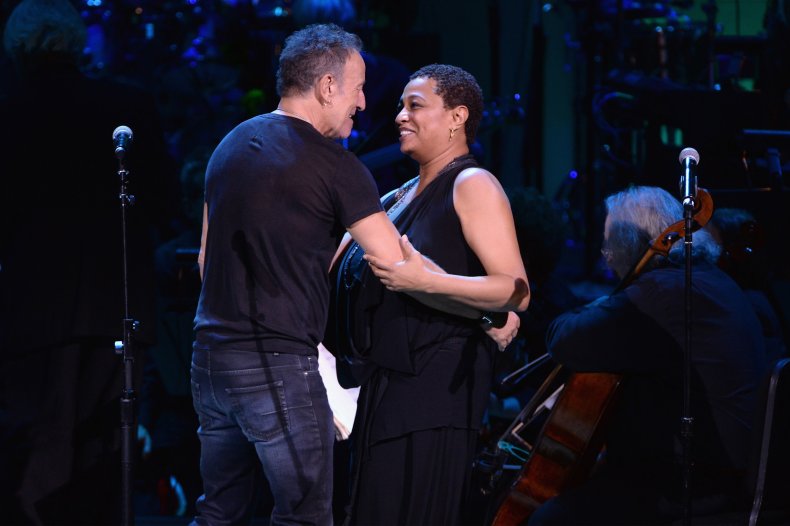 Others have also defended the song in recent years, offering a different interpretation of its lyrics.
In 2014, a Washington Post opinion piece—drawing from a 2010 post from Persephone Magazine—noted in that the woman's lines in the song do not explicitly state her reluctance to leave for her own sake, but for the sakes of those who might worry about her or question her virtue.
The Post columnist, Marya Hannun, also mentioned that in 1944 the notion of an "unmarried woman staying the night at her beau's was cause for scandal," and that in the song, the woman lists her mother, father, sister and maiden aunt as the reasons for her departure.
"In this light, the song could be read as an advocacy for women's sexual liberation rather than a tune about date rape," Hannun wrote for the Post.
Earlier this week, award-winning singers John Legend and Kelly Clarkson received both sharp criticism and high-praise from others for a revamped version of the song, which they performed Tuesday night on an episode of The Voice.
As Vanity Fair wrote last month, listeners can now hear Clarkson singing "What will my friends think?" and then Legend's reply: "I think they should rejoice." Clarkson continues by asking, "If I have one more drink?" Legend's answer: "It's your body, and your choice."
Legend chose to pen new lyrics to the song, sparking backlash from individuals who felt it shouldn't be changed.
"It's just another version of the song. If you don't wanna listen to it, you don't have to," Legend told People. "No one's saying you can't listen to the old version. Those versions all exist. People make new versions of songs all the time and we thought it'd be fun to update the song and make it more current."