Why 'The Bachelor' Couldn't Get Away With Giving Madison Prewett the Villain Edit
Madison Prewett and Luke Parker have been compared in the Bachelor world recently, all because of their similar, faith-based views on sex. Unlike Parker, though, Prewett has avoided falling into the television villain trap because of the way she stood up for her beliefs.
Parker came to the defense of Prewett on Instagram Wednesday when he claimed her Fantasy Suite week was looking like his own. Though he hasn't watched the season, Parker sent Prewett a message of support.
"With that being said I haven't been watching this season but I got the lowdown and I am proud of @madiprew for standing firm in her convictions," Parker wrote. "Keep doing you girl!"
The message comes after Prewett told Bachelor Peter Weber she's a virgin, and she'd have a hard time committing to an engagement if he slept with either of the remaining two women just one week before a possible proposal.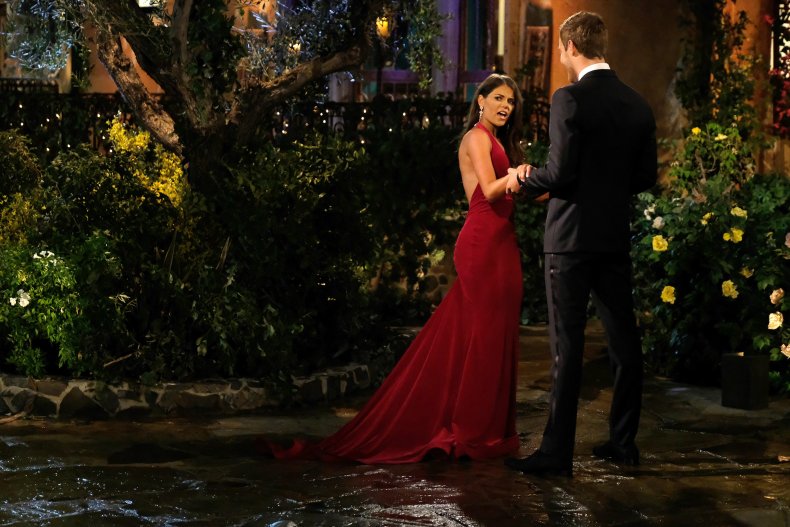 Prewett has been a frontrunner all season. She won over the hearts of Bachelor fans immediately when she received the first one-on-one date, which introduced her to Weber's family. She continued to gain fan support as she avoided petty drama and stayed true to herself.
Last week, though, The Bachelor editing made it seem like Prewett gave Weber an ultimatum: stay celibate or potentially lose her.
Viewers were torn. Some saw a similarity between Parker's behavior toward former Bachelorette Hannah Brown, which turned hostile, and was slammed as "slut-shaming." Others praised Prewett for standing up for her beliefs.
Weber didn't see the situation as an ultimatum. "People try to say it's an ultimatum. It wasn't," he told People. "She simply felt I needed to know what she was feeling and I could see how uncomfortable it was for her to have that conversation with me. But at the end of the day, I'm a hypocrite if I tried to say that that wasn't right for her to do that."
Prewett didn't ask Weber not to have sex with anyone else: instead, she communicated that she'd have a difficult time agreeing to be his wife just days after he'd been intimate with another woman. In the real world, that ask wouldn't seem so crazy. Prewett was just asking for a degree of monogamy simply not awarded in such a setting.
Some fans pointed this out:
There's a giant difference, though. Respect.
It appears The Bachelor tried to make Prewett's conversation with Weber synonymous with the tumultuous relationship that built between Brown and Parker. Even Harrison expected the pair could be linked for their similar views.
"Is Peter going to be treated the same, and is Madison going to be villainized the same way Luke P. was? It's not completely dissimilar," he questioned during Rachel Lindsay's Bachelor Happy Hour podcast.
The answer is no. Bachelor Nation has—for the most part—refused to villanize Prewett in the same was as Parker. As for why this is, it stems from a person's right to their body and choices and the respectful way Prewett handled the situation.
Parker was immediately shamed for publicly slamming Brown when she slept with other men. This is because instead of embracing his own views on sex and celibacy, Parker projected his beliefs and assumed they should be Brown's, too.
Prewett didn't do this. Instead, she brought her own beliefs to Weber. She did not tell him what to do with his body, only that his decisions had the power to negatively impact how she felt about the relationship.
There is a similarity in the situations: neither Parker nor Prewett wanted to see their partner become intimate with another person, and they used their individual values to explain that. But Parker became aggressive towards Brown's choices when her values proved different from his own. Prewett never asked Weber to change his own values, only to consider hers.
Newsweek reached out to Parker and Prewett for comment on the comparison but didn't immediately hear back.
Instead of slamming Prewett's choices the way Bachelor Nation banished Parker, they rallied behind her with support.
Prewett gracefully avoided the Bachelor villain trap, waltzing through an otherwise dramatic season by staying true to herself and proving her ability to communicate her own needs in a relationship. It seems to be the reason many want to see Prewett as the Bachelorette.
Though many see Prewett as "wife material," according to Twitter conversations, many viewers have also concluded Prewett may be "too good" for Weber.
Weber's season of The Bachelor will continue on Monday with a "Women Tell All" episode.