Why 'Bachelor' Fans Think Kelley Flanagan Secretly Won Peter Weber's Season
This season of The Bachelor has been fueled by wild conspiracies and predictions about Peter Weber's happily ever after. A new theory claims Kelley Flanagan may actually win the season after being eliminated in the final five.
The theory surfaced online after the Women Tell All special Monday night in a TikTok by @edie_v and has taken a variety of odd turns. Some fans claim Flanagan could be pregnant with Weber's child (and allege the pregnancy is from when they met before filming). Others just think online clues point to a reunion between Weber and Flanagan.
The TikTok user sparked the theory when Flanagan was missing from the Women Tell All special. Spoiler blogger Reality Steve claimed Flanagan just wasn't invited. Newsweek tried to clarify this with ABC, but they had no comment.
The theory transformed to claim Flanagan wasn't invited because she'll come back into the picture during next week's finale. There's nothing to prove this, though. It's also important to note Natasha Parker was also not in attendance at the Women Tell All.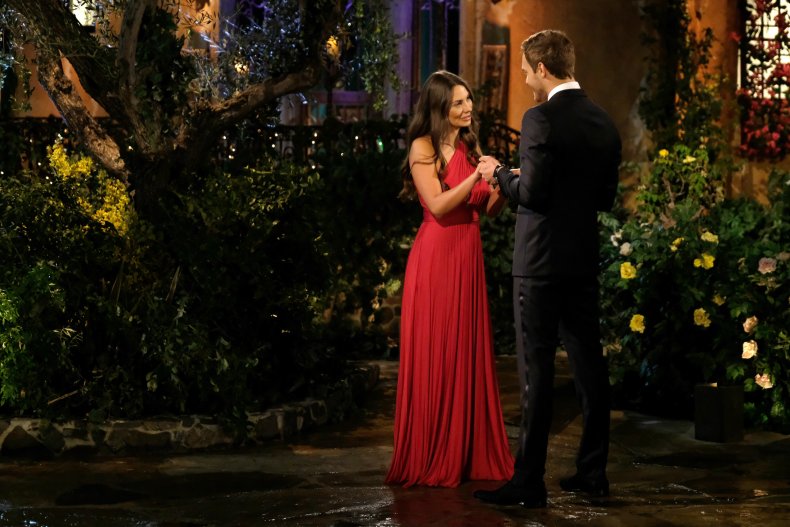 The other half of the Flanagan theory shows that Weber's family members follow the lawyer on Instagram. This is a bit odd, considering they don't follow Hannah Ann Sluss or Madison Prewett, who are Weber's official final two.
Reality Steve addressed the rumors and claimed his inbox was flooded with Flanagan's fans wondering if there was validity to the theory. In his explanation, he immediately slammed the rumors about Flanagan's possible pregnancy. "Really? When they met in AUGUST? You know, it's March 4th right now, don't you? This woman is 6 months pregnant?" he questioned.
He didn't waste any time turning down the theory in full. "Stop it. Just stop. Save it. Peter is not with Kelley. Period. End of story," he wrote. "Now we can use this as a lesson moving forward in future seasons. Just because someone's family follows a contestant, it means absolutely nothing. Peter's parents ONLY following Kelley and NO ONE else, and yet, Peter isn't with Kelley. Lets put that silly social media theory to rest for good now."
Another theory sparked from the Women Tell All episode claims Victoria Fuller may have won. This seems even less likely than Flanagan, considering Fuller did appear on the Women Tell All episode. The only backing to the theory points at Weber's wording during his post-show conversation with Fuller. In it, he referred to their relationship in the present tense. While this could easily be a case of poor wording, a few fans clung to the possibility that Weber spoiled a current relationship with Fuller.