Why Is Biden Waging War on Charter Schools That Benefit His Base? | Opinion
President Biden has inexplicably declared war on charter schools. With a series of proposed regulations, the Biden administration seems intent on damaging and destroying most of America's charter schools.
One of the new regulations essentially provides public schools with veto power over a decision to locate a charter school in their area. According to the New York Post, the Education department "strongly recommend[s] that charter schools seeking federal funds 'collaborate with at least one traditional public school' and 'provide a letter from each partnering traditional public school or school district demonstrating a commitment to participate in the proposed charter-traditional collaboration.' Charters must also prepare a 'community impact analysis' demonstrating 'unmet demand for the charter school, including any over-enrollment of traditional public schools.'"
A plain reading of the text makes the absurdity obvious. Charter schools compete with public schools. The Biden Administration is trying to force charters to be subservient to traditional public schools. The "unmet demand" regulation is particularly egregious: Children, especially those who are poor and minorities, have historically been underserved by public school systems across this country. If there weren't an unmet demand, most charter schools wouldn't exist in the first place.
Other proposed regulations include increasing reporting requirements of charter schools that contract with for profit companies providing services to their schools. At the same time, the administration is choosing not to increase said reporting requirements on traditional public schools.
In particular, these regulations could destroy the many charter schools that contract with Education Management Organizations. According to the Washington Examiner, "charter schools operated by education management organizations would be barred from receiving federal grant funding despite the fact that they are already barred from receiving federal charter school funding." This would impact over 700 schools serving almost 450,000 students across the country.
The administration also limited public comment on their proposed regulations to only one month (from March 11 to April 13). Traditionally, public comment has been two months or longer. One doesn't need to have a political science degree to understand why the administration would want to limit the amount of time that angry parents can discover what they are up to and comment on it.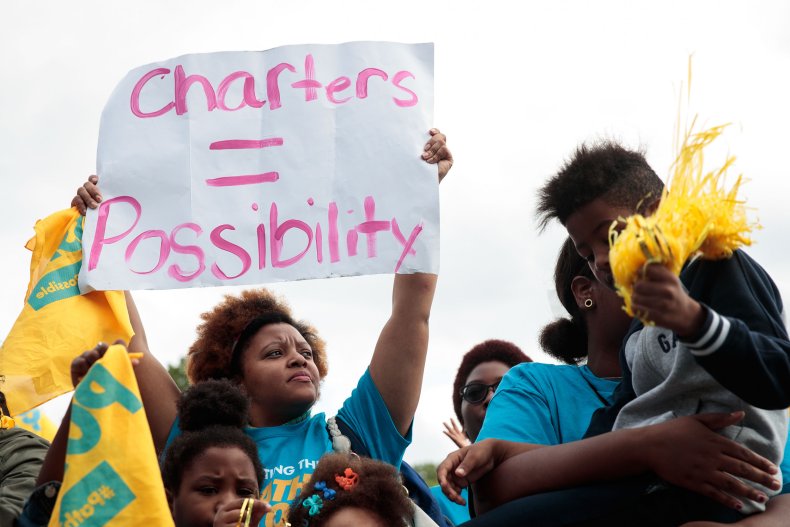 This is shameful. And it's another example of the administration choosing special interest groups over the needs of those they claim to support.
Charter schools serve a large number of Black, Hispanic and low-income children. Charter schools are also more likely to have Black teachers and principals than traditional public schools. And the Biden administration, which claims to care about "equity," wants to shut that down.
Why are they doing this? It should be clear to anyone paying attention that there are people inside the administration who don't give a damn about providing equal access to education. They expect low-income parents and children to wait until they can provide you with their system controlled "utopia." If your child ends up with a poor education in the meantime, that was just a sacrifice for the "greater good."
Of course, it's true that all public schools aren't bad, and all charter schools aren't good. But competition helps everyone. Studies show that the presence of robust charter schools can also improve the performance of traditional public schools in that area. That's how competition works.
It's also great for the education ecosystem when charter schools and traditional public schools independently collaborate with each other, as they do in the Cleveland Metropolitan School District.
But that's not the goal of the Biden administration. Judging by these policies, their goal is to force charter schools to exist and operate under the thumb of traditional public schools while shutting down those who won't comply.
What should be deeply concerning for those who are Biden voters is how little regard he appears to show for parts of his core constituency. These proposed regulations would disproportionately negatively impact Black and Hispanic students. And the administration is well aware of that, but it's full speed ahead anyway.
Why is that? Do they believe that they can sneak this in without the affected parents knowing? Do they believe that they will pay no political cost for spitting in the faces of many of their own voters? Do they think that the opposing party won't be smart enough to ensure that the administration suffers an electoral loss over this?
Or do they just think that they can do what they want because they believe that we're all stupid?
With lip service and symbolism over substance, the Biden administration talks a good game about "equity." But when it comes to giving poor students the same educational opportunities that their children have, they balk. They're hoping that you don't notice that their elitism is stronger than their alleged commitment to "progress."
The 2022 midterm election season has ushered in a national conversation about schools and the role of parents in their children's education. There are a lot of very angry parents. Should the Biden administration go through with these ridiculous regulations, prepare to add charter school parents to their ranks.
Darvio Morrow is the CEO of the FCB Radio Network and co-host of The Outlaws Radio Show.
The views in this article are the writer's own.