Why Bill de Blasio's "Contract" Gambit Is a Long Shot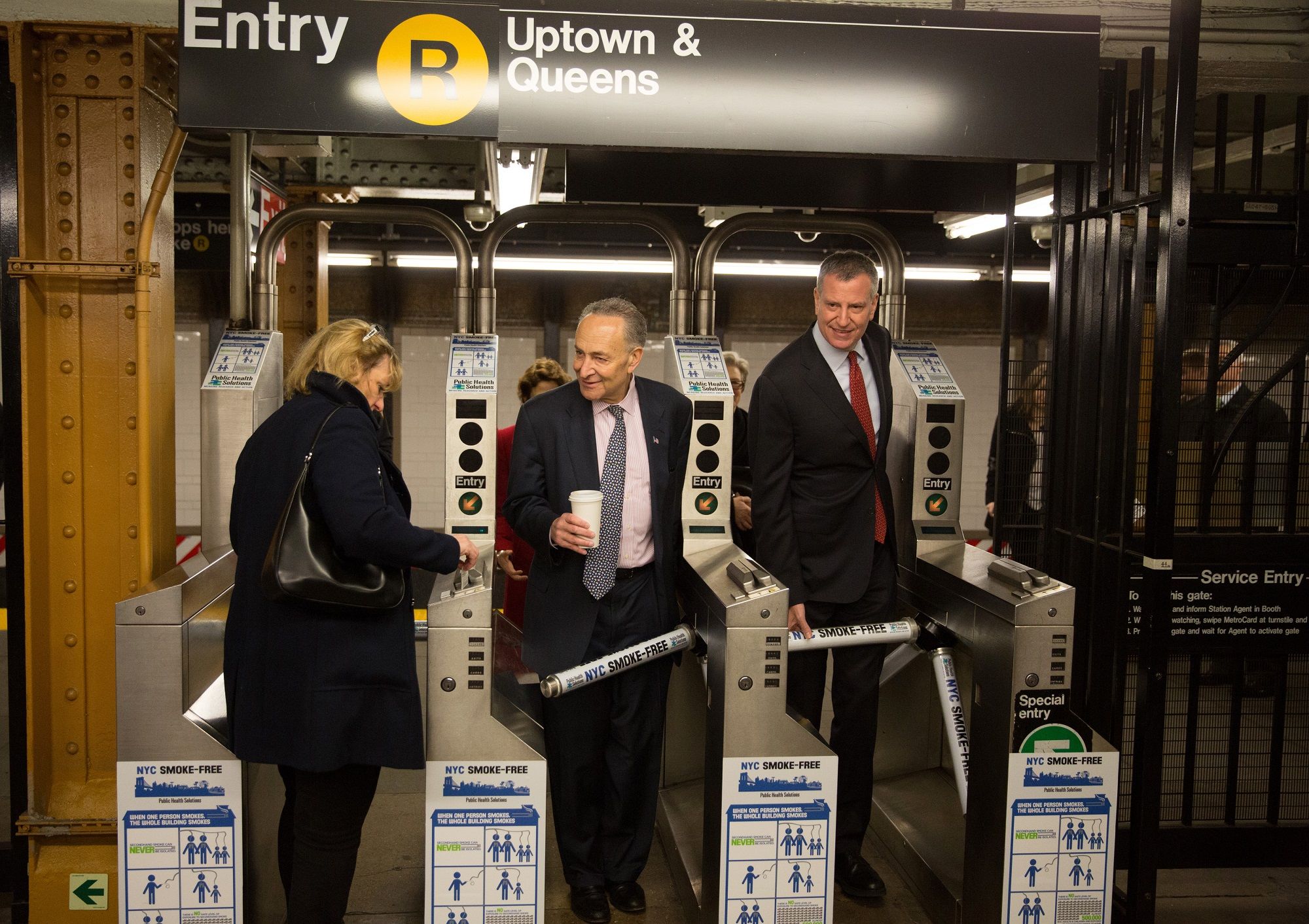 New York City Mayor Bill de Blasio went public Wednesday with the news that he'll soon be unveiling a Left-leaning, 21st century version of Newt Gingrich's 1994 Contract with America. And he'll be unveiling it on the steps of the U.S. Capitol which is what Gingrich famously did. There's just one problem: Unlike Gingrich's Contract, there's virtually no chance Congress will take action on the agenda de Blasio lays out next Tuesday.
"The Gingrich folks had this agenda before they gained power but there was a serious expectation that they would in fact gain the power," noted Fordham University Professor Bruce Berg, an expert on New York politics. The Republicans had not run the House of Resentatives for almost 40 years when they were swept to power in and anti-Clinton wave. "I don't think there is any expectation," Berg continued, then paused to rephrase, "I would certainly hope that there isn't any expectation on the part of the de Blasio people that the partisan structure of Congress is going to change much."
In other words, Democrats aren't taking back both chambers anytime soon. So while newly crowned House Speaker Gingrich and his GOP majority were able to push through most of the institutional reforms and several of the legislative proposals promised in the Contract in 1995 (a majority of the bills stalled, however, in the Senate), there's no future of that kind for the "Progressive Agenda to Combat Income Inequality" that de Blasio and his allies are set to introduce, at least not anytime soon.
In a Wednesday interview on MSNBC's "Morning Joe," de Blasio laid out priorities like progressive taxation, raising the minimum wage and expanding access to benefits like paid sick leave—things that President Obama and liberals in Congress have been lobbying for, unsuccessfully, for years. To de Blasio, however, those remain the ways to tackle income inequality, which he dubbed "the crisis of our times." But if it's not, as Berg suggested, an attempt to move legislation and influence Congress, then what exactly is the first-term mayor aiming at here?
By all indications, de Blasio's liberal roadmap seems designed to inject himself and his ideas into the 2016 discussion—pushing his one-time boss, Hillary Clinton, further to the Left. The New York mayor worked at the Department of Housing and Urban Affairs in the 1990s and was a key player in Hillary Clinton's first U.S. Senate campaign. Unlike many New York Democrats, he has declined to endorse Hillary's latest presidential bid. De Blasio said on "Morning Joe" that he's optimistic about the direction the Clinton campaign is headed, highlighting her strong statements on justice and immigration reform. But he wants to hear more on how she plans to address inequality before he's prepared to endorse.
"Bill has ideological beliefs and ... he sees a vacuum in terms of Democratic party leadership for this progressive agenda," says Doug Muzzio, a political science professor at Baruch College, City University of New York. Being willing to potentially burn those Clinton bridges, or at least "set a couple fires" on them, "shows that he's serious about this," says Muzzio.
But Hillary isn't the only target. De Blasio and partners—economists, organized labor and liberal groups—also plan to engage candidates at the state and local level, according to one insider. They'll be taking what will be a list of policy proposals and principles (quite different from the Contract, which was really more a "management document," as Gingrich has described it) across the country to get elected officials and candidates to sign on. Several are expected to do so when the roadmap is unveiled in Washington on May 12th.
Connecticut Congresswoman Rosa DeLauro is one of them, and she says the point here is to build momentum behind policies like universal paid sick leave and family leave for new parents, things she's championed for years. No one, she reminds this reporter, thought de Blasio would be the mayor of New York when his campaign started in 2013. "So what did he do? He connected with people. That's the connection that I think he can help make" on economic inequality"and that's what can help turn things around."
Certainly, de Blasio has a platform, not only as a past Clinton ally but now as mayor of America's largest city. When he took office in 2014, it had been 20 years since New York had had a Democratic mayor and arguably many more before that since the Big Apple had one as liberal. Despite a mixed track record in his first year, de Blasio has had success in adopting universal pre-K, launching an affordable housing plan that's picking up steam and releasing a citywide proposal to combat income inequality—all of which are helping the mayor build some progressive street cred.
"And for those in New York who are somewhat disappointed by what he's done so far, his attempt to gain a national audience is an attempt to convince people in New York City" to get behind his agenda, says Berg. De Blasio's liberal contract, then, is "as much for internal consumption as it is for external consumption."