Why Black Americans Are Less Likely to Take the COVID Vaccine
African-Americans are less likely to want to take the COVID-19 vaccine because of a deep-rooted distrust of national institutions and memories of former public health scandals such as the Tuskegee experiment, Black health leaders have said.
A poll released by The Associated Press-NORC Center for Public Affairs Research on February 10 found that hesitancy around the vaccine was more prominent among Black Americans compared with other ethnicities.
The survey, conducted on 1,055 adults between January 28 to February 1, revealed that Black Americans were less likely than white Americans to say they have received the shot or will definitely or probably get vaccinated, 57 percent compared to 68 percent.
But, according to data from the Centers for Disease Control and Prevention, Black Americans are 1.1 times more likely to test positive for COVID-19 than white Americans, are 2.9 times more likely to need hospitalization and 1.9 times more likely to die of the disease.
Dr. Reed Tuckson, a founding member of the Black Coalition Against COVID (BCAC), believes the increased resistance of Black Americans to take the vaccine comes from a long-time distrust in U.S. societal institutions.
"The seeds of distrust in America's fundamental societal infrastructures have been deeply planted since our arrival in this nation and, unfortunately, they have been watered daily in our interactions with political, police and criminal justice, finance and health systems among others" Dr. Tuckson told Newsweek.
"From my experience, our history and contemporary events reveal that distrust is not an emotion without consequences. When tens of thousands of African Americans feel compelled to take to their cities to proclaim that their lives matter, the consequences are felt most directly in health and survival. Distrust, in the final analysis, leads to death and preventable misery and suffering."
He added that many Black people had questions regarding the vaccines and were seeking more information to help them make a more informed decision. Dr. Tuckson pointed to a poll conducted by Ad Council in December last year, that showed only 40 percent of individuals from Black and Hispanic communities feel confident they have enough information to make a decision about COVID-19 vaccination, compared to 60 percent in the overall U.S. population.
The doctor said that Black people were becoming more confident about having the vaccine as more of the population gets inoculated. He added that to increase confidence in Black communities around the vaccine, the distrust needs to be addressed in other sectors too, such as the justice system.
"First and foremost, every sector of our society needs to be attentive to the fundamental human expectation for respect and value. Health is the place where all of the social forces converge to express themselves with the greatest clarity and most importance," he said.
The BCAC has mobilized four Black American medical schools, the National Medical Association and the National Black Nurses Association to partner with media companies to disseminate accurate and scientifically valid information from the most trusted sources in the Black community. Dr. Tuckson hopes that this will encourage more African-Americans to come forward to be vaccinated. The Ad Council is also working with Dr. Tuckson.
"Partnerships with the creative community are essential for our health professionals to reach the community that we love, care about and care for," he said.
The BCAC has also held online town halls to with senior health officials, such Dr. Anthony Fauci, the nation's leading infectious diseases expert, to address particular concerns of Black Americans.
Meanwhile, Dr. Lou Edje took part in the Moderna vaccine trial at her health system in Cincinnati, Ohio, after three of her relatives died from coronavirus last year.
Now Dr. Edje, an associate Dean at the University of Cincinnati Medical Center, is campaigning to get more African-Americans in her community vaccinated.
"The most common reasons for vaccine hesitancy that I have heard across multiple forums and across the older demographic of individual is awareness of historic truths such as the Tuskegee experiment, in which Black men were kept untreated for syphilis long after penicillin was found to be a cure and Henrietta Lacks, whose DNA was used without her permission. Why would we be prioritized now?" she tells Newsweek.
"The younger demographic seems to have less of a grasp of the gravity of serious COVID illness such as strokes and their debilitating effects," she said. Dozens of participants died as a result of the Tuskegee study, after nearly 400 were denied treatment for syphilis for decades.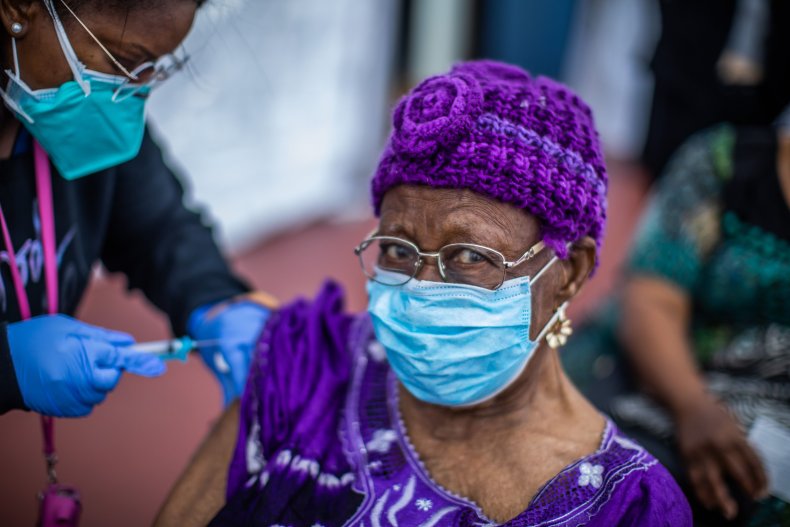 Dr. Fauci has said the U.S. needs to get between 70 and 85 percent of its population vaccinated against COVID-19 to achieve herd immunity. Dr. Edje acknowledges that vaccine-skeptic communities need to be vaccinated to reach even the lower threshold of 70 percent.
"This has to be a critical and urgent focus area for the good of all our communities or we may find viral variants evade our emerging and existing vaccine candidates," she warned.
Personal physicians and community leaders need to continue to prioritize a multifaceted communication approach to vaccine-hesitant communities, Dr. Edje said.
"Conversations to bring vaccine-hesitant communities closer to making decisions to become vaccinated need to occur on a foundation of active listening, transparency and patience," she added.
The World Health Organization has stressed the importance of rigorous checks on the effectiveness and safety of vaccines. Some of the large manufacturers, including Moderna, the BioNTech-Pfizer and AstraZeneca, have published data, showing the side effects have not been serious or long lasting.