Why 'Bridgerton' Season 3 Is Focused on Colin and Penelope, Not Benedict
Fans of Benedict Bridgerton (Luke Thompson) may have hoped his romance with Sophie Beckett would be next, but Bridgerton is straying from its source material for its third season.
Netflix confirmed at its For Your Consideration panel on Sunday, May 15 that Season 3 would tell Colin (Luke Newton) and Penelope Featherington's (Nicola Coughlan) story, as Newsweek predicted when Season 2 came out.
Here is why the racy period drama is making a change from Julia Quinn's books for its third season.
Why 'Bridgerton' Season 3 is Focused on Colin and Penelope, not Benedict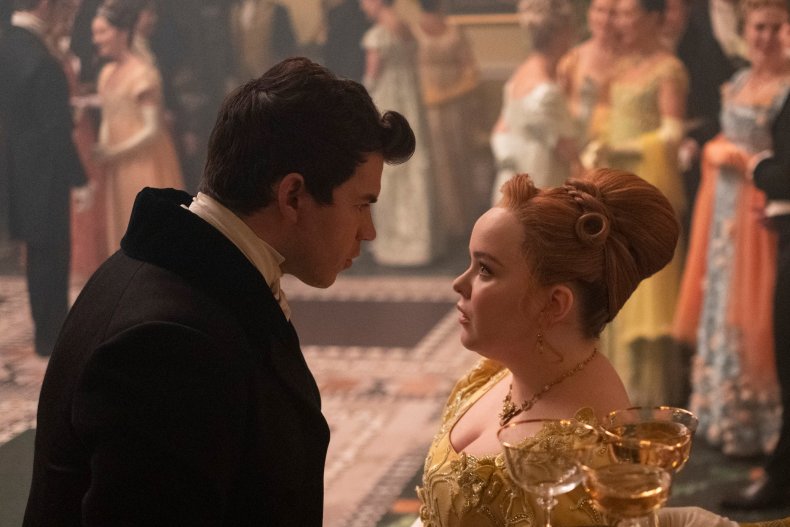 As Newsweek pointed out following the release of Season 2, the show has already dipped into Colin and Penelope's story in their book Romancing Mr. Bridgerton significantly over its two seasons.
Moments like Colin telling his family and friends he's not interested in Penelope romantically take place early on in the couple's book, just as how she overhears him and gets upset about it.
Season 2 also saw Colin return from his travels in Europe where he learns that only Penelope is the one who cared enough to write to him the whole time.
In their book, Colin and Penelope's romance starts out in much the same way, and after his aforementioned blunder where he tells people he's not interested in Penelope within earshot, he comes to realize how much that isn't the case.
Another significant plot point in the book is that Penelope is unmasked as Lady Whistledown, something that happened in the show at the end of Season 1, and in the next set of episodes Eloise Bridgerton (Claudia Jessie) found out.
The fact that Eloise knows means that Colin is likely to find out very soon, and his reaction to the reveal is an important moment in their relationship in the book.
A specific reason has not been given to explain why Bridgerton Season 3 won't adapt Benedict's book An Offer From A Gentleman, but given how often the show has drawn from storylines in Colin and Penelope's books from the start, it shouldn't be so surprising to fans that it's skipping over him for the time being.
No doubt the show's fourth season will return to Benedict and tell his Cinderella-esque romance with Sophie Beckett.
What Nicola Coughlan and Luke Newton Have Said about Colin and Penelope Being the Focus of Season 3
Coughlan attended Netflix's FYC panel to reveal the news that her character would take center stage in Season 3, revealing that she discovered the news while talking to new showrunner Jess Brownell on the phone.
Speaking to Tudum before the event, the actor shared: "I feel like if you see Penelope fawning over this boy for another season, you'll be like, 'Get it together! Come on, move on and get over it.
"Jess has talked to Luke and I through the season, and I think people are going to be really obsessed. I think book fans are going to be happy."
Coughlan later took to Instagram to also share the news with fans, admitting: "Like Lady Whistledown I've been keeping quite a big secret for quite a long time... but I can finally tell you that [Bridgerton] Season Three is Colin and Penelope's Story."
Newton also shared his thoughts about the change in direction for Season 3, telling Netflix's publication: "I love Polin."
"There's so much love for that relationship [from fans]. Which brings its pressures because there are people that are really excited about this story to come to the forefront. But also it really warms me," he said.
Bridgerton Seasons 1 and 2 are available to watch on Netflix now.