#LizzoIsOverParty: Why BTS and One Direction Fans Are Trying to Cancel Lizzo
#LizzoIsOverParty is trending on Twitter and it's thanks to One Direction and K-pop stans—luckily for fans of the "Truth Hurts" singer it seems she is far from over.
The drama started when One Direction fans thought Lizzo, whose real name is Melissa Viviane Jefferson, made a slight against Harry Styles.
In an old TikTok video, Lizzo suggestively sucks a chocolate popsicle while watching perform Styles onstage—the humorous video is laden with innuendo and is a nod to the playful and well-documented relationship between Styles and Lizzo.
However, some fans have deemed the joke "offensive," hence the calls to "cancel" Lizzo making their way around Twitter, some veering into offensive territory themselves.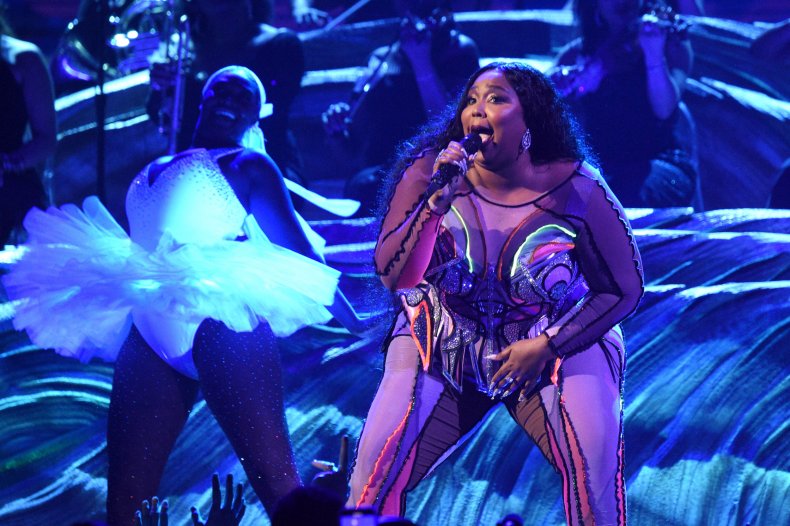 One angry tweet reads: "This isn't for Lizzo's body, it's for her actions. She's sexualizing every single man and that's so f*****' disgusting. Why can't you understand the reason of this hashtag. If you support her you're sick. PERIODT #LizzoIsOverParty."
In response to the #LizzoIsOverParty hashtag doing the rounds, fans of the singer have been flooding the tag with positive messages praising her.
One tweet, with more than 6,000 likes reads: "Y'all are acting like the boys are soft innocent puppies. Sorry to break it to you but they're grown ass men who can take a f***ing joke. There's a difference between sexualizing someone and making a joke. Just say your anti black and go #LizzoIsOverParty."
Another shared a video of Lizzo and Styles performing together on stage doing their usual gag of being overly flirtatious, saying: "friendly reminder that h and lizzo are friends and y'all just hate black women. i just wanna know if y'all had this energy when camille was moaning his name on ig or if it only applies to black women #LizzoIsOverParty."
Another person tweeted: "if harry had a problem with lizzo he would have stopled being friends with her. you misogynistic directioners just want another excuse to cancel a successful woman. stay mad, lizzo is beautiful. #LizzoIsOverParty."
As for the K-pop backlash, some stans are scrutinizing Lizzo for an interview she gave in which she spoke about the supergroup BTS.
During CBC's Music Game of Jam or Not a Jam in 2019, Lizzo was presented with the BTS song "Boy With Luv." Upon hearing the track, she said: "Now I know why people sleep outside in tents for days. That was sexy. That was sexual, actually."
BTS fans, who are known as the ARMY, deemed the statement "inappropriate."