California's largest public school system is no longer allowing its students to wear cloth masks and requiring that they wear coverings with a good fit and a nose wire.
The change comes as both state and national health officials have been increasingly citing the boosted protection offered by some masks, such as KN95s and N95s, compared with others.
A Los Angeles Unified School District spokesperson told Newsweek that the system follows guidance from the Los Angeles County Department of Public Health (LACDPH) and that this newest change will help make schools as safe as possible for students and workers.
The updated rules on the district's website specify that students must wear "well-fitting, non-cloth masks with a nose wire," even while outdoors, and all employees are "required to wear surgical grade masks or higher."
"Los Angeles Unified will continue to provide these kinds of masks to students and employees at school sites if they need them," the district's guidelines say.
Students who previously obtained mask exemptions are not subject to the new guidance.
The U.S. Centers for Disease Control and Prevention (CDC) updated its own masking guidance earlier this month to recommend that people "wear the most protective mask you can that fits well and that you will wear consistently."
The agency did not explicitly advise Americans to choose KN95s and N95s over cloth masks but noted that "properly fitted respirators provide the highest level of protection."
"Loosely woven cloth products provide the least protection, layered finely woven products offer more protection, well-fitting disposable surgical masks and KN95s offer even more protection, and well-fitting NIOSH-approved respirators (including N95s) offer the highest level of protection," the CDC wrote on its website. NIOSH is the National Institute for Occupational Safety and Health.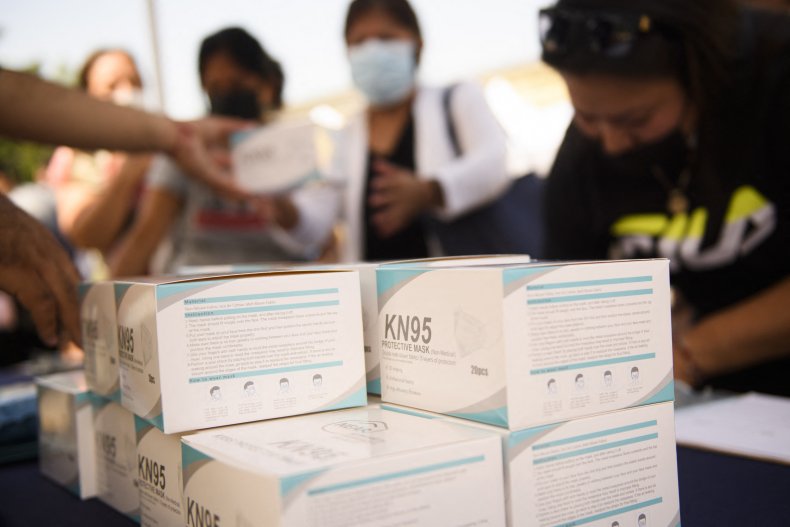 "Whatever product you choose, it should provide a good fit (i.e., fitting closely on the face without any gaps along the edges or around the nose) and be comfortable enough when worn properly (covering your nose and mouth) so that you can keep it on when you need to," the guidelines added.
When wearing a mask with a "good fit," the wearer "will feel warm air come through the front of the mask and may be able to see the mask material move in and out with each breath," the CDC said.
The CDC noted in announcing the new guidance that "it is important to remember that any mask is better than no mask." It has also said that the effectiveness of a mask can depend on how it is worn.
"A mask or respirator will be less effective if it fits poorly or if you wear it improperly or take it off frequently. Individuals may consider the situation and other factors when choosing a mask or respirator that offers greater protection," the agency wrote on its website.
The LACDPH has offered similar updated guidance on masking. It advised people to wear a mask that is comfortable to wear, filters air well and "fits snugly against your nose and chin with no large gaps around the sides of the face or your nose."
It listed N95, KN95 and KF94 masks as providing the "best" protection against the coronavirus. Meanwhile, fabric masks that contain a third layer of nonwoven fabric, such as a filter insert, and medical or surgical masks that are not fitted were listed as "good," while a double mask and fitted medical or surgical masks were listed as "better."