Why Can't Melania Trump Wear A Coat Properly? First Lady Trolled for Signature 'Draping' Look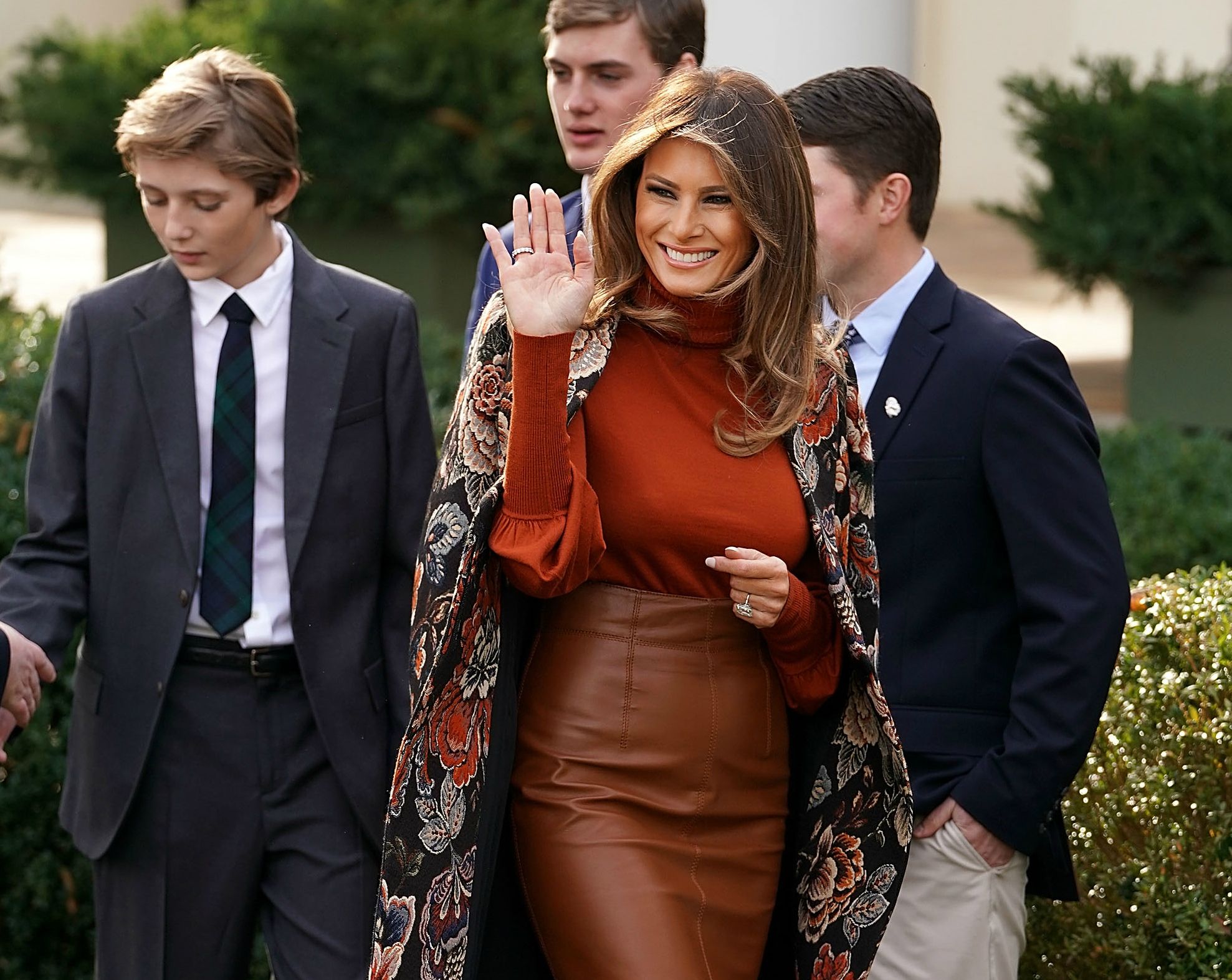 First Lady Melania Trump has inspired a certain public fascination since being thrust into the spotlight thanks to her husband's presidency. Her perceived unhappiness, her occasionally strange interactions with President Donald Trump, her anti-bullying platform and, of course, her sartorial choices have all been scrutinized before. On Tuesday, though, the focus switched to what the first lady appears to be determined not to wear: her designer coats.
Trump was ridiculed on Twitter for her penchant for draping her coats over her shoulders, rather than wearing them. One person even jested: "You're not Batman."
Trump's outerwear style choice has actually been a subtle staple of her look throughout her inaugural year as first lady. But what puzzled the Twitterverse Tuesday was the fact that she wasn't even outside—she was inside the White House. Maybe the president forgot to pay the heating bill? ("It's almost like you're ready to flee at any moment... Just call someone, Melania. They'll save you!" one Twitter user joked.)
Trump shared pictures of her decorating the official White House Christmas tree on Instagram Tuesday and in at least two of the pictures, she is sporting her signature draped look—though how practical it is for decorating is questionable.
On Twitter, Trump was trolled for what people perceive as an inability to wear a coat properly.
Just this week, the first lady has donned her now signature look—let's dub it the Melania—on at least three occasions. And these aren't just any old coats from Zara.
Monday, Trump wore—or, rather, draped herself with—a plaid Calvin Klein overcoat priced $1,600 as she and son Barron Trump, 11, oversaw the arrival of the Trumps' Christmas tree being delivered to the White House.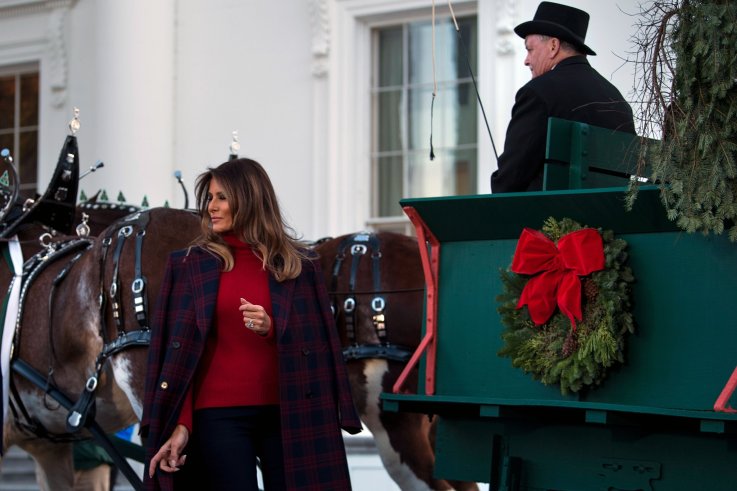 On Tuesday, Trump rocked a more daring Stella McCartney coat to complete her autumnal look at the official White House pre-Thanksgiving turkey pardoning ceremony. That coat, which features embroidered flowers, costs $1,625.
And in one of the Instagram pictures Trump shared Wednesday, she appears to be decorating the White House Christmas tree in a pale pink overcoat reminiscent of the $1150 Acne Studios one she wore in October.
But Trump's inclination for draping is not likely to be rooted in blanket disregard for outerwear. In fact, there is a lot of photo evidence—here, here and here—that the first lady does, in fact, know how to wear a coat.
Trump's fashion has been a focal point of coverage about her in the last year, notably her tendency to wear expensive high fashion pieces even when it's not entirely suited to the occasion. In September, she was criticized for wearing a hot pink Delpozo dress worth $2,950 while addressing a United Nations congregation about child hunger.
The person behind the first lady's presidential wardrobe is Hervé Pierre, a French fashion designer who has worked for Oscar de la Renta and Carolina Herrera. Pierre designed Trump's inauguration gown and has stayed close to Trump as her stylist.
"I go to Bergdorf, I go to Saks, Michael Kors, Dior. What is challenging is when I cannot say what it is for," Pierre told The New York Times in September. "I always ask: 'Was it already on the red carpet? Did somebody already wear it?' Because I don't want her to be on the 'Who Wore It Better' list."
Why Can't Melania Trump Wear A Coat Properly? First Lady Trolled for Signature 'Draping' Look | Culture