Why Cardi B Is Being Sued For Defamation
Rapper Cardi B and her sister are both being sued for defamation after they labeled a group of beachgoers as "racist MAGA supporters" in a video recorded at the Hamptons and shared to social media a number of weeks ago.
TMZ reports that Peter Caliendo, Pauline Caliendo and Manuel Alarcon are suing the rapper, whose real name is Belcalis Marlenis Almánzar, as well as her sister Hennessy Carolina and her sister's girlfriend Michelle Diaz.
Court documents obtained by the publication allege the plaintiffs were spending time at Smith Point beach when the Carolina and Diaz approached them and began insulting and shouting at them because one of the party was wearing a red 'Make America Great Again' hat.
Cardi tweeted a video of the altercation at the time, saying her sister was being harassed because she and her friend are an Afro-Hispanic gay couple.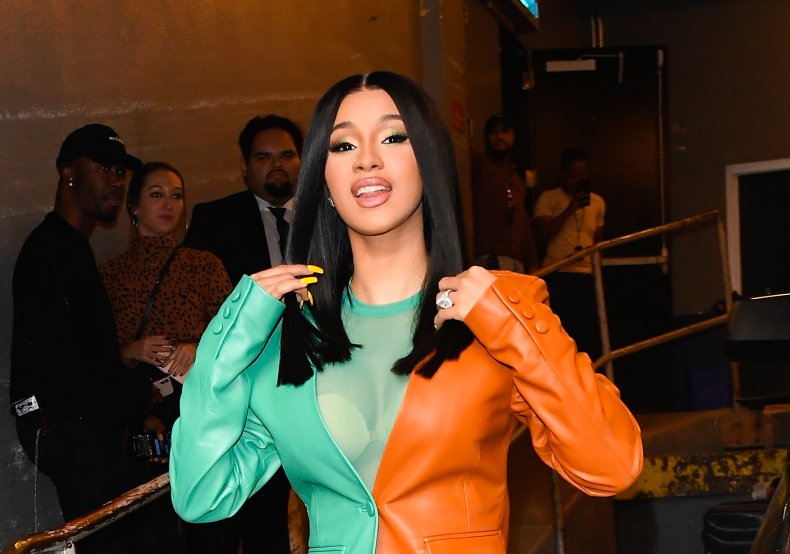 The documents state that the video of the scuffle that was posted to social media was edited in order to paint the plaintiffs in a negative light.
However, the "WAP" rapper at the time tweeted her sister's girlfriend was harassed about where she parked her car "all because they are a [sic] Afro/Hispanic gay couple."
The 27-year-old also shared a number of recordings from her sister about the incident with Hennessy claiming the couple chanted Donald Trump's name and repeatedly shouted: "Go back to your f***ing country" at them—many online expressed doubts over how the spat actually went down, with Twitter users questioning whether Carolina had been the aggressor.
During the heated argument, Carolina can be heard warning: "I'll beat the f*** outta you," as the group approached her car.
Hennessy also called the woman "Karen," adding: "I hope you know that you will be online and your husband."
Newsweek has reached out to Cardi B's representatives for comment.
Cardi had shared the clip online during a highly publicized feud with conservative pundit Candace Owens earlier this month.
The two women became embroiled in a Twitter spat over their opposing political views, with their arguments escalating personal insults on the social media platform.
Owens called Cardi "dumb and illiterate" while the rapper said she feels sorry for the Donald Trump supporter.
The drama started when Owens, took part in an interview with another conservative pundit, Ben Shapiro, where she slammed Democratic nominee Joe Biden for taking part in an interview with Cardi for Elle magazine.
Why Cardi B Is Being Sued For Defamation | Culture