Chuck Schumer apologized to John Roberts on Thursday after the Senate minority leader made remarks on a contentious topic—abortion—that were perceived by many as threatening to the chief justice.
"I should not have used the words I used yesterday," Schumer said in a floor speech. "They did not come out the way I intended to."
How did this feud, which included a rare rebuke of a top elected official by America's highest judge, originate? And what will be the political fallout?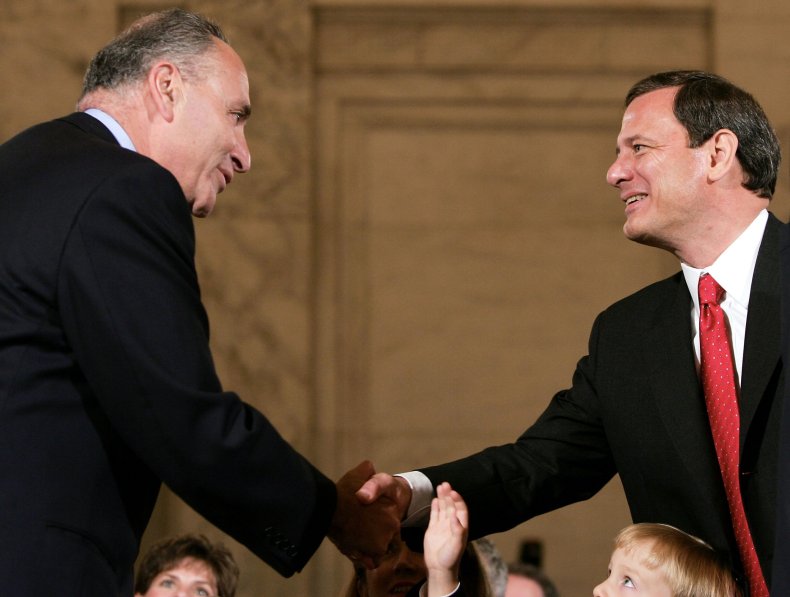 Schumer saw himself quickly become enveloped in controversy after joining abortion rights activists and protesters outside the U.S. Supreme Court on Wednesday as the justices inside heard arguments about a major abortion case from Louisiana. The state law in question would act as a virtual ban on abortion because of stringent requirements for doctors and medical facilities that perform the procedure.
Schumer turned his frustration toward Justices Neil Gorsuch and Brett Kavanaugh, both appointees of President Donald Trump.
"I want to tell you, Gorsuch! I want to tell you, Kavanaugh!" the New York Democrat told the crowd. "You have released the whirlwind, and you will pay the price. You won't know what hit you if you go forward with these awful decisions."
Republicans won't likely soon forget Schumer's words. They pounced on the minority leader for rhetoric they said was "threatening or inciting violence." They also used the opportunity to accuse Democrats of being complicit with a party leader placing undue pressure on the Supreme Court as it considered a case involving a procedure that many Republicans believe should be outlawed.
Roberts even took the extraordinary step of issuing a statement condemning Schumer. "Justices know that criticism comes with the territory, but threatening statements of this sort from the highest levels of government are not only inappropriate, they are dangerous," the chief justice said.
Schumer's GOP colleagues in the Senate blasted him, with one of them—Senator Josh Hawley of Missouri—vowing to introduce a censure to officially condemn him for "his pathetic attempt at intimidation." The measure has 14 Republican co-sponsors.
Senate Majority Leader Mitch McConnell upped the ante Thursday morning by using the bulk of his daily floor speech to criticize Schumer. The Kentucky Republican accused Schumer of attempting to "threaten impartial judges" and warned of the "horrific unintended consequences" that can arise from such an "apparent threat of violence."
"The minority leader of the United States Senate threatened two associate justices of the U.S. Supreme Court. Period," McConnell said. "There's no other way to interpret that."
Initially, Schumer doubled down after his remarks in front of the Supreme Court building, which is across the street from the Capitol. He and his office justified the language as a reference to the "political price" that lawmakers, particularly Senate Republicans and Trump, would pay at the polls for trying to strip "a woman's right to choose."
A Schumer spokesperson also charged Roberts with following the "right wing's deliberate misinterpretation" of his boss' words. And the spokesperson suggested that Roberts' silence last week was hypocritical after Trump criticized two liberal justices—Ruth Bader Ginsburg and Sonia Sotomayor—and called for them to recuse themselves from any cases involving him.
Referencing Roberts' 2005 confirmation hearings, where the nominee said his job as chief justice was to play the umpire rather than acting as a player, the Schumer spokesman said, "Justice Roberts does not just call balls and strikes."
But Schumer took a step back from his defense on Thursday. While he reiterated that his comments contained no ill will and referenced political and public opinion consequences—and that it would be a "gross distortion to imply otherwise"—he conceded it was a poor choice of words used in the heat of the moment.
"I'm from Brooklyn. We speak in strong language. I shouldn't have used the words I did, but in no way was I making a threat," he said. "I never—never—would do such a thing. And Leader McConnell knows that. And Republicans who are busy manufacturing outrage over these comments know that too."
The Louisiana abortion case before the high court is reminiscent of efforts by Republicans—at the local, state and national levels—to enact restrictive measures on abortion that call into question the constitutionality of Roe v. Wade. In effect, such measures would make abortions difficult or impossible to obtain.
"So, yes, I am angry," Schumer continued. "The women of America are angry. And, yes, we will continue to fight for a woman's right to choose. I will continue to fight for the women of America."