Why Is Chuck Schumer Trying To Stop Antitrust Reform? | Opinion
We're all familiar with the concentrated market power of giant technology companies like Google, Apple, Facebook and Amazon, which reach into all corners of Americans' daily lives. For more than a decade, their monopolistic dominance has spawned Justice Department investigations, congressional hearings, civil lawsuits and legal penalties. Over and over again, antitrust bills are discussed and some are introduced—and then they die in the House and the Senate.
Now, though, two bills that would begin to rein in the power of companies like these Big Tech behemoths are under consideration in the Senate. They've both passed the Senate Judiciary Committee by impressive margins and are ready for a full vote. But Senate Majority Leader Chuck Schumer (D-NY) has been dragging his feet on bringing them to the floor.
Letting these bills die would be a significant failure of the American antitrust movement, signaling to the Big Tech companies that even modest and highly limited restrictions on their behavior are politically impossible to achieve—that despite overwhelming popular support for reform, Washington is simply too intransigent and too bought and paid for to get anything done. A defeat would give these companies the green light to continue stomping all over their smaller competitors and harming consumers by invading our privacy and limiting our choice.
But given Schumer's own ties to Big Tech, his reluctance to bring this legislation to the floor—where it would almost certainly pass—is no surprise.
Schumer has taken hundreds of thousands of dollars from Big Tech and its employees over the past decade. Between 2013 and 2018—a time period when tough data protections were adopted in the European Union, and there were broad calls for the U.S. to do the same—these corporate giants gave Schumer more than almost any other member of Congress. In 2016, the technology industry gave Schumer $237,000. In just the spring of 2021, when antitrust legislation was under discussion in Congress, Schumer took $120,000 from Google and Apple executives and their aligned PACs.
The ties go beyond campaign contributions. Schumer's staff has been a revolving door for Big Tech. According to the New York Post, more than 80 former Schumer staffers have gone on to subsequently work at the Big Tech firms. And Schumer's two daughters have also both worked directly for Big Tech—one for Amazon, and one for Facebook subsidiary Instagram. Alison Schumer also advocated against regulation as a public affairs manager for Airbnb, the technology company that has in many ways distorted housing markets worldwide.
Given all that money and those family connections, it's no wonder that Schumer has been reluctant to take a hard line on the enormous problem of tech market concentration. Indeed, journalists who watch the sector have called Schumer a "quiet but reliable Washington ally" to Big Tech, as well as a "tech booster." As recently as 2018, he said tech companies were too new to regulate aggressively. He proposed that the companies police themselves—an approach that has clearly failed.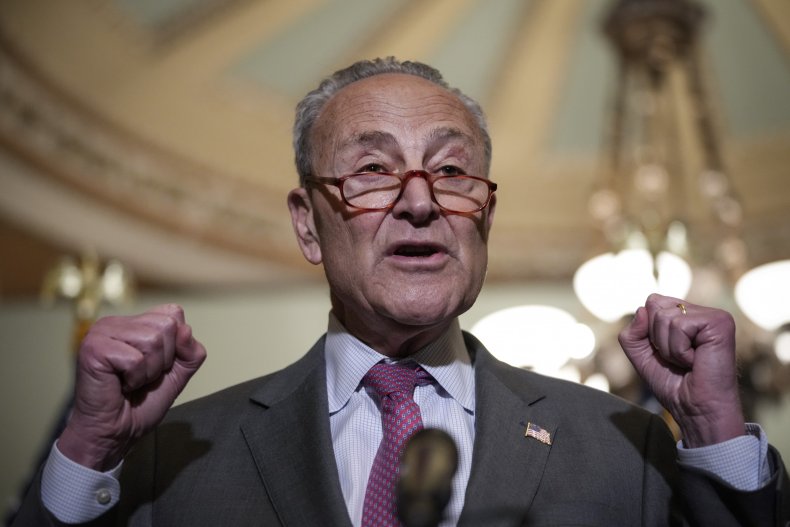 Amazon continues to knock smaller companies out of the market and effectively eliminates consumer choice in a wide range of goods and services, but Schumer has praised them for creating "cheaper, better competition." In 2018, as Facebook was harming kids and stoking division online, Schumer called the social media giant a "very positive force."
It seems Schumer is of two minds about the power that tech companies hold over Americans. And now that concrete antitrust legislation is closer than ever to becoming law, he's imposed a procedural roadblock that could keep that legislation from coming to the floor.
The two bills—the Open App Markets Act and the American Innovation and Choice Online Act—are both crucial to constraining tech companies' outsized market power, in specific and concrete ways. The first bill would require Apple and Google to allow freer competition in their app stores—the monopolistic channels through which software companies make their products available to consumers on phones, tablets and computers. The second would prohibit companies from privileging their own products over those of competitors—the very issue that has triggered a Justice Department investigation of Google.
These two bills aren't enough, but they're a start. Sen. Amy Klobuchar (D-MN), chair of the Senate Antitrust Subcommittee, aggressively worked to build bipartisan support for both of them, and she got it: They passed out of the Senate Judiciary Committee with solid majorities of 20-2 and 16-6, respectively.
Apple, Google and Amazon, all three of which would be directly affected, have calculated that if these bills come to the floor, their chances of passing are very strong—and that if they pass, President Joe Biden will sign them into law. So Big Tech has mounted a powerful effort in the background to make sure that both bills stay bottled up. And Schumer is giving them cover: He has said plainly that he won't bring either bill to the floor unless advocates can show they have the support of at least 60 senators, which is the threshold to cut off debate and call for a vote.
But requiring commitments from senators in advance makes legislation much harder to pass. Sen. Dick Durbin (D-IL), Judiciary Committee chairman and a cosponsor of both bills, clearly understands the bills' appeal to consumers and their likelihood of passage if they are put to a full Senate vote. What kind of senator wants to go explicitly on record as an opponent of more consumer choice?
By continuing to run interference for companies like Google, Apple, Facebook and Amazon, Schumer puts even these modest advances against their monopoly power in jeopardy. There's only a small window of time to push this legislation through, since summer is fast approaching—and after that, all of Congress will be distracted by political considerations as November's midterm elections near. There's no time to lose—these bills, which provide consumer protections that almost all of us will directly benefit from, need to be given their consideration by the full Senate.
Jon Schweppe is the policy director at American Principles Project. He is the founder of BigTechFunding.org and a co-author of a groundbreaking report detailing Big Tech's outsized impact: "Big Tech vs. Democracy." Follow him on Twitter: @JonSchweppe.
The views expressed in this article are the writer's own.