Why College Football Coaches Go to Extreme Lengths to Recruit the Best Players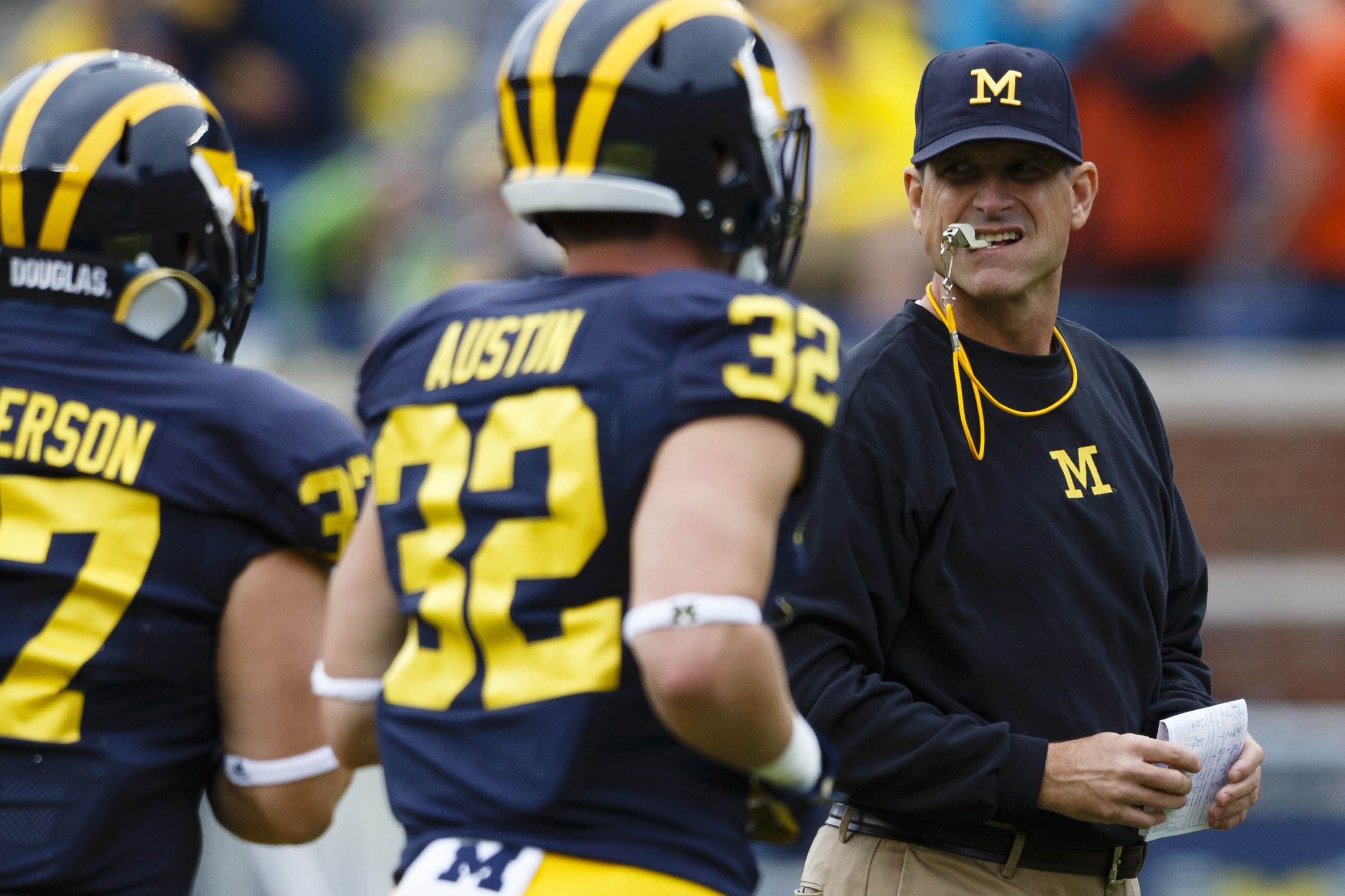 It was Gladys Knight and the Pips who once sang about taking a midnight train to Georgia, but earlier this week two Notre Dame football coaches boarded an 18-wheeler to the Peach State. Early on Thursday morning assistant coaches Mike Denbrock and Mike Sanford, accompanied I assume by someone with a commercial driver's license, pulled up in front of the home of Savannah Christian Prep School senior Demetris Robertson in their rig.
Wake up the echoes? More like wake up the neighbors.
Robertson, a five-star wide receiver, is one of the nation's top high school players who has yet to verbally commit to a school before next Wednesday's national signing day. The Fighting Irish, who are eager to put his signature on a national letter of intent, dispatched their equipment truck to Savannah for the 1,800-mile round-trip as a gesture of…grandiosity?
The University of Georgia covets Robertson's services as well, but on Thursday the Bulldogs' new head coach, Kirby Smart, was busy using the Buford Lanier High School football field as a helipad. Lanier High is home to defensive tackle Derrick Brown, who also holds the highest rating available for college-bound football players, five stars. Lanier was just the first of three stops that Smart made to Gwinnett County High Schools in his helicopter that day.
It used to be that five-star generals flew from place to place in helicopters. Now football coaches do the same, in search of five stars.
We are so far down the rabbit hole in college football—you never even batted your eyes at a football program having its own decked-out 18 wheeler, as if it were the Rolling Stones on tour—that such stunts no longer surprise us. Michigan coach Jim Harbaugh, who is in the midst of his first full recruiting cycle with the Wolverines, has made headlines all month with the lengths he will go to secure a four- or five-star recruit. Last week, he was at the Pasadena, California, home of four-star cornerback David Long when Long's younger sister challenged the 52-year-old to climb a tree. So he did—all of it documented on SnapChat, of course.
"How's business?" someone later asks Harbaugh on camera, mimicking a catchphrase of record producer DJ Khaled, while still at Long's home and accompanied by four of his assistant coaches. Last year, the University of Michigan spent $664,000 on recruiting alone. How's business, indeed.
In what initially would appear to be an unrelated story, construction workers happened upon woolly mammoth bones beneath one end zone of Oregon State University's Reser Stadium earlier in the week. The discovery of a femur belonging to a creature that went extinct 10,000 years ago only happened because the school had broken ground on a privately funded $42 million expansion and renovation to its Valley Football Center. "The expansion of the Valley Football Center will enable us to better take care of the young men in our program on a daily basis and also recruit at the highest level," Beaver head coach Gary Andersen said last spring, reversing the order of priorities.
The main reason Oregon State was investing such an enormous amount of money into its program was because the only other Football Bowl Subdivision school in state, the University of Oregon, has been burying it in terms of facilities upgrades over the past two decades. The reason for that is Portland native Phil Knight, who 60 years ago attended Oregon and was a fair middle-distance runner for the Ducks.
Knight went on to co-found Nike, earn billions and funnel hundreds of millions back to his alma mater, including its football program. In 2013 Knight donated $68 million to Oregon, which already had state-of-the-art facilities, for a brand new Football Performance Center.
What do Fighting Irish 18-wheelers, Bulldog choppers, tree-climbing Wolverine coaches, woolly mammoth bones and Phil Knight all have in common? Money. Crazy, stupid money. And even if you believed that college football players—quaintly described by the NCAA and most conference commissioners as "student-athletes"—should not be paid, you have to wonder how absurd the money devoted to their seduction has to get before a tectonic shift in the way they are compensated occurs.
On the other hand, how many of these four- and five-star talents refuse the overtures of Notre Dame, Georgia or Michigan to come play for them for three to four years in exchange for a free college education? None. Until there is a legitimate inducement, or compulsion, for schools to raise the minimum wage of student-athlete compensation, why would anyone expect them to do so on their own?
In the meantime, schools will continue to spend exorbitantly on coaches' salaries (Harbaugh earns $8 million per year), on recruiting budgets, on facilities upgrades. Why? Because the difference between a football program that wins 10 or more games a year and one that does not translate into the tens of millions of dollars.
These schools will continue to spend copiously, and compete fiercely, for the best available high school talent. They will spare no expense, well aware that the players themselves come at nearly no expense.
"How's business?" someone asks Harbaugh, as the camera pans from him to his assistants.
"Business is good," Harbaugh replies.
"Boomin'," says linebackers coach Chris Partridge.
"Never been better," add tight ends coach Jay Harbaugh.
It really never has been. But how long will that last?