Why Courtney Love Is Outraged by Pamela Anderson Biopic
Courtney Love has blasted the upcoming Pamela Anderson biopic Pam & Tommy, branding it "outrageous".
The Hulu miniseries is set to star Rebecca actress Lily James and The Falcon and The Winter Soldier actor Sebastian Stan.
Pam & Tommy is expected to explore Anderson's marriage to Mötley Crüe musician Tommy Lee, which spanned from 1995 to 1998.
The American singer-songwriter took to Facebook to slam the production.
In a now-deleted post, Love wrote: "I find this so f******* outrageous. When Pam / Tommy sex tape was out / myself @pattyschemel @xmadmx were making a record."
She added: "And the lone women in many recording studios in LA. Where all / ALL! The staff engineers / producers / owners / were watching the sex tape with huge schadenfraude.. Guffaws, It was disgusting. I banned anyone discussing it.. It destroyed my friend Pamelas life. Utterly."
The actress also claimed she was contacted by people working on the show to approve use of 1994 Rolling Stone cover.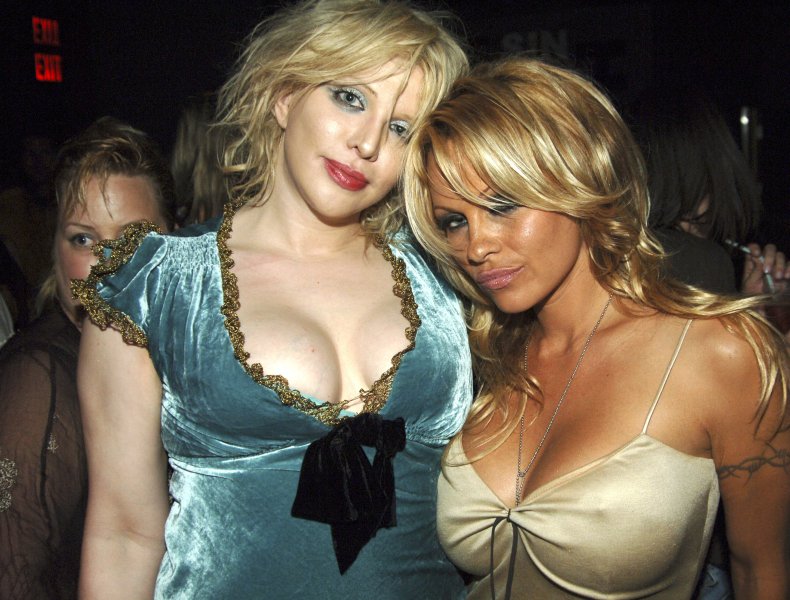 "Last week I was asked to approve using a Rolling Stone cover of mine / shot by Mark Seliger in this piece of s***," she said. "That they had approved. I said 'f*** no.' shocked. Gentleman don't approve this sort of thing."
Love then went on to blast the show as a whole, taking aim at James for her part in it.
She concluded: "My heart goes out to Pammy further causing her complex trauma. And shame on Lily James whoever the f*** she is."
When asked for further comment on the story, a representative of Love told Newsweek: "Courtney has said what she wanted to on the matter. There isn't anything else to add at this stage."
Newsweek has also contacted representatives of James and Hulu for comment.
Last week, the official Pam & Tommy Instagram account teased a look at James and Stan in their respective titular roles.
"Here's a peek at Pam & Tommy, coming to @Hulu," the caption reads. "Based on the true scandal that started it all, featuring @lilyjamesofficial, @imsebastianstan and @sethrogen... ready to rewind? #PamAndTommy."
The post earned approval from excited fans who couldn't get enough of the actors' transformation.
User @ralphx17 gushed: "Oh GOD MY LOVE FOR THESE TWO JUST GOT WAY HIGHER."
"I cannot get over this. they both look so good. I can't wait to watch this," @alayna_cp added.
A third commenter, with the username @bri_alvarez01 added: "Lily look exactly like Pam it's freakishly scary lol so excited to see this though!!"
Pam & Tommy does not yet have a release date.