Why Cuomo Makes It Clear It's Time for #MeToo 2.0 | Opinion
The #MeToo movement became a culture-shifting force in 2017 when a number of public figures, mostly in the entertainment world, were finally held accountable for sexual assault. With recent claims from New York's attorney general against Andrew Cuomo, it's clear that a new era, "#MeToo 2.0" has emerged to take on politicians—society's most powerful men.
When we think of #MeToo, I can't help but wonder why the first thing that comes to mind for many is not Tarana Burke. She catalyzed the movement back in 2006, centering the stories of Black survivors and mobilizing victims of sexual abuse by "regular men" to finally speak out. That's true bravery.
As the movement grew, it worked its way up to Hollywood a decade later, sparking widespread media attention when, one might argue, a cascade of mostly white women who were celebrities came forward with accusations against men who were also public figures. The bravery of these women was essential for sparking change, yet many Black women's stories went untold, a sign of the times about who society values and chooses to believe or seeks justice for. Now, we should be forcing the movement to reach the very top of our power structures and ensure all women are heard.
Harvey Weinstein was perfectly cast as the evil villain in a movie—which contrasts with Cuomo's heroic charm, the handsome bully boyfriend you marry even though you know it's bad for you. Weinstein's conduct was unambiguously predatory. He conducted himself in a way that allowed even the cynics to believe the victims. Those very victims also had some access to power, or aligned themselves with powerful men, making it more likely to have their stories amplified.
As a staunch progressive, my much-loved liberal politicians will test our commitment to justice in a way that Weinstein didn't. Do we still believe victims when we voted for their abuser, or rely on them to keep us safe—not just to produce the movies we watch?
I hope the answer will be yes.
In order for #MeToo 2.0 to be as effective and widespread as it was within the entertainment industry, it needs to have that same momentum to create change at every level of our society. More than 201 movie industry stalwarts lost their positions, and almost half of their replacements were female in 2018. If the same happened in our government, our country would be unrecognizable—and more equal. Most importantly, it would be safer for women. Men would finally know that even the most powerful positions cannot make them untouchable.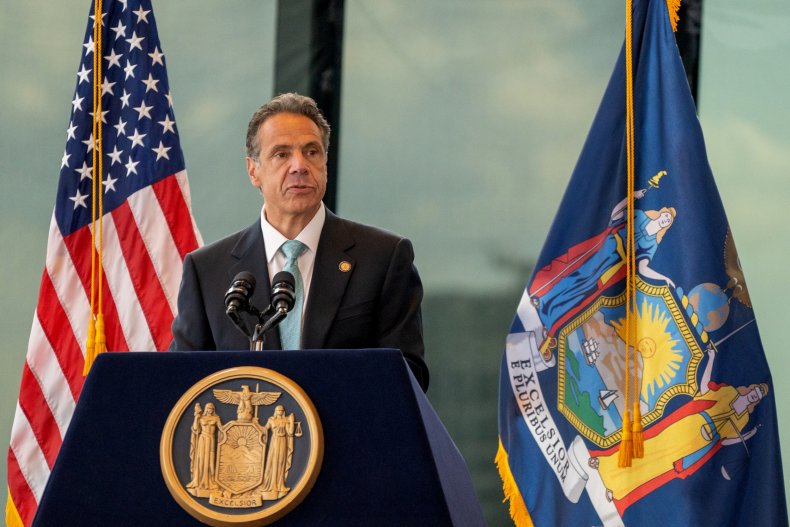 Instead of glorifying our leaders, the question we should be asking ourselves is, "Why have we allowed Cuomo to remain in power, when women in public roles have been taken down for much less?" We've known about Cuomo's abuse of power in many ways for years. Why did we allow this man to hide the number of deaths of older adults in nursing homes? Was it because he made us feel safer during the pandemic with his daily press conferences? In response to the New York attorney general's claims, Cuomo tried to justify his actions with the "everyone does it" argument by using a PowerPoint presentation montage of himself and other men in his generation hugging and kissing women. It's gaslighting at its best.
U.S. Supreme Court Justice Brett Kavanaugh and Clarence Thomas were accused of sexual assault and went on to hold the most powerful positions in the nation, while Christine Blasey Ford and Anita Hill were held accountable for speaking truth to power, as the reputational damage followed them for the rest of their lives. And let's not forget Katie Hill.
If we are going to hold women accountable, we need to do the same for men.
The #MeToo 2.0 movement can only succeed if we stop glorifying powerful men and organize to hold men accountable just as we have held so many women accountable. Both women and men judge women more harshly than their male counterparts, and that needs to stop—especially when most people in leadership are men.
We are on our way. The pandemic, which put a spotlight on so many existing inequalities and sparked a resurgence of another movement, Black Lives Matter, will act as the fuel to reignite the spark of #MeToo.
For the survivors, we need to see them, believe them and then mobilize to do something about it. It should never end. We must do this for Tarana Burke, and all the survivors who used their voices and came forward. It shouldn't take the accuser being Andrew Cuomo to spark attention—sexual harassment is wrong, period. We hired these men in positions of power and pay their salaries, so why can't we fire them?
We are living through a worldwide epidemic of misogyny that needs to end. We need more women representing us in government and in all positions of power. The time is now to end abuse of all women, regardless of race, socioeconomic status, or social standing. Only then can we make sure women are safe from all men—no matter how powerful, trusted, or popular they are.
When Governor Cuomo leaves office, Kathy Hochul will be the first female governor of New York.
Kiran Rai is co-founder and creative director of Consciously Unbiased, a grassroots movement and organization advancing belonging in the workplace, and CU Project, a new initiative offering unconscious bias trainings to high schools across American to empower the next generation of leaders. Prior to launching Consciously Unbiased, Rai launched the fashion line Sir Alistair Rai, and held positions at Disney and Gap.
The views expressed in this article are the writer's own.