Why Is DC Comics Thinking About Suing the Proud Boys?
DC Comics may be suing the white supremacists group, the Proud Boys. On Tuesday, Business Insider reported that the iconic comic book empire is considering filing a lawsuit against the far-right political organization, which recently used the DC logo without the company's permission.
The Proud Boys included the comic company's logo on a flyer promoting the upcoming December 12 "March for Trump" in Washington D.C., and the image was also shared on the Proud Boys' Parler account. The flyer reads "March for Trump, Washington DC" in gold lettering on the top, with the DC Comics logo below, surrounded by olive branches. Observant fans reportedly noticed the striking similarity between the font used on the flyer and the font featured in DC Comics' logo, and sent DC Comics messages to notify the company.
DC Comics and its parent company, Warner Bros Entertainment, never signed off on this use of their logo, according to Business Insider, and the company is currently considering their legal options.
Carrie Williams and Michael Shelling, of DC Comics' press and publicity, responded to a fan in an email, obtained by Business Insider. "This use is not authorized by DC," Williams wrote. Shelling responded separately: "We've received multiple emails regarding this and our WarnerMedia Legal department have been investigating this."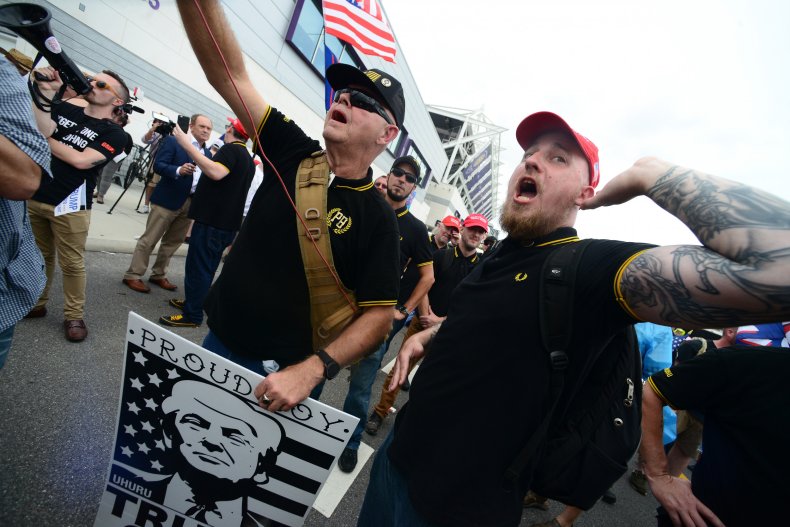 Enrique Tarrio, the chairman of the Proud Boys, responded to the idea that DC Comics may sue the far-right group. He told Insider over the phone: "I would love for them actually to sue me. I'd love to turn that into a circus."
Tarrio added: "Maybe they'll benefit in their marketing, their virtue-signaling marketing, of trying to convince people that they don't like the Proud Boys. That's fine. Get in line with the rest of the other liberal f******."
Whether DC Comics and Warner Bros. Entertainment will in fact take legal action remains to be seen. Newsweek contacted DC Comics for comment, but did not hear back at the time of this article's publication.
President Donald Trump famously bungled an opportunity to denounce the controversial Proud Boys organization during the first 2020 presidential debate.
"Are you willing tonight to condemn white supremacists and militia groups to say that they need to stand down and not add to the violence in a number of these cities as we saw in Kenosha and Portland?" Fox News moderator Chris Wallace asked the president.
"Sure, I'm willing to do that," Trump responded. "I would say almost everything I see is from the left wing, not the right wing. I'm willing to do anything. I want to see peace."
He added: "Proud Boys, stand back and stand by. But I'll tell you what, somebody's gotta do something about Antifa and the left. This is not a right wing problem. This is a left-wing problem."