Why Are Democrats Backing a Former NRA Supporter Over a First-time Black Woman Candidate?
When Tanzie Youngblood announced her congressional bid for New Jersey's 2nd District, she thought she'd easily win the support of local, and even national, Democrats. A year with a record number of women running for office, a promising blue wave and the #MeToo movement seemed perfect for her progressive campaign.
Youngblood—a retired school teacher and first-time black female candidate—figured the primary race might get crowded after 12-time Republican incumbent Frank LoBiondo announced his retirement in November. But she never anticipated that the ones attempting to sink her campaign wouldn't be her primary opponents, but the Democratic establishment itself.
Last month, the Democratic Congressional Campaign Committee threw its weight behind Jeff Van Drew, a New Jersey state senator with a 100 percent rating from the National Rifle Association. Van Drew once accepted a $1,000 donation from the group, and has been dubbed one of the "most conservative Democrats" in the New Jersey legislature, a moniker he's earned for having co-sponsored legislation to bring back the state's death penalty for certain murder convictions, and require parental notification for minors seeking abortions. He was also one of just two state Senate Democrats to vote against same-sex marriage in 2012.
"They did me dirty," Youngblood said.
She alleged that some local officials have told her that she'll never win the primary contest—it's Van Drew's turn.
But, many progressives argue, everything about the current political climate says otherwise. Many of the women who signed up to run for office after the 2016 election have already clinched impressive and unexpected victories, proving that, in the Trump era, unconventional progressive candidates can win seats once considered unwinnable for even the most seasoned Democrat. And in ruby red Alabama, black women played a major role in pushing Democratic Senator Doug Jones across the finish line, reminding the party that their political engagement is essential for taking back Congress.
Youngblood and local grassroots activists say the Democratic Party may be stymieing this year's anticipated blue wave and stepping on the Resistance by running moderate, veteran Democratic politicians, instead of the fresh progressive candidates hoping to be the future of the party.
"I've been very loyal to this party, but I don't feel the loyalty back," Youngblood said. "They don't see the value in a candidate like me."
It's not just Youngblood—candidates in House races across the country are running up against the Democratic machine. In Texas, the DCCC launched a full-scale attack against progressive candidate Laura Moser in the weeks leading up to the primaries, publishing an opposition research report on its website against the first-time candidate, who faced off last week against six other Democrats vying to unseat Republican incumbent Representative John Culberson.
In California, where Democrats are desperate to unseat Republican incumbent Jeff Denham in a toss-up House race, there's a similar divide between national Democrats—who are reportedly encouraging a bid from farmer and beekeeper Michael Eggman, who's lost to Denham twice before—and grassroots progressives, many of whom would prefer first-timer Dotty Nygard.
The DCCC has not returned Newsweek's multiple requests for comment.
So far, Youngblood has received campaign support from Indivisible West Jersey and Action Together New Jersey, grassroots activist organizations that canvass, do social media outreach and lend volunteers to candidates' campaigns. The groups laud Youngblood's platforms on issues like health care, the local economy and social justice. She is particularly concerned about the communities of color in District 2, a district with "a little bit of everything," according to Youngblood—a "beautiful shoreline with multimillion-dollar homes" in Cape May, and more "urban pockets" in other parts.
But New Jersey Democrats, she says, have fallen in step with the national party line, siding with Van Drew. The decision has caused local activists to worry that Democrats are ruining their chances of picking up seats they have a real shot at winning in November by engaging in what they see as a misguided campaign to capture disaffected white working-class voters who cast ballots for President Donald Trump.
"The voters the Democrats are chasing are the people who have left the Democratic Party—but I think they left it prior to 2016, and I don't think they're ever coming back," said Tom Yourison, a coordinator at Indivisible West Jersey. "By running conservative Democrats, the party runs the risk of alienating grassroots activists and draining the enthusiasm from the race."
Still, even Yourison can see why Democrats might think Van Drew would be the best fit for a congressional seat that has been red for the last 24 years. Van Drew said the DCCC had tried to recruit him to run against LoBiondo nearly every cycle, and a former DCCC operative confirmed the committee had tried to get Van Drew to run at least once before.
The district, though leaning Democratic, could still be a tricky win, and Van Drew believes swinging the seat blue requires someone with strong political acumen.
"We could miss the opportunity to flip a seat. I say that not out of ego—it's a reality and a practicality," Van Drew said. "It's wonderful to be new and excited, but if you don't win you can't change anything."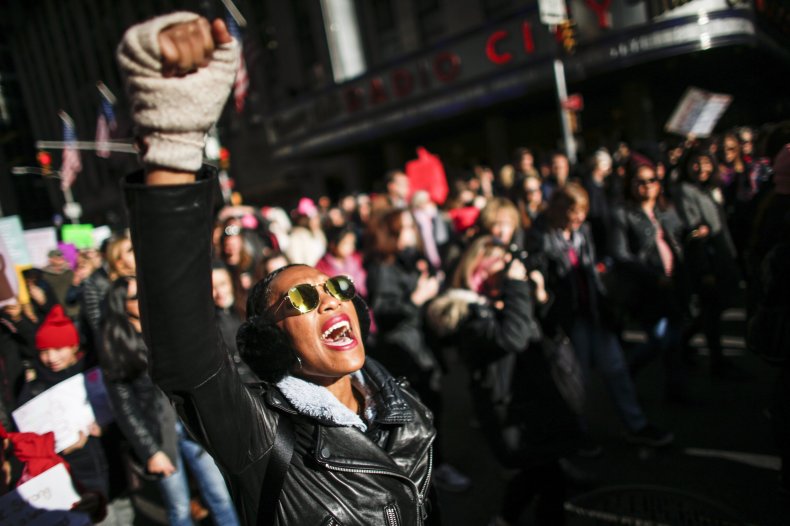 Youngblood says local Democrats are making sure of that.
When Youngblood first announced her bid for the District-2 seat, she reached out by to the Democratic committee chairs in all eight counties in the district—all of whom, she noted, are white and male—only to be met with silence or, in some cases, what she alleges is outright hostility.
The most egregious incident, according to Youngblood, took place at a victory party hosted by the Salem County New Jersey Democratic State Committee in November, celebrating the wins of the progressive candidates in the area. Youngblood said she approached committee chairman Steven Caltabiano at the party to introduce herself, and asked if he would go up to the microphone and announce that she was in attendance and running for office in the next election cycle. At this point, Van Drew was still weeks away from announcing his own candidacy.
As Youngblood tells it, Caltabiano responded by telling her that she had "no chance" of winning the primary and that he would make sure her name was "so far down the ballot" voters wouldn't be able to find it.
Caltabiano disputes this version of events, saying he denied a request from Youngblood to address the audience because it was a "county victory party for 2017 and not a campaign event for 2018." Caltabiano said he told her that he'd been friends with Van Drew for 14 years and would be supporting him if he decided to run, and told Newsweek that he'd only explained to Youngblood that candidates endorsed by their parties appear at the top of the ballot, while non-party endorsed candidates appear lower down and "would be buried at the bottom of the list."
But Youngblood says her campaign took its worst hit when the DCCC—which, up until just a few years ago, stayed out of primary contests—officially endorsed Van Drew as part of its "Red to Blue" program last month. Since then, Youngblood says she's fallen behind in fundraising. Her opponent's official status can make her seem like a less viable candidate.
Van Drew has raised $80,391, according to Open Secrets, compared to Youngblood's just over $53,000, which included a check New York Senator Kirsten Gillibrand made out to her campaign. (There are two other Democrats running in the primary, but they have raised significantly less than both Youngblood and Van Drew.)
The Federal Election Committee reports that Youngblood's funds, in part, come from a $23,000 loan in her own name to boost her bid.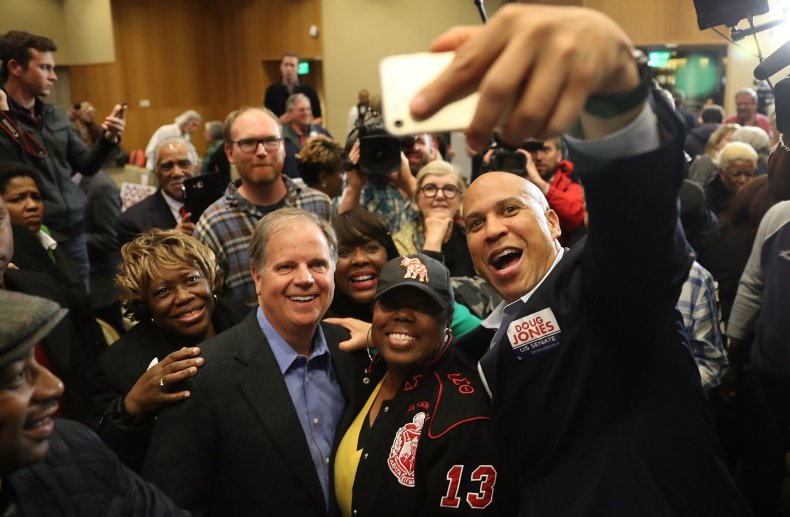 While establishment support can boost a first-time candidate, activists say it's even more critical for women of color.
A new report from The Arena—a progressive group that trains candidates for office and, through its PAC, provides volunteers and financial support to their campaigns—found that women of color incumbents who ran in the 2016 House races raised significantly less than their white female counterparts and, in some cases, nearly a third less than the average amount incumbents raise across race and gender, which is $1,569,651.
"We expect first-timers and folks running for open seats are working with an even larger disadvantage than incumbents, because they lack name recognition and institutional support," Arena co-founder and partner Kate Catherall told Newsweek. "The basic truth here is that women will have to work twice as hard, and women of color will have to work three times as hard."
The Arena's report also found women of color made up just 10 percent of the DCCC's House endorsements in 2016. The organization endorsed just three of the 62 women of color who ran that year. Youngblood says these metrics suggest a Democratic Party willing to benefit from black women's vote, but ultimately deny them a seat at the table.
The dynamic has long troubled black political activists, more than two dozen of whom penned a letter to Democratic National Committee Chairman Tom Perez in June, telling him that "Black women voters are the very foundation to a winning coalition, yet most black voters feel like Democrats take them for granted." Perez said he would meet with the activists to continue a discussion about how the DNC could "better engage the issues confronting black women and partner with them to elect more leaders who share their values."
Youngblood says she won't hold out for the Democrats to find a candidate who shares her values—she wants to be that candidate herself. With or without their support, she remains determined to run a vigorous campaign.
"I don't need their permission to run," Youngblood said. "And the more they try to stand in my way, the more it makes me want to keep going."
Some Democratic strategists agree it would be a mistake to sideline enthusiastic first-time candidates like Youngblood, but say it may not be the best strategy for the party to run them at any chance it gets.
"There are a lot of first-time candidates in a lot of districts who will be the strongest candidate we can get. There will be other districts where they won't be," said Jesse Ferguson, a former DCCC official who also served as a spokesman for Hillary Clinton's 2016 campaign. "Rarely are congressional races won with a one-size-fits-all approach."
But Youngblood and other Democrats say the party will suffer, not just in 2018, but in 2020, if it fails to diversify and embrace progressive candidates who might not fit the typical mold.
"When is the party going to have the guts to put their support behind someone who's not mainstream?" Youngblood said. "When someone like me wins, the party wins."