The Delta variant has become the dominant strain of the coronavirus in the U.S. and due to its high transmissibility, the Centers for Disease Control and Prevention (CDC) reversed its guidance on masking for vaccinated individuals earlier this week.
With growing concern over the highly contagious strain, Newsweek asked several health experts to break down what exactly the Delta variant is and whether vaccinated people should still be worried about contracting the virus.
"When I'm talking to medical students and residents, what I'm teaching them is all living things are trying to survive. That happens with all viruses. They try to change and mutate in an attempt to survive and so the Delta variant is just that," Dr. O'Neil Pyke, chief medical officer of Jackson North Health Center in Florida, said.
"It's a variant of the original virus but when it changes, it changes itself to be more easily transmissible and that's being superimposed on people gathering more," he continued.
The Delta variant was first detected in India last December and has become the dominant circulating virus in most countries. As of last week, CDC data indicates that the variant is responsible for 83 percent of COVID-19 infections in the U.S.
"Viruses naturally mutate. You can think of it almost like a genetic version of the telephone game," Dr. Charles DiMaggio, an injury epidemiologist at NYU, said. "As viruses pass on their genetic code there is the potential for an error, or for the code to be misread. Usually, the errors are small and don't make much of a difference. But, sometimes they cause the code for an important protein to change enough for it to make a difference."
Dr. Liam Sullivan, an infectious disease expert at Spectrum Health in Michigan, explained that the reason people are more likely to get sick from Delta is because that variant's mutations allow the virus to bind easier and tighter to human cells.
"These mutations also lead to a much higher viral load in the upper respiratory tract of infected persons, thus allowing significantly more viral shedding by infected persons and increased contagiousness," Sullivan wrote in an email.
"If someone with the original strain of SARS-CoV-2 infected say 1 or 2 other people on average, someone with the Delta variant might infect 4 or more people," DiMaggio added.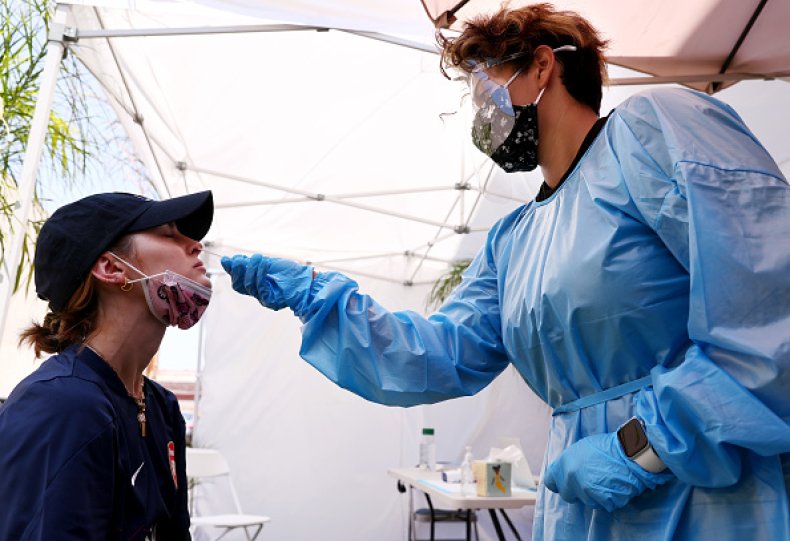 Doctors across the U.S. have noticed that the rapid spread of the variant has resulted in a shift in who is being admitted to the nation's hospitals.
Physicians from California to Arkansas to Florida have all noted to Newsweek that younger people are accounting for a greater number of COVID patients than ever seen before. But what seems to be the biggest determining factor is who has received a vaccine.
In almost every state, unvaccinated people constitute more than 90 percent of COVID hospitalizations. Nationally, the unvaccinated make up more than 97 percent of hospitalizations and 99.5 percent of COVID-related deaths.
"The vast majority of patients that are in the hospital are not vaccinated," Dr. Eric Bravo, the medical director of the hospitalist program at Baptist Health Medical Center Little Rock in Arkansas, said in a Wednesday interview. "I would say, I have not personally seen anybody in the ICU that's been vaccinated."
Although unvaccinated people represent the bulk of COVID patients, experts also say that the Delta variant has led to an increased number of breakthrough infections among vaccinated individuals.
"We have also seen that this variant has caused increased numbers of breakthrough infections—that refers to patients who have been fully vaccinated," Dr. Vincent Hsu, who works at AdventHealth in Florida, said.
"The very good news is that we know that the vaccine that are given are still protective because we do not see significant numbers of patients in the hospital who have been fully vaccinated," Hsu added.
Federal officials have stressed that people should continue to get vaccinated amid the surge of the variant as preliminary data shows that the three vaccines approved in the U.S. are all effective against Delta.
Despite the effectiveness of vaccines, officials are recommending that regardless of vaccination status, people should wear masks in crowded or public spaces to mitigate spread.
On Tuesday, the CDC changed course on some masking guidelines, telling Americans that even vaccinated people return to wearing masks indoors in regions where infections are surging.
"If you're vaccinated and are in an area where vaccination rates are low, or if you are around people with medical conditions who can't be vaccinated, or with immune systems that may not respond strongly to vaccines, you may want to wear a mask when you're in crowded or indoor settings," DiMaggio suggested.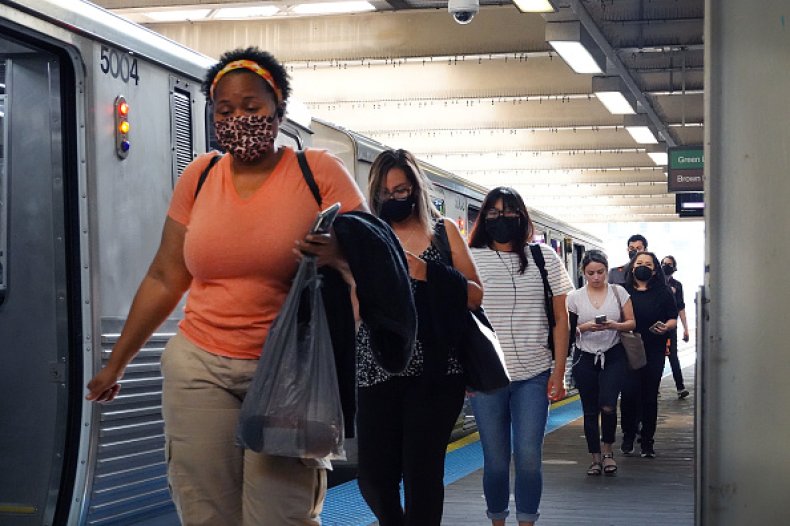 "Vaccination is the best step one can take to prevent hospitalization/severe illness/death from a COVID-19 infection," Sullivan said. "Although people who have been infected with COVID-19 appear to have very good immunity against re-infection, Delta has at least some ability to escape natural immunity. So do other variants, especially Beta and Gamma."
Sullivan said because the Delta variant is unlike the original strain because people who have been infected are more likely to get sick again, individuals who have already had COVID would still benefit from getting vaccinated.
"Studies of vaccination in those with history of previous infection indicate that all of the available vaccines provide a substantial boost in immunity," he said.
The doctor said being vaccinated will become even more important in the fall and winter. While the Delta variant has shown to be more contagious than the original strain, Sullivan said he expects that future mutations will be even more transmissible and cause more severe illness than Delta currently does.
"All viruses continually evolve in an effort to gain an evolutionary advantage," he wrote. "If this one is allowed to continue its current widespread circulation unchecked, there is potential for an even more contagious and lethal variant to evolve. There is no guarantee that our vaccines will work as well on new variants. Thus the continued message is VACCINATE, VACCINATE, VACCINATE!"
"The virus will continue to change as long as there are susceptible people for it to infect, so future mutations may increase its virulence. That's why it's so important for eligible people to get vaccinated," DiMaggio agreed. "The more people that are immune, the less likely a more transmissible or more severe version will arise."
Update 2:25 p.m. ET This story was updated with comments from DiMaggio.