Why Democrats and Republicans Aren't Dating
When it comes to dating, Americans are more likely to want someone who shares the same political beliefs as them than the rest of the world, according to a new poll.
Both Republican and Democrat supporters cited key issues that have been resonating in the public discourse—such as fake news and abortion—as reasons why they felt they could not enter into a relationship with someone with differing views to their own.
The polling suggests that partisan polarization, particularly in the U.S., is increasingly influencing individuals' personal choices, and shows that political positions have become a key part of Americans' identity.
A survey of 6,275 people worldwide found that among U.S. respondents, 81 percent prefer not to date across the aisle when it comes to serious relationships—higher than the 76 percent global average.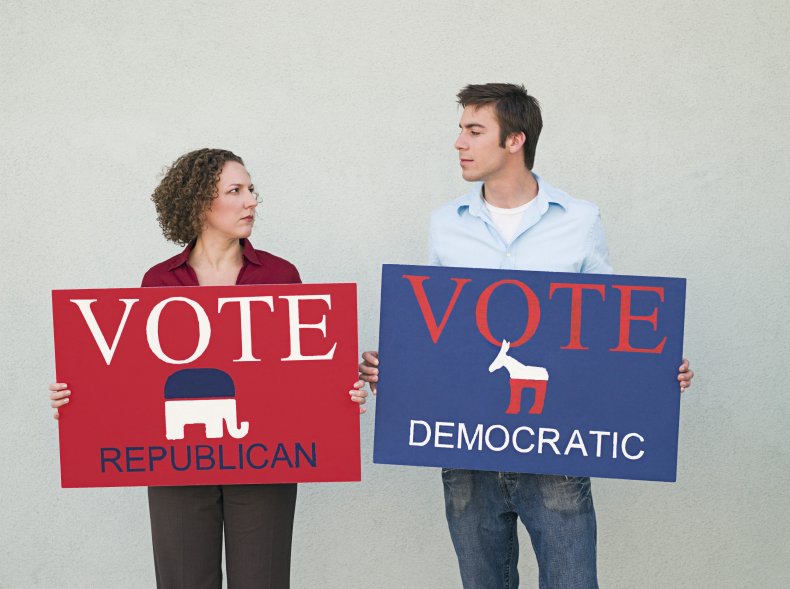 The poll, shared exclusively with Newsweek, showed 21.5 percent of 1,000 U.S. citizens would strictly only date someone with the same views as them; 28.8 percent expressed a preference for someone with the same views, while a further 30.4 percent preferred someone with the same views, but would be willing to make an exception depending on the person.
This compares with just 14.7 percent of the wider, global sample who would strictly only choose a partner with the same political beliefs. The survey polled people from the U.K., Germany, Canada, Brazil, Australia and Italy.
America's political polarization has already been observed: January 2022 research by the Carnegie Endowment for International Peace found that the U.S. was among nations with "chronically pernicious levels of polarization," which had been occurring since 2015. It found that the U.S. was "quite alone" in that ranking in that it was both wealthy and had a long history of democracy.
But the nation is not short of issues to disagree about. Studies by the Pew Research Center have found "increasingly stark disagreement" between Democrat and Republican supporters on the economy, racial justice, climate change and a host of other debates.
An August 2022 survey by the organization found that "deeply negative" views of those in opposition were "far more widespread" than previously. In fact, 62 percent of Republicans had a very unfavorable view of Democrats, up from 21 percent in 1994, while 54 percent of Democrats had an unfavorable view of Republicans, a rise from 17 percent in 1994.
As such, it is not just that peoples' views are drifting further away from each other, but at the same time, their antipathy towards opposing views is growing. This has now bled into decisions about how people view potential partners.
"I would never date a Republican because I fundamentally and vehemently disagree with everything the Republican Party stands for today," Kiirstin, a New York City resident, said. "To align yourself with the Republicans in 2023 is to align with hatred, bigotry, racism and extreme misinformation that has this country and effectively the planet headed in a very dangerous direction."
She added that a relationship with a Republican would be "non-stop torture" for her.
But the feeling appears to be mutual: Daniel, a 37-year-old production manager from San Bernadino, California, said having a relationship with another conservative was "a must."
"I was raised in a very Christian and traditional family and a relationship with a liberal would simply not work for me in the long run," he remarked. "How can I build a family with someone who doesn't believe in the family values? How can I have a child with someone who is not pro-life?"
For Sky, a Los Angeles, California resident, successful long-term relationships "are built on a foundation of shared values," and so, he said, "it's so much easier knowing right off the bat if he or she embodies progressive ideals."
While the U.S. is the most polarized when it comes to choosing a romantic partner, there is still a great deal of polarization in the rest of the world.
Alex Felipelli, founder of Lefty, a dating app for liberals to seek out other liberals, which commissioned the poll, said that "opposites don't always attract," which was why the platform had seen strong uptake in Brazil.
The South American nation is among those that the Carnegie Endowment Fund for International Peace also classes as undergoing "pernicious polarization," and in February this year saw a storming of its political institutions by supporters of right-wing president Jair Bolsonaro over his election loss, an event which has been likened to the January 6 riot on the U.S. Capitol.
"Left-leaning liberals in Brazil simply don't want to date or be with someone who backs Jair Bolsonaro," Felipelli commented.