Why Did 20 Republicans Vote Against Donald Trump's American Health Care Act?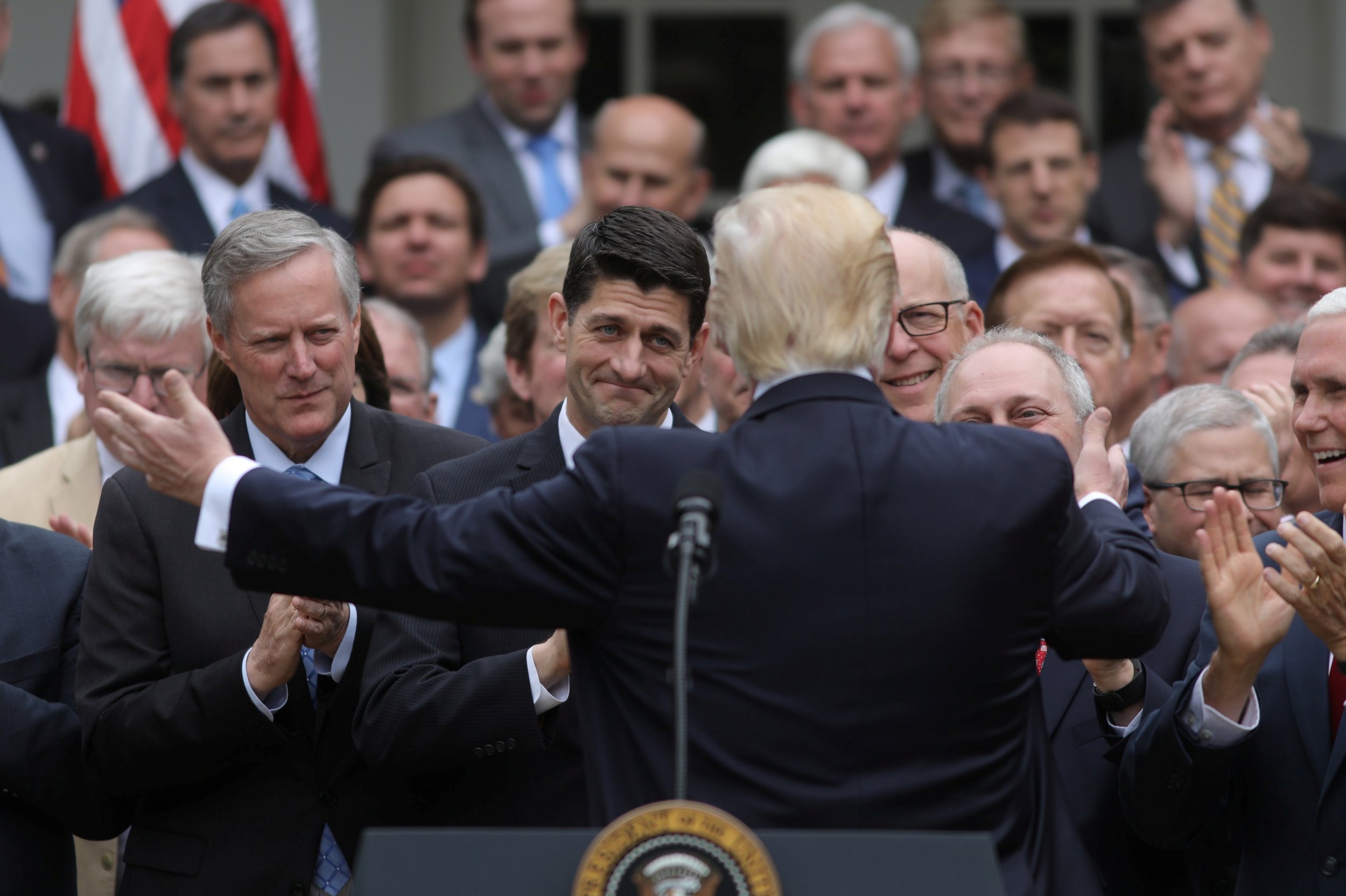 Republicans passed their health care bill to repeal and replace Obamacare on Thursday by four votes. Praise for the bill was hardly unanimous even within the party that drew it up.
In all, 20 Republicans voted against the American Health Care Act (AHCA) and it squeaked through the House by a vote of 217-213. To celebrate, the White House bussed Republicans from Capitol Hill to the Rose Garden, applauding President Donald Trump for getting a bill through one branch of Congress.
The bill must now go to the Senate for scrutiny. The president said he was "so confident" the bill would get through, and vowed health insurance premiums would come down. "Hey, I'm president! I'm president! Can you believe it?" Trump said during his address.
Read more: Donald Trump and Paul Ryan face risks after healthcare win
Republicans who opposed the bill voted against it for a variety of reasons. But one recurring theme in their opposition is that the new law doesn't fully cover Americans with pre-existing conditions.
"I am disappointed that the House passed this bill," said Pennsylvania Representative Charlie Dent in a statement Thursday. "I believe [the bill] will increase health insurance costs, particularly for low-to-moderate income Americans, increase the number of uninsured by up to as many as 24 million people, and undermine important protections for those living with pre-existing conditions."
Until early this year Dent chaired the Tuesday Group—an informal caucus of 50 moderate House Republicans. He said he hoped "cooler heads will prevail in the Senate" and the second branch of Congress will fix the bill that was "haphazardly constructed and hastily considered." The final text of the bill was released only a day before the vote, and many Republicans said that while they hadn't read it, their staff had looked it over.
Other Republicans echoed Dent's dismay. "My goals on health care reform are to provide patient-centered reforms that provide better access to high quality, affordable care and covers preexisting conditions without lifetime limits," said Virginia Representative Barbara Comstock in a release after the vote. "I did not support the AHCA today because of the many uncertainties in achieving those goals," she said.
Opposition from the 20 Republicans largely came from two major amendments to the bill that got more of the party onside after the hard-right Freedom Caucus refused to vote for the initial draft of the bill in March. One amendment allows states to ignore provisions in the Affordable Care Act (ACA) that bar health insurance companies from discriminating against Americans with pre-existing conditions and forcing them to pay higher premiums.
Waiving these rules is conditioned in another amendment on whether states can offer seriously ill patients access to high-risk pools that help them pay expensive premiums that come with their pre-existing condition. The bill commits $8 billion over five years to help support these pools.
However "high-risk pools funded by the bill would fall short by at least $19.7 billion per year, or by about $200 billion over 10 years," according to an analysis of the amendments by the Center for American Progress nonprofit policy think tank.
Republican Senate Majority leader Mitch McConnell said late Thursday that the Senate will wait for the Congressional Budget Office's (CBO) analysis, which will be released early next week, before voting on the bill.
Nevertheless, some Republicans who didn't vote for the latest version of the bill did so because they didn't think it went far enough to repeal the laws laid out in President Obama's ACA.
Over the past seven years House Republicans have railed against former President Obama's healthcare law as unconstitutional and called for it to "be fully repealed" said Arizona Representative Andy Biggs following the vote.
"Unfortunately," Biggs said, "the AHCA leaves the basic framework of Obamacare in place and continues to commit Republicans to an ill-considered, ill-defined, and an almost certainly ill-fated three-stage plan to completely repeal Obamacare at an unspecified later date."
Biggs said he sees no "compelling evidence" that the new law will help to lower health insurance premiums as President Trump promised during his Rose Garden address.
"For these reasons, and because I promised my constituents a full repeal," he said, "I voted 'no' on this legislation."
The 20 House Republicans who opposed the AHCA:
Andy Biggs (Arizona)
Mike Coffman (Colorado)
Barbara Comstock (Virginia)
Ryan Costello (Pennsylvania)
Charlie Dent (Pennsylvania)
Dan Donovan (New York)
Brian Fitzpatrick (Pennsylvania)
Jaime Herrera Beutler (Washington)
Will Hurd (Texas)
Walter Jones (North Carolina)
David Joyce (Ohio)
John Katko (New York)
Leonard Lance (New Jersey)
Frank LoBiondo (New Jersey)
Thomas Massie (Kentucky)
Patrick Meehan (Pennsylvania)
Dave Reichert (Washington)
Ileana Ros-Lehtinen (Florida)
Chris Smith (New Jersey)
Michael Turner (Ohio)