Why Emily Isn't in 'The Handmaid's Tale' and What Alexis Bledel Said About Exit
After more than two years of waiting, The Handmaid's Tale season 5 is finally here.
Episodes in the highly anticipated new series drop every Wednesday on Hulu, with a two-episode premiere taking place on September 14.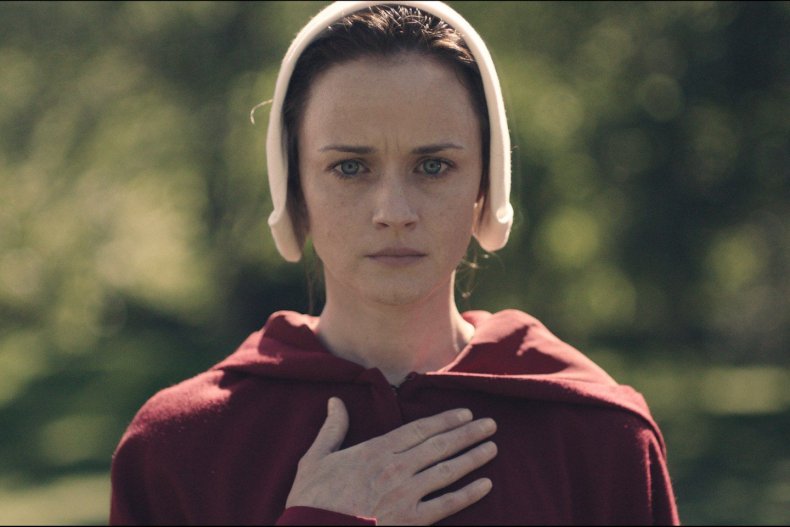 Most of the main cast have returned including Elisabeth Moss as June Osborne, Samira Wiley as Moira Strand, and Yvonne Strahovski as Serena Joy. However, fans will have noticed the absence of Gilead rebel Emily/Ofglen, played by Alexis Bledel, 40.
Newsweek has everything you need to know about Bledel's exit and what happened to her character, Emily.
Alex Bledel's Exit From The Handmaid's Tale Explained
Fans of The Handmaid's Tale have known since May that Bledel would not be appearing in season 5 of The Handmaid's Tale, but nonetheless, not seeing her character Emily on screen is still a little raw for some.
In a statement announcing the news she would not be returning, Bledel explained she had departed from the show after "much thought."
She said: "After much thought, I felt I had to step away from The Handmaid's Tale at this time. I am forever grateful to (show creator) Bruce Miller for writing such truthful and resonant scenes for Emily, and to Hulu, MGM, the cast and crew for their support."
In the first episode of Season 5, Emily's absence was addressed instantly.
Season 5 picked up from the cliffhanger ending of season four, and the first episode sees June (Moss) cope in the immediate aftermath of killing Commander Waterford (Joseph Fiennes). June is relishing in her victory and revenge with her fellow handmaids when she realizes that her close companion Emily (Bledel) is nowhere to be seen.
In an effort to find her, June visits Emily's wife, Sylvia (Clea DuVall), who at first does not answer the door, but just as June walks away from the house, Sylvia runs out of the home and down the path, telling June that Emily has returned to Gilead.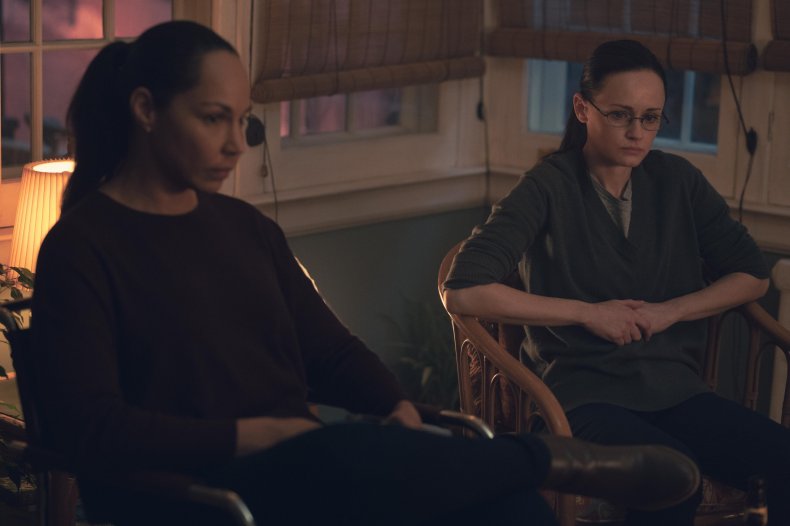 The move seems a little surprising for a rebellious character such as Emily, who suffered at the hands of several men during her time in Gilead before finally escaping to reunite with her family.
Sylvia says to June: "She went back to fight I think. To find Aunt Lydia if she can. It's what she needed to do.
"She called. She said goodbye. I wanted to wake Oliver up, but she said no. I don't know why she'd say no."
June, feeling responsible for Emily's return to Gilead, says she can "fix this," but Sylvia does not want to hear any of it.
The fact Emily is still alive (for now) does leave the door open for Bledel to return for the show's sixth and final season or the confirmed The Testaments spin-off, but that decision will be down to the actress herself.
Throughout the first four seasons of the show, Emily played a key role in helping June and other handmaids escape to Canada.
For her performance, Bledel earned a Primetime Emmy award in 2017 for outstanding guest actress in a drama series and was nominated three more times in 2018, 2020 and 2021.
Showrunner Bruce Miller said to HollywoodLife: "Alexis is a pro and talked to her people and let us know as early as she could. There wasn't a ton that we had to shift. But honestly I think it gave some character short trip.
"Because the stories for Rita (Brugel) and Moira (Wiley) were really revolving around the story for Alexis," Miller said. "That was hard because we lost a lot of puzzle pieces at one time."
Fans will have to wait and see the impact that Emily's departure for Gilead will have on June.
Episodes of The Handmaid's Tale season 5 are broadcast on Hulu every Wednesday at 00.01 E.T.