Why Did AOC Nominate Bernie Sanders? Democrat Answers Confused Americans
Representative Alexandrio Ocasio-Cortez's Democratic National Convention speech sparked some confusion on Tuesday night when she nominated Vermont Senator Bernie Sanders for the party's presidential candidacy.
The freshman congresswoman used her 90-second speaking slot on the second day of the DNC to praise the "mass people's movement working to establish 21st-century social, economic and human rights," and formally nominate Joe Biden's leading primary rival.
Delivering remarks in a pre-recorded speech, Ocasio-Cortez said: "In a time when millions of people in the United States are looking for deep systemic solutions to our crisis of mass evictions, unemployment, and lack of health care.
"En el espíritu del pueblo, and out of a love for all people, I hereby second the nomination of Senator Bernard Sanders of Vermont for president of the United States of America."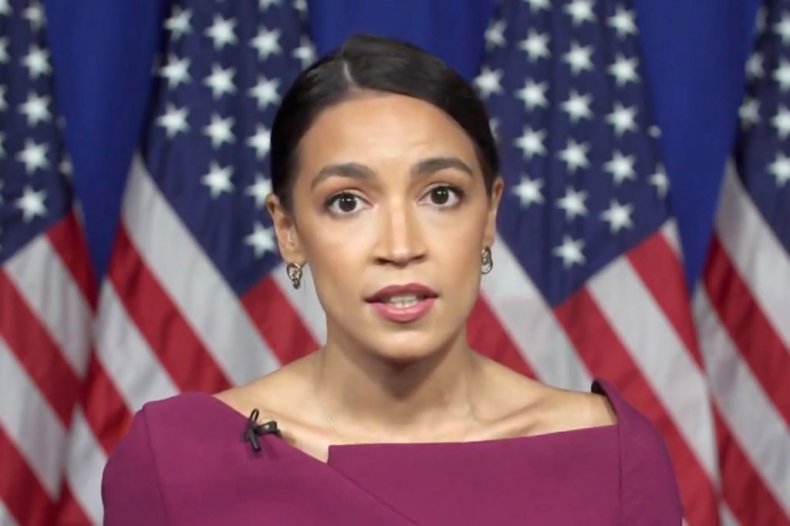 The progressive lawmaker's formal nomination of Sanders triggered inaccurate claims that she had somehow snubbed Biden, the presumptive nominee who officially became the Democratic presidential candidate after winning more than 3,500 delegates.
Ocasio-Cortez was asked by the DNC to officially nominate the Vermont senator under convention rules that require every primary candidate who passed a threshold of 300 delegates to be backed in the roll call.
"If you were confused, no worries! Convention rules require roll call & nominations for every candidate that passes the delegate threshold," the congresswoman explained on Twitter. "I was asked to 2nd the nom for Sen. Sanders for roll call. I extend my deepest congratulations to Joe Biden - let's go win in November."
Sanders himself made it clear on Monday night that he was in no way contesting Biden's candidacy, delivering a keynote speech in support of the former vice president on the DNC's opening day.
"I say to you, to everyone who supported other candidates in the primary, and to those who may have voted for Donald Trump in the last election, the future of our democracy is at stake, the future of our economy is at stake, the future of our planet is at stake" the senator said.
"We must come together, defeat Donald Trump, and elect Joe Biden and Kamala Harris as our next president and vice president."
Biden was officially nominated as the Democratic presidential candidate on Tuesday after winning convention delegate counts in 57 states and territories amid largely virtual celebrations.
Accepting the party's nomination, the former vice president said: "Thank you very, very much. From the bottom of my heart, thank you all."