Corey Feldman spoke out for the first time after seemingly disappearing. The actor released a controversial documentary, (My) Truth: The Rape of Two Coreys on March 9, and hasn't been heard from since.
On Tuesday evening, the actor issued a note on his Twitter account that explained where he's been. While Feldman didn't reveal too many details about his decision to go "underground," he claimed he's been fending off attacks from some of the people he'd accused of sexual assault. Feldman did not name those people specifically.
"IM SORRY I HAV DISAAPEARED [sic] [lately]! I NEEDED 2 GO UNDERGROUND, AFTER THE RELEASE OF THE FILM, COUPLED W MULTIPLE ATTACKS FROM THE [people] WHO HAV [sic] BEEN TRYING 2 SILENCE ME," he wrote in all caps.
"I JUST WANTED 2 LET U KNOW IM OK! I LOV [sic] U ALL, I MISS U ALL, & I WILL B BACK SOON W A NEW [update] ABOUT #MYTRUTHDOC."
Feldman is a former child star known for his roles in iconic films like The Goonies, Stand By Me and License to Drive. His documentary heavily focuses on former actor Cory Haim, the Canadian actor who was also in License to Drive and The Lost Boys alongside Feldman. Haim died in 2010.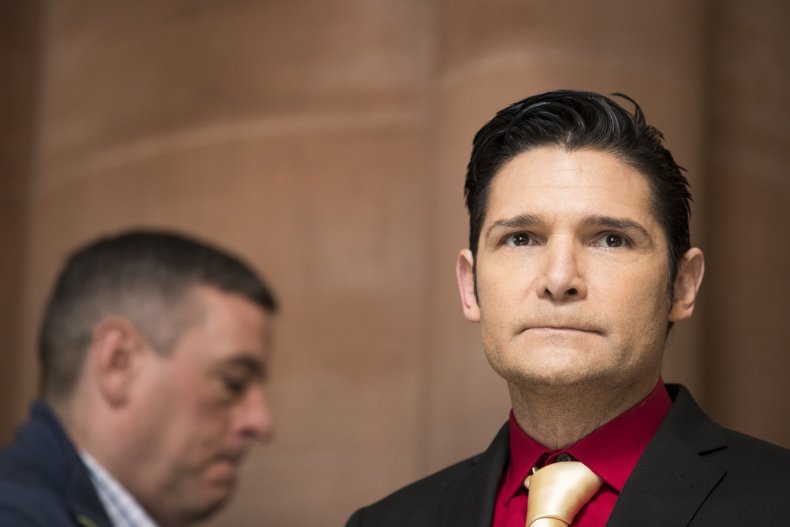 The documentary claims, among other heavy accusations, that actor Charlie Sheen raped Haim in 1986 as they were working on the film Lucas. At the time of the alleged rape, Haim was 13 and Sheen was 19.
Sheen strongly denied the allegations. "These sick, twisted and outlandish allegations never occurred. Period," he told Entertainment Weekly in a statement.
Some of the other people listed as alleged abusers in the documentary include Jon Grissom, Alphy Hoffman, Dominick Brascia and Marty Weiss. These men had been named by Feldman before the #MeToo movement.
In 2017, Feldman spoke with PEOPLE about the lack of conversation surrounding pedophilia in Hollywood and encouraged sexual assault survivors to come forward with their stories.
"With the #MeToo movement, a lot of people are coming out with their own stories, which is great," he said, as reported by the Atlanta Journal-Constitution. "Instead of waiting for the ice to crack, let's be more progressive about it. I'm trying to get everybody to stop keeping it hidden — let's say our truth, let it out and get on with it. Then we can start to actually make changes."
(My) Truth: The Rape of Two Coreys was available to stream on its own website for 24 hours, and is no longer accessible.