Why Did Jeff Garlin Leave 'The Goldbergs'?
The fate of Jeff Garlin's character in ABC's The Goldbergs is set to play out during the Season 10 premiere on Wednesday, September 21, on NBC.
Since midway through Season 9, Garlin's character, Murray, the patriarch of the beloved Goldbergs, has been largely absent from family life and in the first episode of Season 10, audiences will learn that he in fact, has been dead for a long time.
The new season will feature a time jump of a few months, with the Goldberg family having mainly dealt with his passing.
Newsweek has everything you need to know about Garlin's quick exit from The Goldbergs in the past year.
Why Did Jeff Garlin Leave The Goldbergs?
Jeff Garlin's departure from The Goldbergs is the result of an HR investigation into his on-set behavior.
Garlin faced multiple allegations of misconduct on set, which he played down as "silliness" in an interview with Vanity Fair, just days before his official exit from the show was announced on December 16, 2021.
His exit was effective immediately.
In the interview with Vanity Fair, Garlin stated: "My opinion is, I have my process about how I'm funny, in terms of the scene and what I have to do. They feel that it makes for a quote 'unsafe' workspace. Now, mind you, my silliness making an unsafe workspace — I don't understand how that is.
He continued: "I am always a kind and thoughtful person. I make mistakes, sure. But my comedy is about easing people's pain. Why would I ever want to cause pain in anybody for a laugh? That's bullying. That's just uncalled for."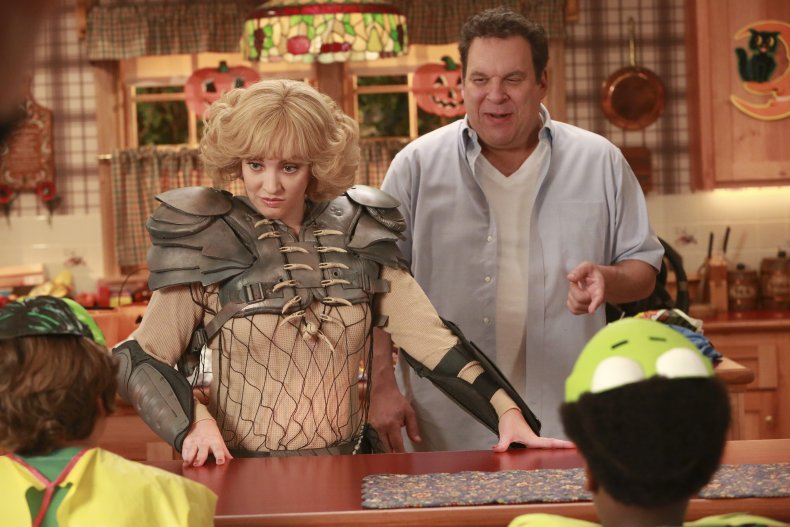 His exit was a "mutual agreement" between himself and Sony Pictures Television, Variety reported. Newsweek has contacted Sony Pictures Television and Garlin's representatives for comment.
Season 10 will mark the first time Garlin has been absent from an episode of The Goldbergs after nine years on ABC.
The Goldbergs showrunners Alex Barnow and Chris Bishop teased to Entertainment Weekly, how Murphy's absence will affect the Goldberg family going forward, sharing that newlyweds Erica (played by Hayley Orrantia) and Geoff (Sam Lerner) will be welcoming their first child into the world.
Barnow shared: "This is going to be a family that has not reconciled the fact that their father's gone but has sort of moved on and has dealt with a lot of that.
"So we're starting with optimism about a baby coming and looking forward to the future. It's an opportunity for this interesting emotional basis for the way people are behaving."
Bishop added: "It honestly feels like a huge reboot for us. So we have tons of momentum rolling into this new season."
The Goldbergs Season 10 airs Wednesdays at 8.30 p.m. ET on ABC.