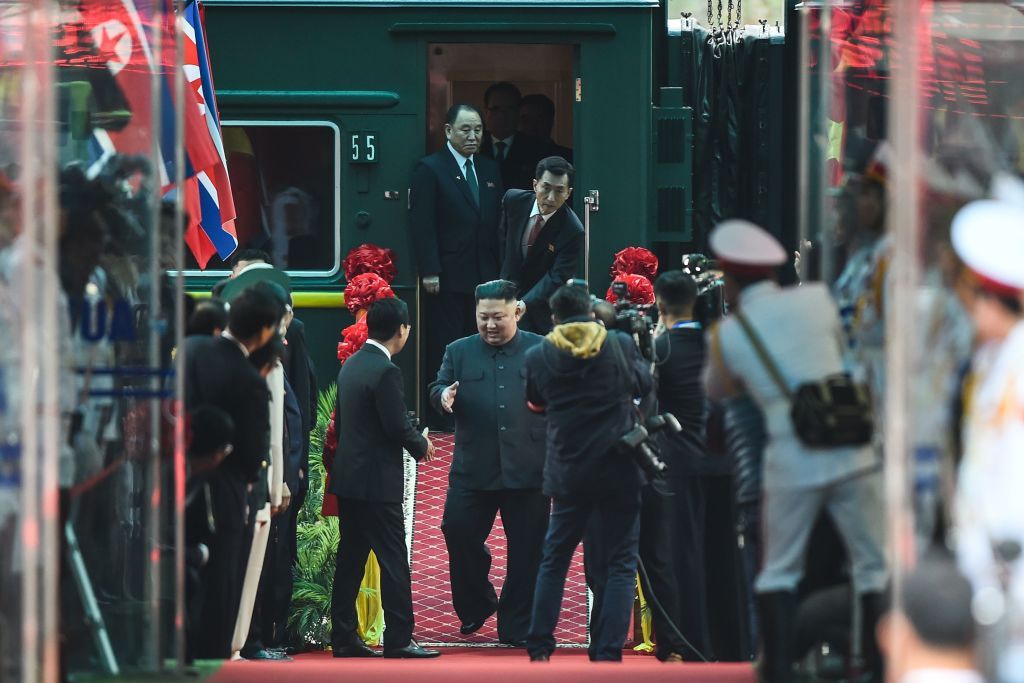 North Korean leader Kim Jong Un spent nearly three days traveling from North Korea, through China, to Vietnam.
One of the principal reasons Kim chose to take the train may be mundane—his plane is fairly old—but his locomotive trip to Hanoi is laden with symbolism.
A flight from North Korea's capital, Pyongyang, to Hanoi takes roughly four hours, The Straits Times reported. You could get a commercial flight via Beijing in just over eight hours. However, Kim's state jet, a Soviet-era IL-62M called the Chammae 1, has remained on the ground in the North Korean capital, just as it did when he traveled to Singapore in June 2018.
At his first summit with President Donald Trump, the supreme leader's hands were somewhat tied. Singapore is an island—he could not take his train. Kim opted, in that instance, to borrow a plane from North Korea's close ally China. He got to Singapore quickly, but the optics were all wrong. The Air China Boeing 747 he flew in June had been made in America and emblazoned with a Chinese flag.
And optics are important when the continuance of your dynastic autocracy is dependent on a display that shows you are the legitimate inheritor of your grandfather's regime. The train—which is also decked out with a karaoke room for parties—is imbued with a great deal of symbolism North Koreans will associate with Kim Il Sung, the father of the country.
The Associated Press reported Kim Il Sung traveled on his train to the Soviet Union and Eastern Europe. He also traveled to Vietnam in 1958 and 1964 also by train.
According to Reuters, Kim's trip will partially follow the route taken by his grandfather. "This is legacy politics," Christopher Green, a North Korea expert with the International Crisis Group, told the news agency. "North Korea will want to play up Kim's succession to the role of his grandfather, who successfully built up North Korea's international legitimacy after the establishment of the state."
The graphic below, provided by Statista, illustrates the journey of Kim's train and entourage.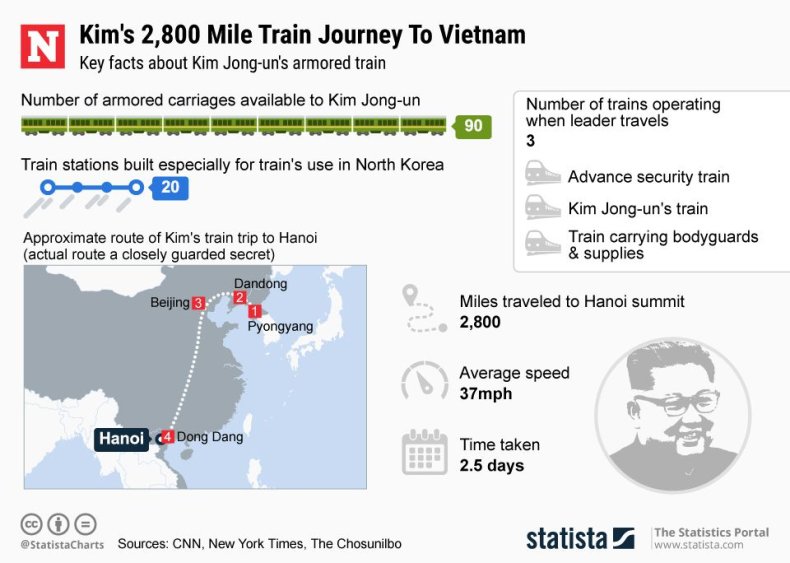 Kim's propagandists have wasted no time in broadcasting the trip to viewers back home. North Korean state media reported Kim had crossed into China less than half a day after his train was spotted crossing the border. Images of the North Korean leader being greeted by an honor guard in at Dong Dang railway station in Vietnam with the North Korean flag flying have also been released by the North Korean Central News Agency.