Why Did the Raiders Trade Khalil Mack?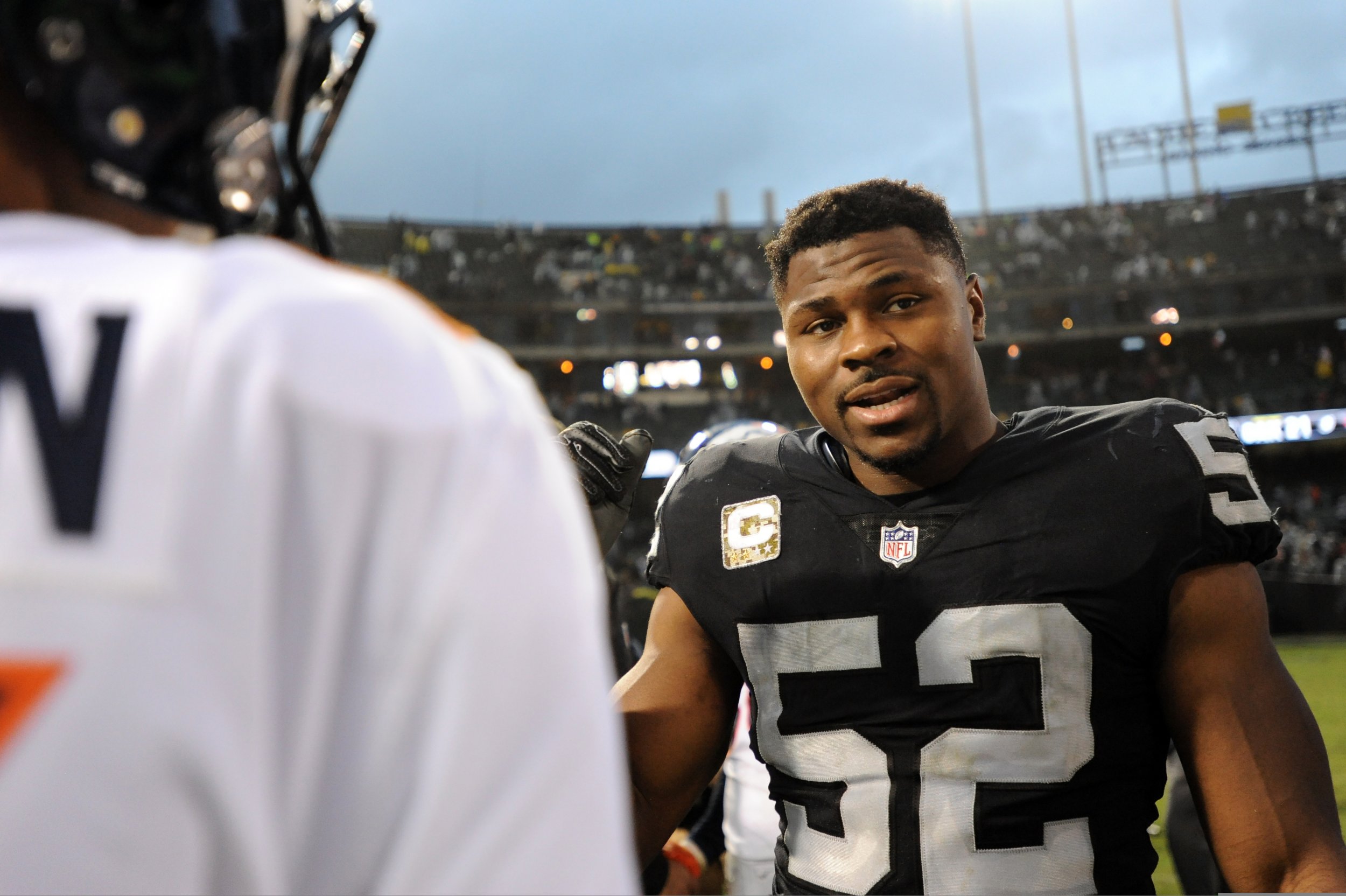 There are surprising NFL trades and then there are trades like the one that took Khalil Mack from the Oakland Raiders to the Chicago Bears on Saturday.
With less than a week to go until the NFL season kicks off, Mack's move to Illinois could significantly alter not only the future of the two franchises but of their respective conferences.
While the Raiders got two first-round picks for 2019 and 2020—as well as a sixth-round pick for next year and a third-round pick for 2020—in exchange for Mack many questioned the wisdom of allowing the 2016 AP Defensive Player of the Year to leave.
So, why did the Raiders trade Mack?
On Sunday, Raiders head coach Jon Gruden admitted the Bears' offer was too good to turn down, particularly given Mack's financial demands were seen as too onerous by the franchise. The 27-year-old was due to make $13.8 million this season on the fifth-year option of his rookie deal and the Raiders could have used the franchise tag on him next season.
However, the Florida native had made clear he wanted an improved contract and did not report at the Raiders' practice facility this summer, missing all four preseason games.
Rumors the Raiders were open to trade Mack began circulating a few weeks ago and grew more intense when it became apparent that neither party was willing to take a step forward to resolve the issue.
The Raiders did not have enough cap space to offer Mack an extension last season when they signed up Derek Carr and Gabe Jackson—who were selected in the same year as Mack, but in the second and third round respectively—to lucrative new deals.
According to ESPN's Adam Schefter, Mack signed a six-year, $141 million extension with $90 million guaranteed withe the Bears, an offer Gruden believes the Raiders never came close to match.
"I don't believe we were anywhere close to where the Bears were," he told reporters. "The Bears made us an offer that we thought was really unique and very, very tough to say goodbye to a great player, but here we are today."
While Gruden made clear the franchise had no way of keeping Mack after his head was turned east by the Bears' enormous offer, the suggestion the duo did not see eye-to-eye lingers on.
In July, Gruden told a radio show he had not spoken to Mack since he "first got the job" in January, only to then dismiss reports that he had no contact with the three-time Pro Bowl selection.
Muddying the waters even further, Raiders' general manager Reggie Mackenzie admitted the franchise will miss Mack.
"They [the players] are going to miss Khalil," he said as per NBC Sports Bay Area.
"I'm going to miss Khalil. We all will miss Khalil. Let's make that point known now. We all will miss him, but we will all move on."
Mackenzie's words echo a report from Bleacher Report's Mike Freeman, who quoted a team executive as saying that Mackenzie "didn't want to trade Mack."
Gruden, however, refuted the suggestion.
"They're trying to divide us," he told reporters on Sunday. "People are trying to divide us: 'I wanted him gone, he wanted him here.' We made a decision as an organization. [Owner] Mark Davis, [executive] Tom Delaney, we all got the information and we made a decision, together."
Is Mack worth his huge new deal?
Mack's six-year, $141 million extension with $90 million guaranteed is a record for a defensive player and eclipsed the six-year, $135 million deal that 2017 Defensive Player of the Year Aaron Donald signed with the Los Angeles Rams a day earlier.
A two-time First-Team All-Pro selection, Mack is the only player alongside Arizona Cardinals' Chandler Jones to have totaled at least 35 sacks over the last three seasons.
Arguably the stand-out pass rusher in the league, Mack will join a defensive unit that has seen the arrivals of Tahir Whitehead and Rashaan Melvin in the offseason, along with rookies PJ Hall, Arden Key and Maurice Hurst.
The Bears' defense will undoubtedly be much stronger with Mack, although their fortunes will hinge on whether new head coach Matt Nagy will be able to revolutionize their offense.