Pop superstars Shawn Mendes and Camila Cabello have sadly ended their two-year relationship. The much-loved power couple announced their separation on their individual Instagram accounts, breaking fans hearts across the globe.
In their joint statements, Mendes and Cabello announced they had ended their romance and decided to just be friends.
They wrote: "Hey guys, we've decided to end our romantic relationship but our love for one another as humans is stronger than ever.
"We started our relationship as best friends and will continue to be best friends.
"We so appreciate your support from the beginning and moving forward."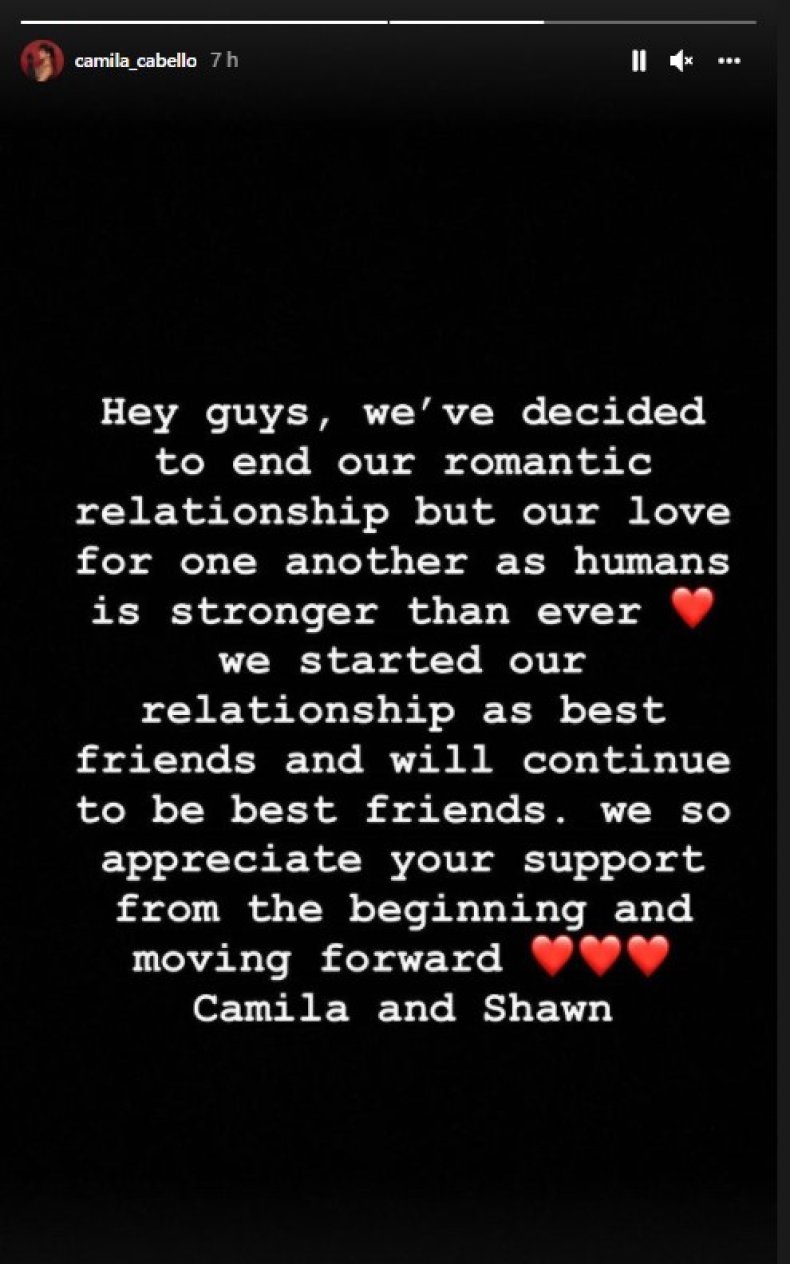 Canadian singer Mendes, 23, and former Fifth Harmony star Cabello, 24, had been good friends for five years before taking their friendship to the next level in July 2019.
Back in 2015, they collaborated on "I Know What You Did Last Summer", but it would be another four years before they became an official couple.
In 2019 they even released a second duet together, "Señorita" which reached number 1 on the U.S. Billboard Hot 100 and won an American Music Award, two MTV Video Music Awards, a People's Choice Award. "Señorita" also received a nomination for a Grammy Award for Best Pop Duo/Group Performance.
At each other's concerts, they would often surprise fans by performing the song live together and recently performed the song at the Global Citizen Live concert in New York back in September 2021, even sharing a kiss on stage.
Cabello also featured in Mendes's Netflix documentary, In Wonder where Mendes gushed about his love for the singer and how he wrote songs about her.
He said: "We were in New York and my song comes on the radio or something, and the fact comes up that it's about her, and I'm like, 'Yeah, it's about you.' And I'm like, 'Everything is about you. They've always been about you,'"
Mendes continued: "She goes, 'What do you mean?' I'm like, 'They're all about you. Like, every song I've ever wrote.' And I'm, like, rhyming off the songs. I'm like, 'Treat You Better,' like, all these songs. And she's like, 'Oh, my God.' She literally had no idea. This whole time I thought she, like, knew."
Fans have been sharing their sadness online about the couple's split.
One fan tweeted: "the day Shawn and Camila break up is the day I am going to lose faith in love."
A second fan said: "Noooo...but that's how it is. They're the right love at the wrong time for me but for years they have been together, things really worked out but just fell short but we may never know... the word "chance" will always be there. Hoping for the best for both of them!"
Responding to the news,a third fan penned: "Well if they can't make it, who among us can?"