Why Did Trump Remove Chad From the Travel Ban List?
President Donald Trump's administration has removed Chad from the list of countries whose citizens are banned from traveling to the United States.
The decision on Tuesday was made almost exactly a month after former Secretary of State Rex Tillerson visited Chad as part of his five-nation trip to Africa in March.
"Chad has improved its identity-management and information sharing practices sufficiently to meet the baseline security standard of the United States," read a White House statement announcing the change.
The Central African country was seen as the odd one out on the list of countries featured in the September version of Trump's travel ban. Unlike the seven others that were blacklisted—Iran, Libya, Syria, Somalia, Yemen, North Korea and Venezuela—Chad has had a long history of cooperation with the U.S. on counterterrorism issues.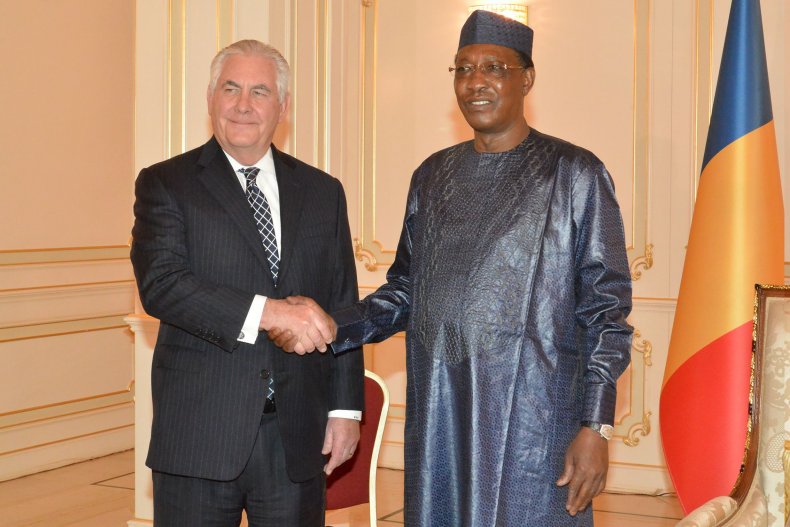 The decision to include Chad in the ban received widespread criticism and caused concern over the deterioration of the relations between the two countries. Just a few weeks after the September announcement, Chad removed hundreds of troops it had sent to neighboring Niger to assist with the fight against the Nigerian Islamic militant group Boko Haram.
One of the major reasons why Chad was blacklisted was a lack of passport paper that prevented it from supplying the Homeland Security Department with a required sample of the document, the Associated Press reported. Homeland Security also pointed out the country failed to adequately share public safety and terrorism-related information.
The issues have now been resolved. "We welcome Chad's improved identity-management and information sharing practices, which will improve security for the people of Chad and the United States, and look forward to further cooperation," State Department spokeswoman Heather Nauert said in a statement on Tuesday.
"Chad is pleased to be removed from the list of countries whose nationals are banned from entering the U.S., and hopes to further strengthen the strategic partnership and cooperation between the two countries," Chad's Foreign Minister Chérif Mahamat Zene wrote on Twitter—one of the last social media and messaging platforms still accessible in the country since the government recently blocked various services including WhatsApp, Viber and Facebook, local media reported on Monday.